Peguam Siti Kasim ditahan polis atas dakwaan menculik dan menghalang pihak berkuasa menjalankan tugas.
Tangkapan itu, yang disiarkan secara langsung menggunakan aplikasi Facebook Live, didakwa berkaitan dengan seorang wanita yang merupakan anak guam Siti sendiri.
Siti didakwa mengurung anak guamnya, seorang remaja, secara paksa.
Namun, berdasarkan video Facebook Live itu, seorang remaja, yang dipercayai anak guam Siti yang dimaksudkan, dilihat bersuara dan menafikan dakwaan bahawa Siti menculiknya.
Sebelum ini, dalam kenyataan di Facebook Khamis lalu, Siti mendakwa anak guamnya meninggalkan rumah ibu-bapanya kerana "takut" dengan ibunya.
Siti juga mendakwa anak guamnya "diperangkap" oleh Jabatan Agama Islam Selangor (Jais) dan polis yang "menunggu untuk menangkap" anak guamnya.
Ibu anak guamnya, menurut Siti, telah membuat laporan polis mendakwa anak guamnya "tidak stabil secara mental" dan "akidahnya dipersoalkan".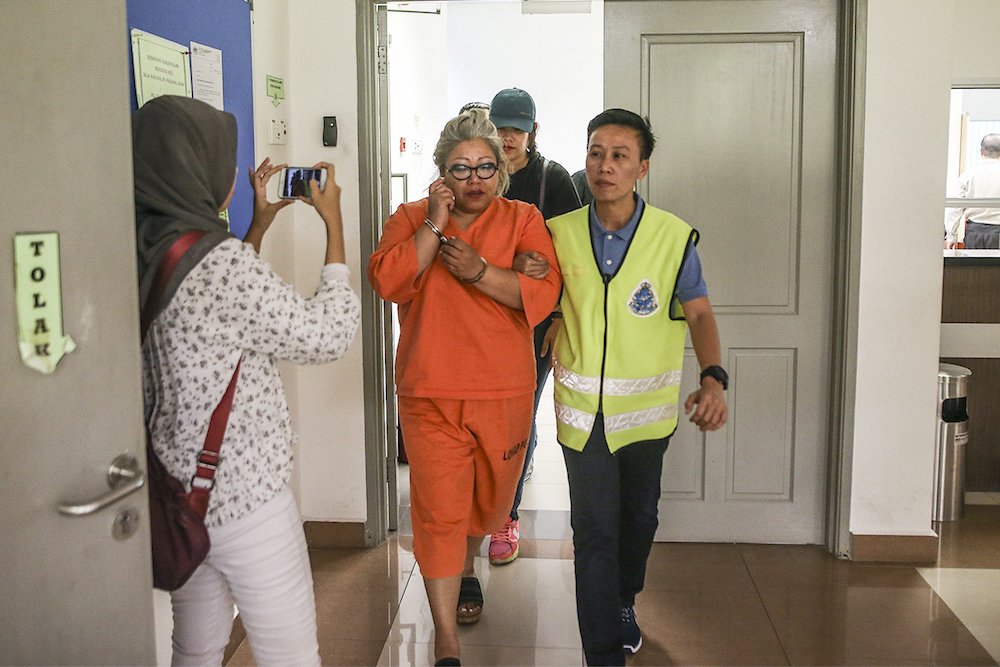 Siti Kasim dan polis adakan
Polis dan peguam Siti Kasim mengambil laluan diplomatik ketika mereka bersama-sama mengadakan sidang media petang ini mengenai perbalahan antara anak guamnya Anis Izzatty Ruslan yang berusia 24 tahun serta ibu bapa Anis.
Ini selepas polis menahan Siti Kasim semalam kerana didakwa 'menculik' Anis di bawah Seksyen 363 Kanun Keseksaan dan menghalang seorang pegawai awam di bawah Seksyen 186 undang-undang yang sama.
Bagaimanapun, majistret menolak permohonan pihak polis untuk menahan reman peguam berkenaan.
Ketua Polis Daerah Kajang, Ahmad Dzaffir Mohd Yussof dilihat mengiringi Siti Kasim selepas peguam itu dibebaskan di Ibu Pejabat Polis Daerah Kajang petang tadi.
Kerjasama dengan polis
Siti Kasim kemudiannya meminta media merujuk kepada Ahmad Dzaffir yang menjelaskan polis hanya bertindak terhadap laporan polis yang dibuat ibu bapa Anis bahawa Siti Kasim didakwa menculiknya dari Hospital Kajang, yang telahpun dinafikan Anis.
"Kini pihak polis telah laksanakan bidang kuasa yang telah diperuntukan oleh polis dan akan bebaskan Siti Kasim pada petang ini juga. Jadi siasatan kita di bawah seksyen 186 masih berjalan dan dijangka kertas siasatan dipanjangkan kepada timbalan pendakwa raya.
"Mengenai tangkapan Siti Kassim semalam, polis telah mengambil setiap langkah mengikut undang-undang sedia ada mengikut Seksyen 363 dan 186 Kanun Keseksaan, yang mana kedua-dua seksyen itu membenarkan untuk tangkapan dan kita tidak memilih mana-mana pihak untuk buat tangkapan," kata Ahmad Dzaffir.
Beliau berkata polis akan menyiapkan siasatan terhadap Siti Kasim di bawah Seksyen 186 dan mengemukakan kertas siasatan ke Jabatan Peguam Negara.
Seterusnya, Siti Kassim memberitahu media beliau hanya melakukan tugasnya sebagai seorang peguam. Siti juga berjanji untuk bekerjasama dengan polis.
"Saya berterima kasih kepada mahkamah kerana menolak reman kerana apa yang saya lakukan adalah sebagai seorang peguam sewaktu saya bertugas, saya bukan mahu menimbulkan sebarang masalah.
"Apa saya telah lakukan adalah sebagai seorang peguam. Sewaktu saya jalankan tugas dan saya akan beri kerjasama penuh kepada pihak polis untuk selesaikan isu ini dan itu saja lah.
"Kami akan bekerja sama kerana terdapat banyak perkara (berlaku) di sebalik (tabir), yang mungkin anda semua sudah tahu sekarang ini.
"Jadi, saya faham mereka (polis) kerana kadangkala, kamu tidak mendapat keseluruhan gambaran atau keseluruhan cerita dan saya fikir itulah sebabnya majistret menolak permohonan reman selepas mendengar keseluruhan (cerita) dan gambaran sebenar bagaimana ia boleh menjadi begini," katanya.
Anis dilaporkan meninggalkan rumah, mendakwa ibunya 'terlampau mengawalnya'. Selanjutnya, ibu Anis membuat laporan dengan pihak berkuasa agama dan polis yang menahannya.
Siti Kasim telah memberi perlindungan kepada Anis di rumahnya di Kuala Lumpur tetapi polis semalam menyerbu apartmen itu dan mengambil Anis berdasarkan laporan polis oleh ibu Anis bahawa peguam berkenaan telah 'menculik' anaknya.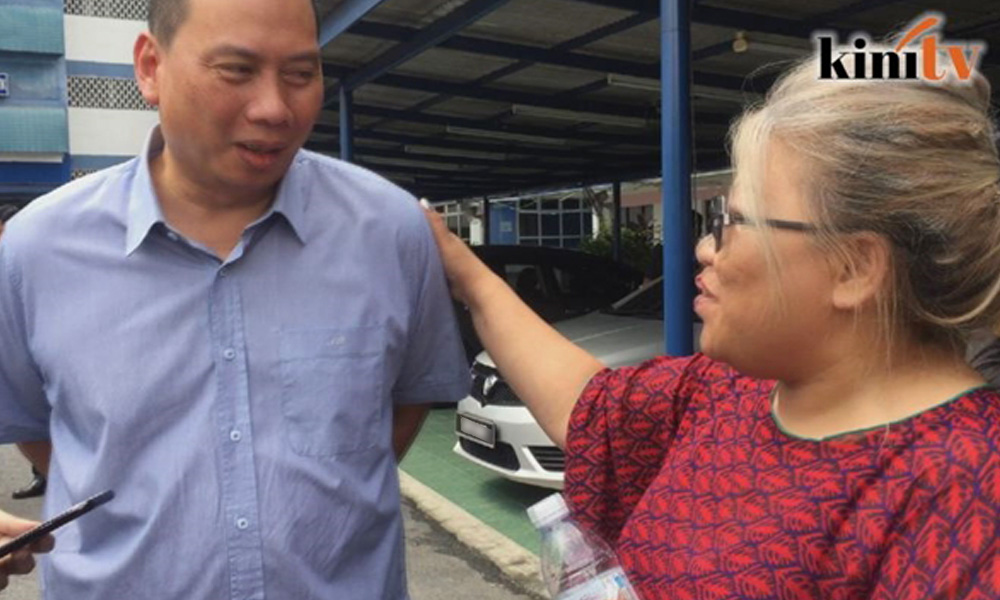 Siti Kasim, Ahmad Dzaffir bersalaman
Siti Kasim kemudiannya pergi ke balai polis daerah Kajang, tempat Anis dibawa, bagi menuntut pembebasannya tetapi ditangkap.
Menjawab soalan beliau bersikap agresif dengan polis, Siti Kasim berkata dirinya cuba melakukan yang terbaik untuk berkhidmat kepada anak guamnya Anis.
"Saya pasti jika sesiapa mengupah seorang peguam, kamu pasti mahukan peguam kamu melakukan yang terbaik untuk kamu dan bersungguh-sungguh bertindak supaya kamu tidak terus ditahan lagi," katanya.
Siti Kasim dan Ahmad Dzaffir bersalaman selepas sidang akhbar dan menjemputnya makan tengahari, namun ketua polis daerah itu berkata beliau mempunyai rumah terbuka Hari Raya untuk dihadiri. - mk
Malaysia Revives Murder Case
That Shook Nation's Elite...
Police here said Thursday that they are opening a new investigation into the 2006 murder of a Mongolian model by two of former leader Najib Razak's bodyguards, after his rivals made the mystery surrounding her death an element in their successful campaign to defeat him in May elections.
The two security officers abducted 28-year-old Altantuya Shaariibuu in a leafy Kuala Lumpur suburb, forced her into a car and drove her to a jungle clearing several miles away, one of the men told police.
One of the officers then held her down as she pleaded for the life of the unborn child she said she was carrying, according to the police statement; the other officer shot a bullet through her head and fired a second when he saw her arm still twitching. They stripped her and blew apart her body with military-grade C-4 explosives, police said. The crime scene, her father later said, looked like a war zone.
The two men were convicted and sentenced to death in 2009.
Now, more than a decade after the murder, Malaysian Prime Minister Mahathir Mohamad has expressed interest in getting to the bottom of whether anyone ordered Ms. Shaariibuu to be killed, and if so, why.
During the campaign for the May 9 election in which he unseated Mr. Najib, Mr. Mahathir's opposition alliance erected billboards across Malaysia saying "Who Killed Altantuya?" and "Justice For Altantuya."
"The people concerned, the relatives and all that, will certainly want to see a fair trial carried out by the Malaysian government. They know many things were covered up," Mr. Mahathir told The Wall Street Journal last week, before police said they would open the new investigation. "I think we have to do our best and show that we are serious about this," he said.
Former Chief Inspector Azilah Hadri is awaiting execution for the 2009 conviction; Cpl. Sirul Azhar Umar —who confessed to the crime but, after telling police he was the shooter, later said he didn't pull the trigger—fled to Australia, where authorities have held him for three years, unwilling to send him back to face a death sentence.
But a motive has never been established for the killing. Police now say there are sufficient grounds to take another look.
"The most important thing is who ordered the murder," Mr. Shaariibuu, a university professor, told reporters this week during a visit to Malaysia where he met Mr. Mahathir.
 Razak Baginda, a friend and adviser to Mr. Najib who said in court that he was having an affair with the model, was charged with abetting murder and later acquitted. Mr. Najib—defense minister at the time of the murder and next in line to become prime minister—wasn't named a suspect in the case.
A person familiar with the thinking in the Najib camp said that if any charges were brought against the former prime minister relating to the crime, they wouldn't withstand a trial.
Mr. Mahathir is also pushing for the prosecution of cases of alleged corruption during the Najib years. Key among those is the disappearance of billions of dollars from state investment fund 1Malaysia Development Bhd. Mr. Mahathir has initiated a new criminal investigation of the former prime minister and his family; an earlier Malaysian investigation of 1MDB found no fault by Mr. Najib, and he and the fund said they did nothing wrong.
In the new murder investigation, Malaysia's police will report to the attorney general's office, which would decide whether to press charges.
Mr. Shaariibuu has described his daughter as a strong-willed child. She spent part of her childhood in Russia before returning to Mongolia's capital, Ulaanbaatar, where she married a techno DJ but quickly divorced. She had two children she left with her parents, her father has said.
Mr. Razak, (pix,above) the Najib adviser, said during his trial that he met Ms. Shaariibuu at a diamond exposition in Singapore and began an affair, traveling together to Shanghai, Singapore and Paris. When he tried to break it off, she began demanding money, said Mr. Razak, who is married.
He hired a private detective to keep an eye on Ms. Shaariibuu; the detective told police he once saw her outside Mr. Razak's home, shouting, "Razak, bastard, come out!"
Mr. Razak said in court that he asked for help from Mr. Najib's chief aide, Musa Safri,(pix,below) who, Mr. Razak said, sent two of Mr. Najib's bodyguards to help him out.
Mr. Musa wasn't called to testify in the trials of Mr. Razak or the two bodyguards. During the recent election campaign, opposition candidates repeatedly asked why. Mr. Musa couldn't be reached for comment.
In 2008 and 2009, American diplomats wrote in confidential cables released by WikiLeaks that political interference had limited the scope of the trial, and noted that Mr. Musa was never called as a witness.
In mid-2008, midway through the trial, Mr. Razak's private investigator emerged with an explosive claim.
Ms. Shaariibuu had told him that Mr. Najib had also been her lover, said the investigator, former policeman Balasubramaniam Perumal, or PI Bala as he became known.
Mr. Bala also said Mr. Razak had told him that Ms. Shaariibuu was seeking a $500,000 cut from a $1.2 billion deal that Mr. Razak had negotiated for the Malaysian government to buy two submarines from French contractor DCN International, now known as Naval Group. The deal is the subject of a bribery investigation in France launched in 2016; four executives placed under investigation have denied any wrongdoing, as has Mr. Razak, who is also under investigation in France.
Mr. Bala was upset that none of the reports he provided to police investigators made it into the trial, said his lawyer, Americk Sidhu.
"He was disgusted," Mr. Sidhu said.
With Mr. Najib's path to the premiership at stake, Mr. Najib's inner circle responded swiftly to Mr. Bala's allegations.
First, Mr. Najib called a press conference and denied knowing Ms. Shaariibuu. He later affirmed in a mosque that he had never met her.
Mr. Najib's wife, Rosmah Mansor, meanwhile, telephoned a business associate and told him to persuade Mr. Bala (pix,below) to withdraw his allegation, according to the businessman, Deepak Jaikishan.
Mr. Jaikishan has also acknowledged that he took Mr. Bala to meet two of Mr. Najib's brothers and Mr. Najib's lawyers, and that Mr. Bala was warned that his family would be in danger if he didn't backtrack on his allegation.
Mr. Bala relented, signing a new statement that didn't mention Mr. Najib.
Mr. Najib and his family and lawyers have asked that a related civil suit on the matter be dismissed.
After signing the statement, Mr. Bala and his family traveled to Singapore and then to India. There, Mr. Jaikishan said, he provided a stipend for their support; the family said it wasn't enough. A few months later, in April 2009, Mr. Najib became Malaysia's prime minister.
Mr. Najib and his wife and family have denied this account of events by Mr. Jaikishan.
Ms. Shaariibuu's death weighed on Mr. Bala, the investigator said in a series of video statements recorded with his lawyer. In 2013, he returned to Malaysia to declare to reporters at the airport that his first statement, that Mr. Najib had been involved with Ms. Shaariibuu, was the truth. His goal, he said at the airport, was to topple the government so that his family could again live in Malaysia.
He didn't live to see that happen. Mr. Bala died from a heart attack in March 2013, more than five years before Mr. Najib's government fell. - James Hookway,wsj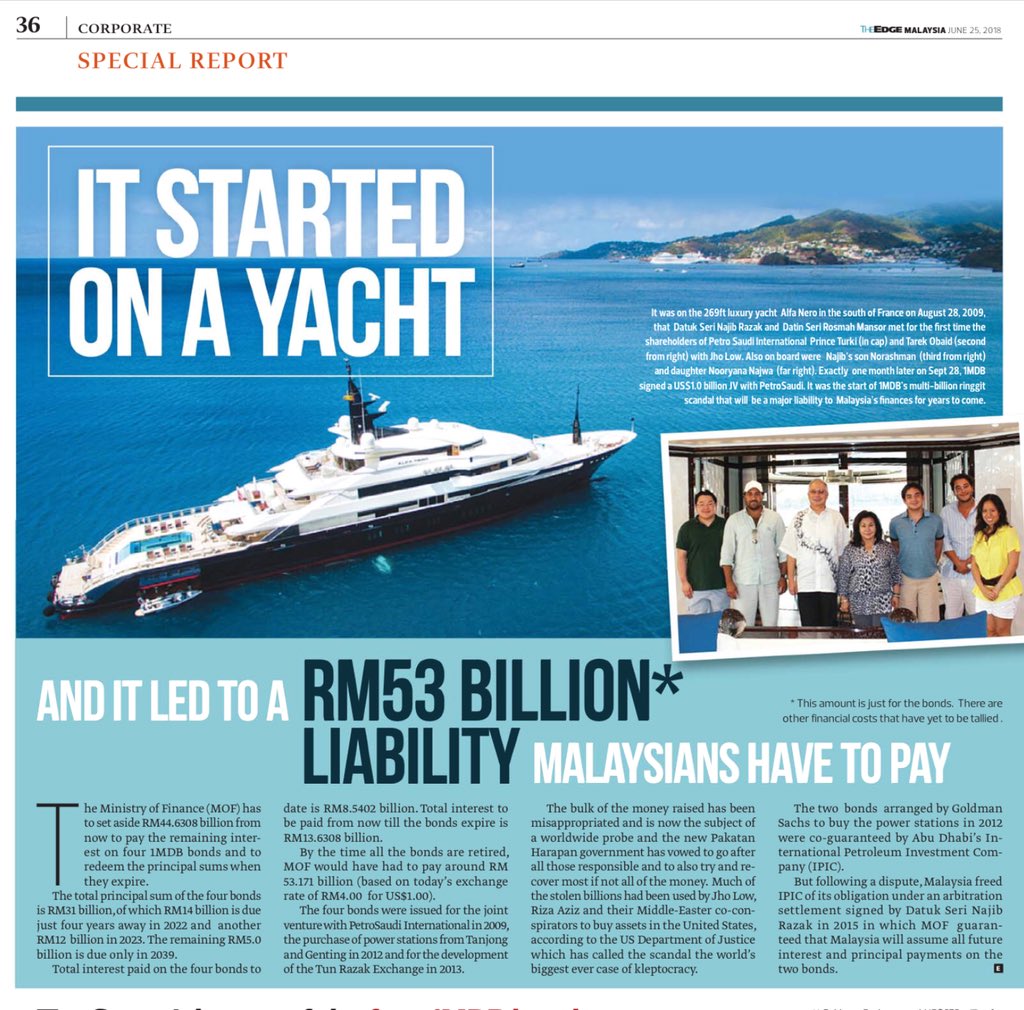 cheers.