Undi tentera, polis tidak lagi
Terdapat bukti yang kukuh menunjukkan pengundi polis dan tentera yang tergolong dalam 'pengundi awal' menolak BN dalam jumlah yang signifikan, kata Penolong Pengarah Biro Pendidikan Politik DAP Kebangsaan Dr Ong Kian Ming.
Menurut beliau, empat kerusi parlimen yang mempunyai lebih 10,000 pengundi awal (kebanyakannya polis dan tentera) dimenangi calon Pakatan Harapan (PH).
Dua daripada kerusi parlimen itu, ujar beliau dimenangi BN dalam pilihan raya umum ke-13 (PRU13) iaitu Setiawangsa (Wilayah Persekutuan Kuala Lumpur) dan Tangga Batu (Melaka).
Malah kerusi parlimen Lumut yang dimenangi PKR pada PRU13 terlibat dalam proses persempadanan semula kawasan pilihan raya yang memungkinkan ia dimenangi BN.
Namun pada PRU14, 9 Mei lalu, kerusi parlimen Lumut dimenangi Dr Mohd Hatta Ramli yang mewakili PKR-AMANAH.
Satu lagi kawasan parlimen yang mempunyai lebih 10,000 pengundi awal namun dimenangi calon PKR adalah Lembah Pantai (WP Kuala Lumpur).
"10,000 pengundi polis dipindahkan ke kerusi parlimen Lembah Pantai. Tanpa jumlah signifikan pengundi polis dan tentera yang menolak BN (sama ada mengundi Pas, PH, merosakkan undi mereka atau tidak keluar mengundi), PH tidak akan berpeluang menang di kawasan parlimen ini," kata Dr Ong.
Beliau memberi contoh kawasan parlimen P102 Bangi yang ditandinginya apabila daripada 1305 undi pos (kebanyakannya tentera), 471 diperolehi calon Pas (36.1%), 409 diperolehi beliau selaku calon PKR-DAP (31.1%) manakala hanya 299 mengundi calon BN (22.9%).
"Saya terperanjat apabila melihat keputusan ini. Saya tidak terkejut jika keputusan di kawasan-kawasan (pilihan raya) lain yang mempunyai pengundi pos dan pengundi awal juga menunjukkan jumlah yang signifikan di kalangan undi tentera dan polis tidak menyokong BN," katanya. - md
Al Jazeera 101 East - Anwar...
Malaysians nationwide celebrate the release of Datuk Seri Anwar Ibrahim, who was given a full royal pardon by the Yang-di-Pertuan Agong on 17 May 2018. Enjoy this song parody of the Beatles hit, "Get Back"...
Norita Samsuddin, 22, was a small town girl from up north, trying to make it in the big city. She had the good looks of a fashion model and was believed to have received several modelling offers all of which she turned down in lieu of building a career as a marketing executive at Transpro Sdn Bhd, the company she was attached to at the time of her untimely demise.
On Dec 5, 2003, Norita was found dead in a room at a posh apartment complex in Sri Hartamas, Kuala Lumpur. Her naked body was found with her hands tied with a bra and several wires. There were no signs of injury on her body except strangulation marks on her neck and piece of cloth stuffed in her mouth. Engineer Hanif Basri (below) was later arrested and charged for her murder. It was believed that Hanif had visited Norita that night and the prosecution tried to prove that he was the last person to see her alive.
However during the trial it was brought to light that someone else had visited Norita after Hanif left. The case against Hanif however was a weak one. Hanif was acquitted after a trial that came complete with conspiracy theories and lurid details of Norita's social life.
The circumstances surrounding her death was as mysterious as the circumstances surrounding the investigations after her death. It was believed that the crime scene was tampered with although nothing was ever proven.
I recall press reports in 2004 which said that the crime scene was tampered with. Witnesses who first found Norita's body said her hands were not tied with anything.
Later the Police investigation said her body was found with her hands tied.
The real murderer was never found. Hanif Basri the accused was acquitted by the Court (without even his defense being called - meaning the Judge just killed the prosecution's case).
Despite that the Police did not bother to reopen the case. The Police did not try to find the real murderer.
I recall people saying that a huge cover up was involved. That the real murderer was connected to a powerful politician.
This was rumour. But why didnt the Police pursue the case again, when the Court had thrown the case into the dustbin. There was no case against the person they brought to Court. It was a sham trial, just to charge somebody and show him up in Court. - ostb
Jibby n Rosie's 284 Boxes Of Handbags,
72 Bags Of Cash and Jewellery Seized...
It would take 5 trucks to load an unbelievable amount of luxury handbags, jewellery and cash in what appears to be the biggest confiscation in the history of the country. Malaysia former Prime Minister Najib Razak is in such deep trouble that he had resorted to taking a photo with his aged mother, the widow of second Prime Minister Abdul Razak, to gain sympathy.
Mr. Najib who lost the 14th general election on May 9th had tried to flee under the pretext of spending time with family. But Prime Minister Mahathir Mohamad, who is now in charge of the country for the second time after ruling the country from 1981 to 2003, knew all the tricks and had barred the corrupt Najib from leaving the country.
As locksmiths continue to crack open a stubborn safe in Najib's house at Jalan Langgak Duta, Taman Duta, where the entrance and exit points were cordoned off days ago, the Royal Malaysia Police have a very successful catch of the day elsewhere. Luxury condominium – Pavilion Residences – has attracted curious onlookers since midnight.
The police operation, which concurrently have raided 6 premises since Wednesday around the capital of Kuala Lumpur and Putrajaya – including the Prime Minister's Office – saw truck after truck being brought to the loading bay of Pavilion Residences. The luxury condominium was one of the three premises at the Pavilion Residences Apartment being "checked" by the police.
An eye-popping 284 boxes containing handbags, believed to be belonging to Rosmah Mansor, have been confiscated. During a press conference at the luxury condominium where the operation by Commercial Crime Investigation Department (CCID) was carried out, its director Amar Singh has confirmed that Hermes Birkin is one of many luxurious brands of handbags being seized.
On top of the hundreds of designer handbags, the police was also flabbergasted at the total value of the seizures which also included 72 luggage and carrier bags of cash and jewellery stored in the condominium unit. Mr. Amar Singh said – "This is one of the three premises at the Pavilion Residences Apartment being checked by the CCID. We don't have the details on the total amount. A lot!!"
While confirming the cash seized was of various currencies, the CCID director, however, refused to comment when asked if the jewellery includes gold bars. There are speculations that the safe in Najib's residence probably contains gold bars and diamonds, including the 22-carat pink diamond necklace worth a staggering US$27 million bought using money stolen from 1MDB.
Najib's lawyer Harpal Singh Grewal has claimed the key to the safe in Najib's residence has been misplaced. The raid at Najib's house is being conducted based on the Anti-Money Laundering Act 2001. CCID director Mr. Amar Singh confirmed that the raids on the premises are related to an investigation into 1MDB (1Malaysia Development Berhad) scandal involving Najib.
Two days ago, there were reports of government-owned trucks being misused to transport "mysterious boxes" to the same luxury condominium along Jalan Raja Chulan. Those boxes could be the same boxes of designer handbags being seized during the latest operation. What this means is Rosmah was desperately trying to hide her collection of Hermes Birkin handbags.
There were also reports of police forced to bring in a machine to count money, suggesting the cash seized is substantial. While former premier Najib Razak is known to practice "cash is king" policy, his wife Rosmah Mansor has in many occasions proudly displayed her Hermes Birkin handbags together with expensive watches and gems.
Najib's taste for expensive watches included RM3.5 million Grisogono, RM120,000 Audemars Piguet Royal Oak, RM165,000 Hublot Big Bang King Power Red Devils Manchester United, RM97,500 Harry Winston Project Z2 and RM50,000 Hublot BB Black Magic Black Ceramics (arguably his cheapest watch in his collection), among others.
Rosmah, on the other hand, has been seen wearing expensive watches such as RM2.03 million Roger Dubius Velvet Haute Joaillerie, RM1 million Jacob and Co. Mystery Diamond Baguette, RM648,000 Richard Mille, RM207,000 Chanel J12, RM188,000 Franck Muller Master Square 18K and RM101,000 Hublot Black Pink Bang, just to name a few.
As far back as 2012, The Sydney Morning Herald reported that Rosmah spent about AUD100,000 at Sydney fashion designer Carl Kapp boutique. After dropping the money for 61 dresses, pants and tops, she became Kapp's biggest customer and was awarded "First Lady Of Shopping" by the boutique. Kapp said – "She was absolutely gracious and very easy to deal with."
Celebrity Victoria Beckham is said to own as many as 100 of Hermes Birkin handbags. She was perhaps the first celebrity to own the mega-expensive Hermès Birkin Himalayan crocodile handbag, before Kim Kardashian follows the footstep. Other celebrities – Pamela Anderson, Lady Gaga, Catherine Zeta-Jones, Julia Roberts – are some of Hermès Birkin fans.
But after the confiscation of Rosmah's collection of Hermes Birkin handbags by the police, there's a good chance that Malaysia's former First Lady could snatch the title from celebrities as the biggest owner of Hermes. Selling at more than US$20,000 a pop for the cheapest range, Birkins are the most sought after bag in the world, due to its investment value.
Last year, a matte white Himalaya Niloticus crocodile diamond Birkin 30 handbag was sold in Hong Kong for over US$377,000 – a new world record. Auction house Christie's said the Hermes bag, which boasts 18 karat white gold and diamond hardware, was purchased by an "unidentified buyer" after 15 minutes of "intense" bidding.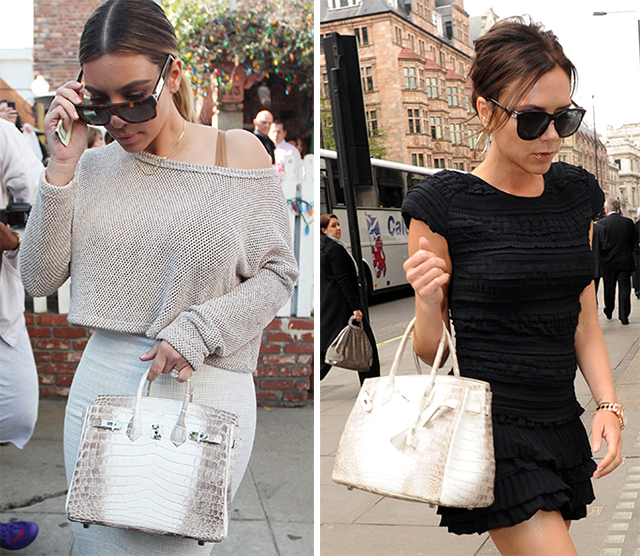 Most Expensive Hermès Birkin Bag - Himalayan Crocodile Birkin
- Kim Kardashian and Victoria Beckham
Himalayan Birkins are considered the rarest, most sought-after handbags in the world. While Hermes won't say how many they make, Christie's believe only one or two are produced each year due to the painstaking and lengthy hours in its dyeing process. Even if you have the money, buying one is extremely difficult. The auction house said there is a 6-year waiting list to buy a new one.
You can't simply walk into a store to buy a Birkin. You have to have a purchase history at the store to just get started. Even then, Hermès Birkin needs to "interview you", assess how serious you are about spending, and then you go on their list. It would be interesting to see if the seizure of designer handbags from Rosmah's collection include Himalayan Birkins.
Rosmah's collection of designer handbags, on top of Hermes Birkin, are believed to be from Chanel, Versace, Gucci, Oscar de la Renta, Prada, Michael Kors, Dolce Gabbana, Louis Vuitton, Loewe and Piana Clerico, among others. Designer watches of various brands, not to mention gems, stones and whatnot. - fft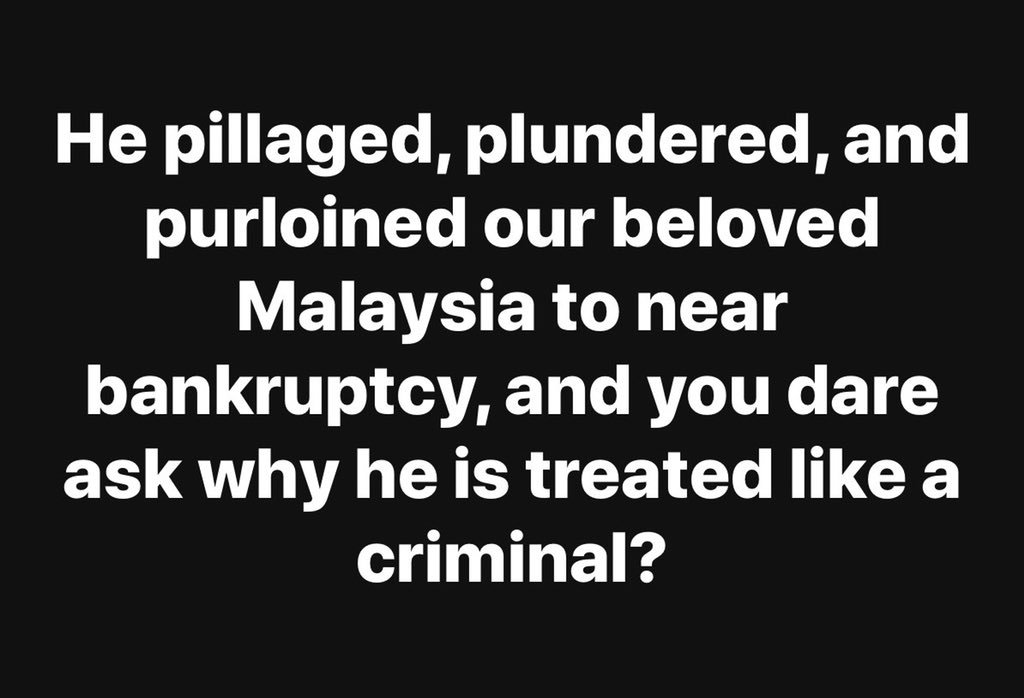 Cian si pemakan dedak nih ..masih bengap masih percaya najib x salah..agak2 brapa byk dedak dia dapat dulu ehh.

- Dzulaikha Hj Omar


Nazila ni miskin fakta mana ada najib jd MB Pahang 30thn..klau duit tu smua hasil halal najib knapa xsimpan kat bank..beg birkin 1 nilainya 250k..nazila kau dah lambat xda dedak dah yg tingal konekto ja yg ada tok kau jilat.

- Kamal Sh Hassan


Bodoh...disebabkan orang macam inilah politician macam Najib bermaharajalela tanpa menyedari kesusahan rakyat.

- Deivendiran Muthan


Kalau segala tuduhan itu tidak benar fitnah dan palsu...kenapa sesudah beribu SELASA berlalu sampai kini tak berani saman WSJ??

- Jomok KB


The product of UMNO's brainwashing and propaganda.Still in denial...ptuiiih...

- ts
cheers.