Sultan Perak, Sultan Nazrin Shah risau tentang jurang pendapatan yang akan memburukkan gejala rasuah.

Menzahirkan kebimbangan baginda berkenaan laporan data Model Ekonomi Baru (NEM), Raja Nazrin berkata negara kini tidak lagi boleh berada dalam keadaan "minda penafian".

Baginda bimbang pengagihan kekayaan yang tidak seimbang dan jurang pendapatan yang semakin melebar akan menggalakkan budaya rasuah.

Bertitah pada ulang tahun Suruhanjaya Pencegahan Rasuah Malaysia (SPRM) hari ini, Raja Nazrin bertitah bahawa negara kini berhadapan dengan cabaran yang besar.

"Ia bukan sakit tekak yang bersifat sementara, boleh diubati dengan gula-gula Strepsil.

"Ia penyakit sosial yang serius, memerlukan rawatan intensif daripada doktor dan pakar bedah sosial.

"Ia memerlukan formula perubatan dari farmasi sosial yang berupaya merangka dasar sosial yang komprehensif lagi holistik untuk dilaksanakan," titah baginda.

Baginda turut mempersoalkan tahap gaji rakyat yang tidak seiring dengan kos kehidupan seharian.

"Apakah opsyen yang ada di kalangan pegawai awam mahupun swasta jika gaji tidak dapat menampung perbelanjaan hidup harian?

"Majoriti yang berada dalam kategori ini, sebenarnya, tidak mahu melakukan rasuah.

"Bilangan yang tergolong dalam kategori ini akan semakin bertambah jika formula berkesan tidak diperkenalkan.

"Terutamanya (dalam) memberikan fokus kepada aspek-aspek perumahan, makanan, pengangkutan serta khidmat kesihatan dan rawatan perubatan yang kosnya semakin hari semakin meningkat," titah baginda lagi.- mk
Mus Mashkadov -
Tuanku Sultan, klu org biasa cakap camni.. comfom kena Akta Hasutan.. Cakap depan SPRM lak tu.. tiba2 teringat pembunuhan kejam Teoh Beng Hok dan Ahmad Sarbani..
Fredino Aziz -
Ampun tuanku..ape yg tuanku perkatakan adalah benar belaka...tapi mcam mana eek..? sebab pemimpin yg ada2 nie memang dah dilatih menerima rasuah dari zaman Pemilihan lagi !! dari ketua cawangan...bahagian..dan peringkat tertinggi...jadi rakyat kebanyakan terikut2 plak dan rasa seronok.
Sultan Nazrin says Strepsils will not cure graft...
Expressing concern over the New Economic Model (NEM) data report, the Sultan of Perak said the nation can no longer remain in a denial mindset.

Sultan Nazrin Muizuddin Shah is worried that the disproportionate distribution of wealth and the widening income gap would fertilise the culture of corruption.

Speaking at the Malaysian Anti-Corruption Commission (MACC) anniversary today, Sultan Nazrin said the nation is facing a major challenge.

"This is not a temporary sore throat which can be cured with Strepsils.

"It is a serious social illness that requires intensive treatment from social doctors and surgeons.

"It requires a medical formula from the social pharmacy, which is capable of drawing up a comprehensive and holistic social policy," he said.

Sultan Nazrin questioned what options civil servants or private sector employees have when their salaries do not commensurate with the daily cost of living.

"The majority in this category actually do not wish to take bribes.

"The number of those in this category will increase if an effective formula is not introduced, with focus on housing, food, transport and healthcare," he added.

Greed plunges man into sin

The NEM report revealed that 80 percent of the households earned less than RM5,000 a month, 40 percent less than RM2,000 whereas 78.6 percent of Employee Provident Fund (EPF) contributors earn less than RM3,000 a month.

The sultan also referred to the request by civil servants union (Cuepacs) for banks to include more RM10 notes in their ATM machines.

This, he said, showed that at certain times, a number of ATM card holders had less than the minimum RM50 in their accounts.

The Perak ruler also underlined two prerequisites in combating corruption which involved stern and non-selective punitive measures as well as preventive action to strengthen integrity.

He cited the example of the first magistrate appointed in Penang more than 200 years ago during the colonial era who was terminated for bribery.

"Taking stern action which is not selective is not an option but a must," he added.

As for preventive measures, Sultan Nazrin said this required initiatives to ensure that people possess the will power to refrain from such practices.

Greed, he added, is often the factor that plunges man into sin.- mk
Man on the Street -
Your Highness, the speech delivered by your Highhness has highlighted the actual situation on what the Rakyat is going through. Many of us are doing at least two jobs to live a barely comfortable life. We spend less time with our children or even have the time or opportunity to help out in their school work or activities.
Some big corporations expect so much from us but end of the day they pay peanuts. These big corporations kill the spirit and creativeness in us.
As your Highness mentioned that greed is one factor for the failure of the NEM. These big corporations get all the benefits from the government but it is not translated to the ordinary people. Your Highness revelations of these statistics of the NEM report is shocking but was not reported in mainstream media! Coming from Your Highness the revelations give more credence.
Anonymous_1408265047 -
At last someone who cannot be charged with sedition is speaking out. Your Highness please continue with your campaign against sponsored criminality which seems to be immune to prosecution.
thana55 -
Now that's what we like from Royalty who focus on the real issues affecting the people and say it as it is is. Not usurping rights not provided in the constitution and playing politics.
Berita terbaik daripada gomen BN...
Harga petrol RON95, diesel naik 20sen
RON 95, diesel to go up 20 sen at midnight...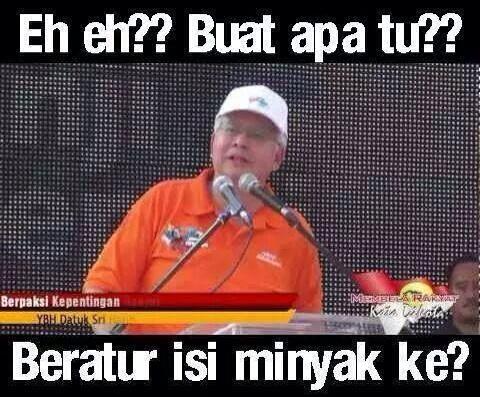 ptuiiih!!!...ptuiiih!!!...ptuiiih!!!...
cheers.