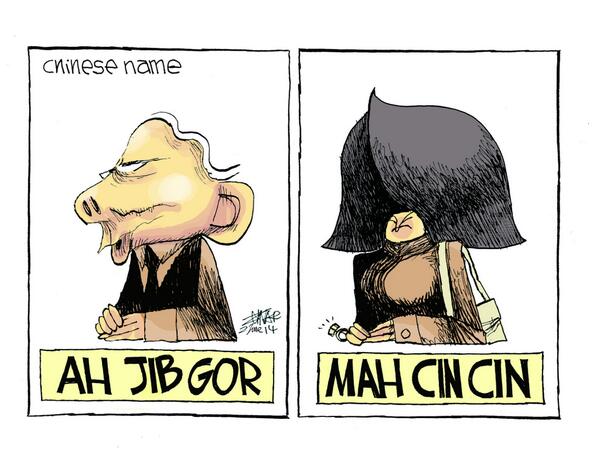 Hakim: Kartun tak perlu serius seperti prosa...
Kartun, satira dan parodi tidak seharusnya diambil serius sama seperti tulisan prosa, kata seorang hakim Mahkamah Rayuan.

Dalam penghakiman bertulis yang dikeluarkan semalam, yang membatalkan pengharaman buku kartun oleh kartunis politik Zunar, Hakim Datuk Mohamad Ariff Md Yusoff berkata, semua kartun adalah bertujuan untuk "membesar-besarkan, menyindir dan kehidupan parodi".

Ini termasuk ruang "kehidupan politik", kata Hakim Mohamad Ariff.

"Kita bukan berdepan dengan karya sastera dalam bentuk tulisan prosa yang serius. Sebaliknya kita berdepan dengan kartun, kartun politik, satira dan parodi...


"Tiada orang yang berfikiran waras yang akan membaca kartun dengan tumpuan, penilaian dan kesungguhan sama seperti orang yang membaca karya sastera.

"Apabila dibaca (atau mungkin hanya diimbas lalu), mereka akan geli hati, atau mungkin tertawa, dan menyebabkan orang berfikir sejenak mengenai sudut kehidupan yang melucukan itu sejenak," katanya.

Hakim itu berkata, walau kartun Zunar, atau nama sebenarnya Zulkiflee Anwar Ulhaq, boleh dianggap "biadap", tiada bukti yang menunjukkan bahawa ia boleh menjejaskan ketenteraman awam.

Keputusan panel tiga orang hakim itu semalam sekali gus membatalkan pengharaman ke atas buku Zunar bertajuk '1 Funny Malaysia' dan 'Perak Darul Kartun'.

Mahkamah juga mengarahkan salinan buku yang dirampas oleh Kementerian Dalam Negeri dikembalikan kepada Zunar.

Dua lagi anggota panel tersebut ialah Tengku Maimun Tuan Mat dan Datuk Varghese George Varughese.

Buku berkenaan diterbitkan oleh Sepakat Efektif Sdn Bhd dan Mkini Dotcom Sdn Bhd.- mk
Court lifts ban on Zunar's cartoon books...
The Court of Appeal today lifted a ban on two of Zunar's cartoon books on grounds that they were not a threat to national security or prejudicial to public order.
A three-man bench chaired by Datuk Mohamad Ariff Md Yusof also ordered the Home Ministry to return copies of the books – "Perak Darul Kartun" and "1 Funny Malaysia" – seized from the cartoonist, whose real name is Zulkiflee Anwar Haque.
Mohamad Ariff said there was also scant evidence to support any allegation of sedition or acts having a seditious tendency.
"With respect, this is a case where the law of sedition is being used as a convenient peg to control freedom of expression," Ariff said in his main judgement.
The facts, he said, demonstrated more of a case of politicians and institutions being held to public odium.
"Public odium cannot be so conveniently equated with public order, let alone sedition," he said.
Tengku Maimun Tuan Mat and Varghese George Varughese were the other two judges in the bench who took the unanimous stand to allow the appeal by publisher Sepakat Efektif Sdn Bhd and MKINI Dotcom Sdn Bhd.
He said the High Court judge did not appreciate the constitutional dimension in balancing the interest of the state as opposed to the rights of individuals, adding that no reasonable person would read cartoons with the same concentration,
contemplation and seriousness as when reading a work of literature.
Mohamad Ariff said press cuttings tendered in court fell short that the cartoon in case was a threat to public order.
"These cartoons are admittedly rude, some may even say, they are crude, contemptuous and defamatory," he said, adding that aggrieved parties could have filed civil suits to seek remedy.
Varughese, who wrote a supplementary judgment, said the Home Ministry's contention that the cartoons were incendiary and had stirred up strife and disturbed public order was not a supportable conclusion by any reasonable criteria.
"The maturing democratic society that we pride ourselves to be would be the one that would be poorer if acccess to the inherent richness found in such art forms are curtailed on grounds they are undesirable," he said.
He said the minister ought to have been slow to abrogate to himself the settled function of the court, as adequate checks and due process were in place.
"Those grounds advanced by the minister to act pre-emptively, by making a blanket ban order on the two books was therefore neither acceptable nor justifiable," he added.
Varughese said the minister had acted unreasonably and irrationally in issuing the order he did.
Lawyer Edmund Bon, who appeared for the appellants, said the landmark ruling today advanced Malaysians' right to free speech and protection to be given to political satire and cartoons.
He said the court held there must be objective facts to support the Home Minister's belief that the cartoons threatened public order.
"None were shown here. Ridiculing politicians do not threaten public order," he said.
On July 14, 2011, the then-High Court judge Datuk Rohana Yusof dismissed a judicial review application by the appellants to challenge the ban and seizure of 33 copies of the books.
MKINI Dotcom which operates the Malaysiakini news portal and publisher Sepakat Efektif, on behalf of Zulkiflee had filed two separate applications to challenge the ban and seizure. – tmi
cheers.