Sudahlah mencatatkan kerugian tahun demi tahun sejak ditubuhkan, kini Global Ventures Holdings (FGVH) nampaknya semakin kacau bilau apabila mengumumkan pengantungan empat pegawainya semalam kononnya atas dakwaan salah laku.
Pegawai Eksekutif (CEO) FGVH, Datuk Zakaria Arshad dan tiga lain digantung ahli lembaga pengarah sementara siasatan audit dalaman dilakukan terhadap urus niaga FGVH, membabitkan anak syarikatnya Delima Oil Production dan syarikat Afghanistan Safitex.
Bagaimanapun, Zakaria seperti dilaporkan media menafikan dakwaan yang mengatakan beliau membenarkan Satifex melakukan pembelian tanpa surat kredit yang menyebabkan berlakunya kelewatan bayaran dan mendakwa urus niaga itu diluluskan CEO yang terdahulu.
Beliau berpandangan perkara itu dibangkitkan hanya untuk menyingkirkan beliau daripada syarikat berkenaan ekoran membantah dalam beberapa pelaburan "tidak masuk akal" yang diluluskan ahli lembaga pengarah syarikat terbabit.
Menurut Zakaria, beliau diketepikan dalam membuat keputusan dalam pelaburan Felda Cambridge Nanosystems Ltd yang kini sedang mencari RM550 juta untuk mengembangkan operasinya selepas kerugian RM117 juta dalam tempoh empat tahun.
Selain itu, beliau juga mendakwa telah membantah untuk membayar RM300 juta untuk 30 peratus pegangan dalam sebuah kilang krimer di Klang.
"Mengapa saya hendak bagi RM300 juta untuk perniagaan bukan teras? Mereka juga ketepikan (keputusan saya dan) walaupun EXCO sendiri tidak bersetuju, pelaburan itu masih diteruskan," katanya dipetik laporan media.
Bimbang dengan gejala rasuah yang semakin menjadi-jadi dalam syarikat berkaitan kerajaan (GLC), Ahli Parlimen Petaling Jaya Utara, Tony Pua justeru menggesa Pengerusi FGVH, Tan Sri Isa Samad menjelaskan dakwaan Zakaria berkenaan.
"Kegagalan pengerusi bukan eksektuif FGVH (Isa Samad) menjelaskan dakwaan skandal di atas akan mendedahkan beliau terhadap 'pelanggaran kod tadbir urus korporat'," ujarnya Tony dalam kenyataan, hari ini.
Beliau yang juga Setiausaha Publisiti DAP Kebangsaan turut menarik perhatian terhadap baki wang FGVH yang hanya sebanyak RM1.8 bilion berbanding hutang syarikat berkenaan yang kini mencecah RM4 bilion. – Roketkini.com
Mengapa Isa Samad Mahu Singkirkan Zakaria Arshad?
Isa Samad must explain the 'ridiculous deals' of FGV Holdings
Dr M Announces Candidacy For PM,
FGV CEO Spills Beans,
UMNO To Lose
Former prime minister Dr Mahathir Mohamad says even if he becomes prime minister again, it will only be for a short while.
The chairman of PPBM, part of the Pakatan Harapan opposition coalition, told top businessmen and opinion leaders in Tokyo yesterday that there was a possibility he might be prime minister again if the opposition won the next general election.
According to a report in the Nikkei Asian Review (NAR), Dr Mahathir was asked if he would again be prime minister if his party won the election, to which he replied it was possible but that it would only be for "a short while".
"If there is no candidate … I might try, only on condition that everybody agrees," the NAR quoted him as saying.
However, the man who was prime minister for 22 years from 1983 stressed that his primary intention was to lead the opposition to victory, as he had "a lot of experience in winning elections".
On Prime Minister Najib Razak, he said: "The prime minister has become too powerful. I was powerful, but I didn't abuse my powers. That is why I was re-elected five times." Continue reading...
Yesterday's news about the FGV CEO who was fired has really caused major panic among the kleptocrats. The ex CEO has also begun spilling the beans on crooked deals entered into by FGV which he strongly opposed. Hence he was removed.
Chief Thief's media team and prepaid dedak eating bloggers are in a panic.
54 or so Felda seats are now in serious danger of being lost by UMNO.
Here is some arithmetic folks. The BN need only lose about 21 seats (some say 15 seats) to lose the next election.
I can say with some certainty that BN will lose a minimum of 15 Parliamentary seats just to one opposition party alone. Cant say which party. Too close to elections. Not divulging any more info.
Now with the revelation by the ex FGV CEO about really crooked deals that he was opposed to, UMNO/BN will lose even more seats in the Felda areas.
DAP (this one I can mention lah) should be able to add (and not subtract) to their 38 Parliamentary seats. Say DAP wins another FIVE seats, that other party wins 15 seats, that is already 20 seats. UMNO/BN still has all the other Pakatan Harapan parties to contend with.
The announcement by Dr Mahathir that he is willing to be the PM candidate is very timely. Now the Opposition can be more focussed. They can rally around Dr Mahathir.
The truth is Parti Pribumi Bersatu is much, much stronger than what they appear to be.
There are two main reasons :
1. it is made up of largely UMNO members. However in Kedah many new members have joined up from PAS.
2. The presence of Tun Dr Mahathir Mohamed. Tan Sri Muhyiddin Yassin and also Dato Seri Mukhriz Mahathir are major assets to Pribumi. Dr Mahathir of course being the iconic figure.
The Malay economy is getting worse by the day. Malays and bumiputras are really suffering economically.
The longer chief thief waits to go for elections, the more difficult it is going to get for the Malays and bumiputras. The more difficult it is going to get for the kleptocrats.
Tun Dr Mahathir will be interim PM only. Set the house in order. - ostb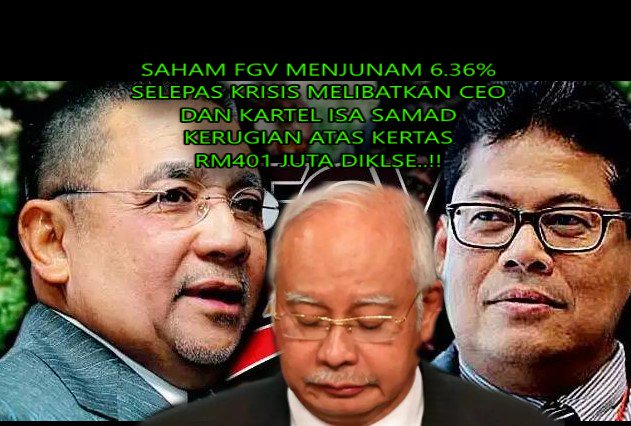 It's me or Isa, suspended FGV
chief executive tells shareholders...
Suspended Felda Global Ventures (FGV) chief executive officer Zakaria Arshad has thrown an ultimatum to the firm's shareholders: to pick between him and FGV chairperson Mohd Isa Abdul Samad.
"Under the circumstances, I cannot go on working in FGV. Shareholders have to decide… either he (Isa) goes or I go," Zakaria is quoted as saying by StarBiz.
Isa announced Zakaria's suspension yesterday, linking it to investigations into payments by an FGV subsidiary.
Zakaria's suspension came after he reportedly refused the FGV chairperson's call to him to resign over alleged wrongdoing with regard to payment to an Afghan company.
Zakaria, in a letter to Isa, denied he had violated the corporate code of governance and said the payment was approved by his predecessor.
"How to work if he's (Isa) still there? The shareholders can choose either one, they can decide," Zakaria said.
In a filing to Bursa Malaysia yesterday, the company stated that the leave of absence was pending an investigation of certain transactions by Delima Oil Products Sdn Bhd.
However, Zakaria, in a letter dated Monday, argued that the the payment process was approved and implemented by the previous chief executive officer.
"I am not guilty of those accusations and I will not resign as instructed," he had said in the letter.
Zakaria was appointed in April last year, replacing FGV's previous chief executive officer Mohd Emir Mavani Abdullah, who oversaw an attempt to acquire part of Indonesia's PT Eagle High Plantations Tbk.
FGV, under Zakaria's stewardship, returned to profitability in the first quarter ending March 31, 2017, posting a net profit of RM2.46 million, in contrast with the net loss of RM81 million in the same period last year. Revenue grew 15 percent to RM4.32 billion, from RM3.76 billion. - mk
Why Isa Samad wants to get rid of Zakaria Arshad?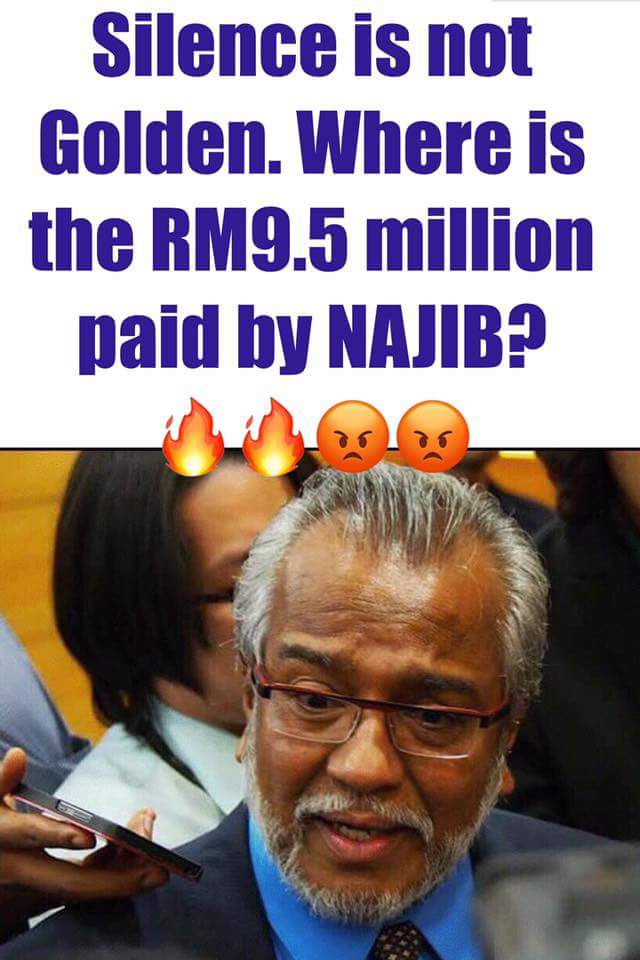 Dah 6 hari depa diam membisu...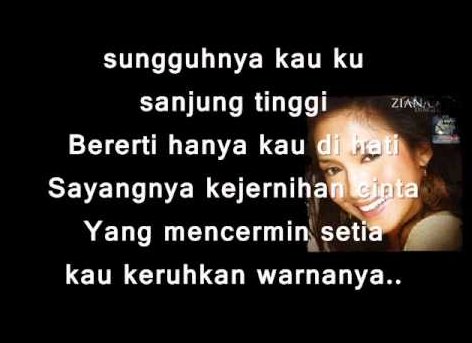 Masalah FELDA dikaitkan dengan Isa Samad,1MDB dikaitkan dengan Najib,
pasai depa FELDA dan 1MDB dah jadi carca marba...
cheers.