Sekumpulan monyet curi dokumen 'sulit' tentera...
Sekumpulan monyet bertindak nakal dengan "mencuri" tiga dokumen sulit milik tentera selepas menyerbu seorang posmen di Kem Terendak di Melaka.

Menurut laporan akhbar The Star, kejadian itu berlaku dua hari lalu apabila posmen yang berusia 33 tahun sedang melakukan rondaan rutin di kawasan perkemahan tentera.

Sewaktu kejadian, sekumpulan monyet mengepung posmen, merampas tiga dokumen "sulit" yang di bawanya dan melarikan diri ke arah pokok-pokok dan bumbung bangunan dalam masa hanya beberapa saat.

Bagaimanapun, persoalan mengapa posmen ditugaskan untuk menghantar dokumen sulit tentera masih tidak dijawab.

Laporan itu juga menyatakan ia bukan kali pertama monyet berkelakuan demikian di Melaka.
Setahun yang lalu, sekumpulan besar monyet memecahkan kereta seorang askar yang diletakkan di Hospital Kem Terendak dan mencuri barang miliknya termasuk gear menyelam skuba, lesen memandu, kad ATM dan wang tunai.

Pengarah Taman Negara dan Hidupan Liar (Perhilitan) Melaka, Noorzakiahanum Mohd Noh berkata, monyet-monyet di kawasan itu turut menyerang penghuni kem tentera, sekolah dan masjid yang ditempatkan di dalam kawasan kem.

Buat masa ini, renjer meletakkan perangkap di sekitar kem untuk menghentikan kenakalan haiwan ini.- fmt
Konsep Bas Terangkat di China...
Konsep yang diterapkan oleh pakar-pakar China pada bas ini untuk mengurangkan kesesakan lalu lintas, dan ia tampak berkesan dapat mengurangkan 35 peratus.
Perkara tersebut didedahkan dalam laporan Xinhua News yang mengatakan sebuah model Transit Elevated Bus (TEB) sedang diuji di bandar Qinhuangdao.
Ujian tersebut kini memasuki fasa ujian penggunaan elektrik dan sistem hentian kecemasan. TEB yang digerakkan sepenuhnya menggunakan kuasa elektrik berukuran 72 kaki panjang dan 25 kaki lebar mampu membawa 300 penumpang pada satu-satu masa.
TEB juga diramal mampu mencapai kelajuan 65 kilometer per jam, menjadikannya sistem pengangkutan awam yang laju. Lakaran konsep TEB sebelum ini menunjukkan bas berkenaan akan berjalan di atas jalan raya dan 'diatas trafik'.
Kenderaan awam yang lain akan melalui ruang khas di bahagian bawah bas berkenaan dan sebarang operasi bas henti-henti tersebut tidak akan mengganggu trafik. - mvs
Adnan-Najib: Autonomy talks hit a snag...
Sarawak Chief Minister Tan Sri Adenan Satem's recent warning that the Barisan Nasional "could lose in the coming General Election" if Putrajaya and Sarawak failed in the autonomy talks in regaining Sarawak and Sabah's lost rights suggests all is not going too well in the talks for the two Borneo states.
It does, however, show Adenan's patience is growing thin and that Prime Minister Datuk Seri Najib Razak has balked on the crunch issues – returning all the constitutional rights and autonomy as spelled out in the Malaysia Agreement.
The premier may have agreed to streamlining nitty-gritty details in overlapping state and federal administrative jurisdiction earlier in the year – the so-called first phase of the autonomy talks – but Adenan's demand that "the Barisan Nasional has to show results in the discussions over the devolution of Federal power to the state, or risk an Opposition victory in the 14th General Election" showed Putrajaya is not prepared to give up the usurped rights so easily.
Sarawak, among other things is demanding full control over education to put an end to a flip-flop national education policy; over medical and health and an increase in oil and gas royalty from the paltry 5% to 20%.
Under the Malaysia Agreement of 1963, the federal government only have purview over national defence, foreign affairs and internal security in the newly formed Federation of Malaysia.
The rest are to remain the purview of the two states.
Most Sarawakians however, do not believe the beleaguered Najib, bogged down by the 1MDB issue, was sincere despite agreeing to hold the autonomy talks
News reports seemed to portray he bent double back to agree to hold the talks.
His detractors, however, believed it was just another wayang kulit to appease the 26 Sarawak Members of Parliament and the 23 (now reduced to 22) in Sabah for their support to avert the threat of a no-confidence motion and therefore continue to keep him in power.
After all Putrajaya would be in an advantageous position by slowing the talks. Adenan doesn't look in top shape and he once had a close shave with death. He is on a pacemaker and in many public appearances, he does looked gaunt and exhausted.
Maybe, just maybe, Najib and Putrajaya believed that by dragging their feet and playing for time, they could perhaps see Adenan expire naturally by which they could probably deal with another more compliant man rather than a stubborn, outspoken old one.
Adenan had also said he would only hold office for one term.
In politics, five years is not a long time and probably it's worth the wait to deal with a new chief minister who could perhaps be pro-Umno.
If Adenan is still around in two years time for the General Election, it is therefore interesting how much leverage his warning would have and what could be achieved in the talks before the election.
If nothing substantial is achieved, what would Adenan and Sarawak BN do?
Adenan reportedly had told the prime minister himself, "I do not want, in the coming General Election, to be seen defending the Federal Government if they do not concede, if they do not give us concessions on our requests".- Laja Lang,theheatmalaysia
CentrePoint Bandar Utama and Your Chicken Meal...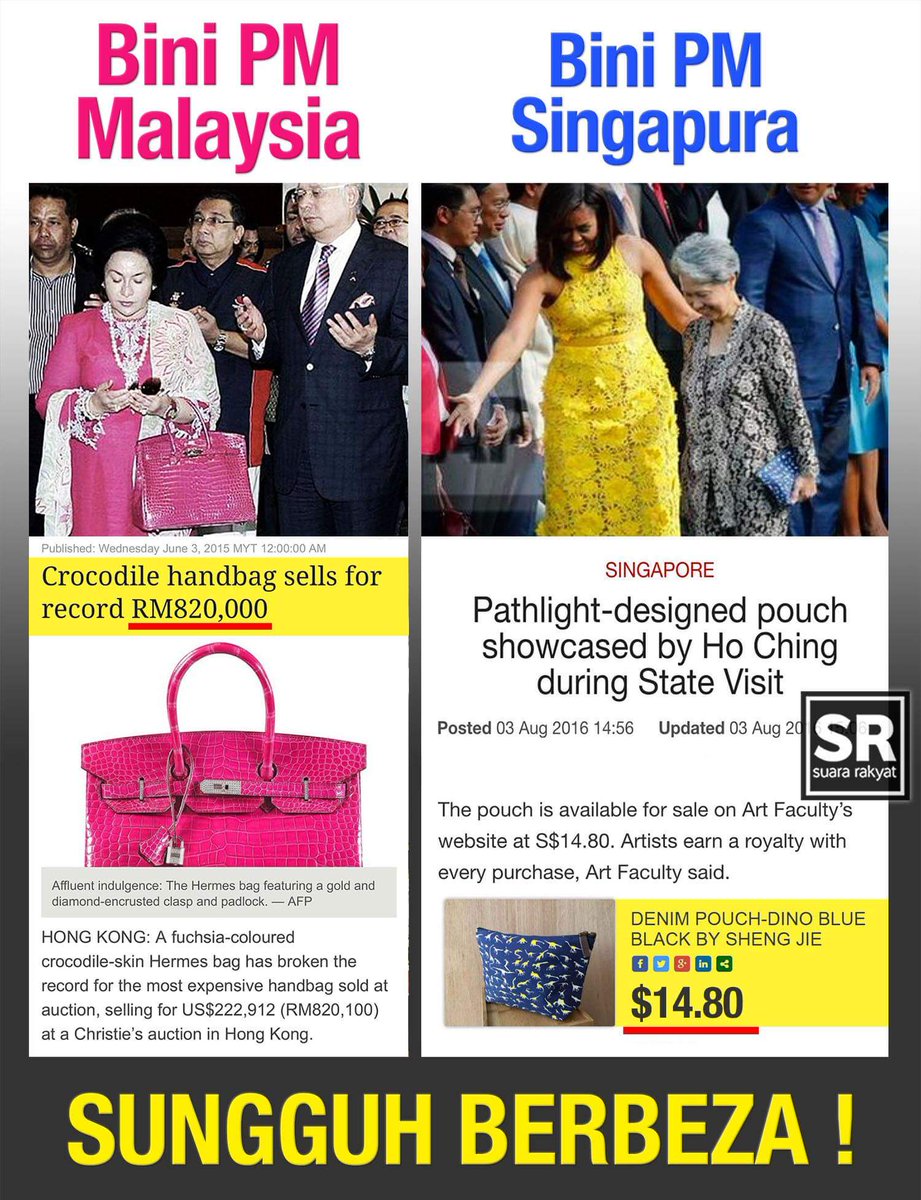 M'sian PM wife bag cost RM820k against S'pore PM wife bag cost only S$14.80.
Do the calculation and u become angry...
"Derma AS$681 juta bukan datang dari Arab Saudi, TETAPI 1MDB" -Jabatan Kehakiman (DOJ) Amerika Syarikat.Salah tetap salah, tidak ada hukum dunia yang boleh menghalalkannya..mereka yang bersekongkol juga tidak akan terlepas akhirnya..
cheers.