Al Jazeera's Exclusive Story About Altantuya's Murder Introduces A New Alleged Killer...

Australian journalist Mary Ann Jolley was deported at KLIA after the Home Ministry said that her activity had a "potential negative effect on the image of Malaysia".

Al Jazeera has revived the tale of Altantuya Shaariibuu's murder by publishing a 26-minute video that investigates the case in great details

The episode of Al Jazeera's "101 East" series largely revisits already established details of the murder and does not appear to include new information of note, but features dramatic re-enactments of key moments of the case including the murder to the Mongolian by two former police commandos.

Despite reproducing existing information, the programme does introduce a new alleged killer in the convoluted murder saga: Razak Baginda, Altantuya's former lover and ex-aide to Datuk Seri Najib Razak when the latter was still deputy prime minister.

This allegation came from a purported Australian "relative" of Sirul Azhar Umar, one of two police commandos convicted of Altantuya's murder.

The relative spoke of his conversation with Sirul about the night of Altantuya's murder. "I said, 'Did you pull the trigger, like did you?" he recalled.

"I said to him (Sirul)... you had a choice, you had a choice of walking away from the situation and leaving it alone.

He said, 'I would have been dead', cause of what he knew."

Christened as "Frank" by Jolley, the person goes on to claim that Sirul told him that Razak was the person who shot and killed Altantuya in 2006.

Razak declined to be interviewed, but rubbished Sirul's claims as recounted by "Frank".

"Frank" also revealed two mobile phones, which allegedly belongs to Sirul, that shows that Sirul demanded AUD17 million in an attempt to blackmail PM Najib Razak

The text messages retrieved by Al Jazeera from the mobile phone of Sirul Azhar Umar, the man convicted of the killing, show that the convicted bodyguard was blackmailing Prime Minister Najib Razak for millions of dollars to stay in Australia and "say nothing" about the case just before he was re-arrested.

This way, said Sirul, "I won't bring down the PM"!

Tellingly, the response from Najib's alleged intermediary, Abdul Salam bin Ahmad, was that Sirul's demand for a total of AUD17 million was "being discussed".

Salam has regularly visited Sirul, who is being held at the Villawood detention centre in Sydney and is believed to be involved in funding his legal team in Australia.

It was also revealed that the journalist who produced the video was deported by Malaysian authorities on June 14

The current affairs programme 101 East showed Australian journalist Mary Ann Jolley being escorted by officers at the Kuala Lumpur International Airport.

"I'm being escorted by about 5 customs agents and a man in a military outfit, so I'm about to board my flight to Sydney. Clearly I hit a raw nerve," Jolley said in the programme as she walks to board her flight to Sydney.

A statement by Al Jazeera said the Home Ministry deported her as her activity had a "potential negative effect on the image of Malaysia".

The Prime Minister's Office (PMO) has released an official response, reiterating that the 'PM does not know Altantuya'

"Prime Minister Najib Razak did not know, has never met, has never had any communication with and has no link whatsoever with the deceased."

"The two convicted individuals were not the Prime Minister's personal guards. This allegation is intentionally misleading, and has been used to perpetuate baseless conspiracy theories.

"They were members of a unit of the Royal Malaysian Police that provides rotating security for government officials and visiting dignitaries. The prime minister was not aware of the actions of the individuals until their arrest," says the statement released by the PMO today and posted on the Al Jazeera website.

PMO also said that thorough legal process had taken place, and "such malicious allegations are therefore also an affront to Malaysia's judiciary"

Comprehensive legal process has taken place, including police investigations and court trials, including at Malaysia's High Court, Court of Appeal and Federal Court.

The guilty parties have been convicted and sentenced. At no point during any of these legal stages was the Prime Minister implicated, even indirectly.

These malicious allegations are therefore also an affront to Malaysia's Judiciary.

The statement concluded that the allegations are "baseless smears for political gain"

The statement also said that Altantuya was never involved in the purchase of submarines for the Royal Malaysian Navy, as has been alleged, and that the purchase was directly negotiated between the Malaysian and French governments.

"The reality is that there was absolutely no wrongdoing on the Prime Minister's part in the Government's purchase of the submarines. Absolutely no payments ever benefited him. Again, these are baseless smears for political gain."

Earlier this year, Sirul fled to Australia to seek for refuge after the court reversed his acquittal for the murder of Mongolian model Altantuya Shaariibuu.

This is not the first time Najib is involved in a scandal. Recently, Transparency International (TI) premier, José Ugaz said that Najib holds the key to the mystery surrounding the debt-ridden 1MDB.- sar.com
Polis siasat wartawan Al Jazeera...
Polis akan menyiasat wartawan Al Jazeera, Mary Ann Jolley berhubung laporan yang dibuatnya mengenai pembunuhan Altantuya Shaaribuu.
Ketua Polis Negara Tan Sri Khalid Abu Bakar berkata siasatan akan dibuat ke atas wartawan berpangkalan di Australia itu mengikut Seksyen 505(b) Kanun Keseksaan kerana membuat kenyataan dengan niat mahu menyebabkan ketakutan kepada orang awam.
Khalid juga menafikan dakwaan terkandung dalam program mingguan Al Jazeera, 101 East yang berjudul Murder in Malaysia.
Antara lain laporan itu mendakwa Sirul Azhar - yang disabitkan kesalahan membunuh Altantuya - cuba memeras ugut Datuk Seri Najib Razak.
Dakwaan itu dibuat berdasarkan sari pati dipeorleh dairpada telefon genggam bekas komando polis berkenaan.
"Siasatan polis tidak penah menunjukkan ada cubaa memeras ugut perdana menteri atau seumpamanya," kata Khalid kepada Malaysiakini.
Tak boleh cakap
Khalid juga berang dengan laporan itu yang memetik sumber keluarga Sirul Azhar yang dirahsiakan.
Melalui invididu itu penonton 101 East diberitahu kononnya Abdul Razak Baginda yang menarik pemicu bagi membunuh wanita Mongolia terbabit.
"Ini semua mengarut. Ia adalah dakwaan tidak berasas untuk mengelirukan orang ramai.
"Siasatan rapi polis tidak menemui apa-apa bukti menunjukkan Abdul Razak ada di tempat kejadian," katanya.
Mengenai tiada sebarang motif dibuktikan di sebalik pembunuhan Altantuya, Khalid berkata isu berkenaan sudah dijelaskannya beberapa kali sebelum ini.
"Mahkamah mendapati tiada motif dapat dibuktikan. Saya tidak boleh bercakap bagi pihak mahkamah.
"Tetapi ada kes tertentu, motif tidak diperlukan bagi membolehkan seseorang tertuduh disabitkan kesalahan atas sesuatu jenayah," katanya.
Berlepas ke Australia
Ditanya mengapa Mary Ann diusir ketika dia masih menyiapkan laporannya, Khalid berkata soalan itu perlu diajukan kepada Kementerian Dalam Negeri dan Jabatan Imigresen.
"Saya cuma mahu menjelaskan dakwaan dibuat dalam laporan itu tidak betul dan tidak selaras dengan siasatan dibuat polis.
"Tambahan pula kes ini ditangani di peringkat Mahkamah Persekutuan. Mengapa isu ini dibangkitkan sekarang? Adakah ini satu lagi plot terhadap perdana menteri?" katanya.
Abdul Razak - yang menjadi orang kepercayaan Najib - didakwa atas kematian Altantuya itu namun hakim kemudian mendapati mereka tidak bersalah.
Bagaimanapun pada Januari lalu Mahkamah Persekutuan membuat keputusan Sirul Azhar dan Azilah Hadri bersalah atas kematian Altantuya pada 2006 dan dihukum mati.
Sirul Azhar 'terselamat' kerana berlepas ke Australia sebelum penghakiman dibuat dan kini ditahan di pusat tahanan imigresen negara berkenaan.
Usaha kerajaan mengekstradisi Sirul Azhar gagal kerana dasar Australia yang tidak akan menghantar pulang mana-mana pesalah yang berdepan hukuman mati di negara mereka.
Perdana menteri pula sentiasa menafikan terbabit dalam kes berkenaan atau pernah bertemu Altantuya.-mk
LKS : With new evidence govt should re-open Altantuya case..
Al Jazeera has produced new evidence on the motive for Altantuya's gruesome murder and the mastermind behind it.

DAP elder statesman Lim Kit Siang called on the police to re-open the Altantuya murder case following new evidence apparently uncovered by Al Jazeera's 101 East Programme aired on Friday.
"The programme has produced new evidence which may lead to the discovery of the motive for Altantuya's gruesome murder and the person who is the mastermind behind the Mongolian model's killing."

"Will the police re-open investigations to delve into the real motives and nab the mastermind behind the killing?"

Lim, who is also DAP Parliamentary Leader and Gelang Patah MP, called on Prime Minister Najib Abdul Razak to direct the Inspector General of Police, Khalid Abu Bakar, to re-open investigations into the killing based on the contents of the programme.

He noted that instead of instructing the re-opening of investigations into the Altantuya killing, the authorities deported Mary Ann Jolley who put together the documentary on the case for the 101 East Programme and issued a press statement rubbishing the journalist's reporting.
"The Altantuya murder case appears to be out-of- bounds for the media, local and foreign. If that's the case, the government must explain."

Why is the case of Altantuya so sensitive that the Al Jazeera journalist had to be deported? he asked. "Is investigating the murder out-of-bounds for the media, local and foreign?"

Lim pointed out that since the Prime Minister has strongly and repeatedly denied meeting or even knowing Altantuya, his story should stand up to scrutiny by any media including Al Jazeera.
"If the government does not want to allow reporting on the case by the media, it should set up a Royal Commission of Inquiry (RCI) to probe the case and how it was handled.'

Lim, continuing, said that there were many questions still unanswered on the Altantuya murder case.
"The most serious question was the motive for the murder. The two convicted killers, former police commandos Sirul Azhar Umar and Azila Hadri, had not met Altantuya before the murder." - fmt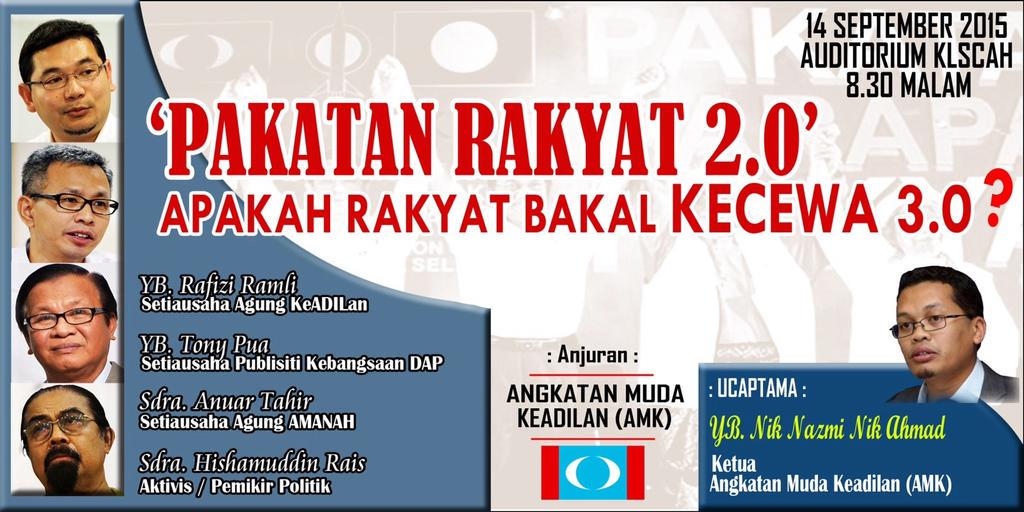 cheers.