There has been a fair deal of "conspiracies" of late, beginning with the sex video scandal, followed closely by two Perak state excos being alleged of sexually abusing an Indonesian maid and leaking government secrets respectively.
Finally we have some new developments in the month-long sex video scandal. Former senior private secretary to deputy primary industries minister Haziq Abdullah Abdul Aziz and five others have been arrested in connection with this case, and the police have also seized 13 handsets, and the six men have been remanded for six days to assist in the investigation.
It is said that the video has been a political ploy meant to take out economic affairs minister Azmin Ali. IGP Abdul Hamid Bador revealed several days ago that the police had identified the mastermind suspected of creating and circulating the sex video as well as his accomplices. The police believe there is a group of people behind this whole thing.
Among those detained are PKR members. This shows that Azmin's accusation that the video was spread by people within his party had not been unfounded. This revelation could as well trigger a tremendous internal storm within PKR.
As for the irregularities involving Perak excos, DAP state chairman Nga Kor Ming said it was unusual and was by no means coincidental to have such things happening in succession lately, in view of the 2009 power seizure of the then Pakatan Rakyat state government.
In the 14th general elections last year, Pakatan Harapan won 29 of the 59 state assembly seats, while Umno and PAS won 27 and 3 respectively, resulting in a hung state assembly. PH later managed to form the new state government only after two Umno reps voiced their support for PH.
If two state by-elections were to be held again and PH were to lose both, then the PH state government would collapse, and Umno-PAS would take over. As a matter of fact, Umno's state assemblyman Saarani Mohamad revealed that DAP's state exco cum Tebing Tinggi state assemblyman Abdul Aziz Bari had contacted five Umno reps in a ploy to overthrow menteri besar Ahmad Faizal Azumu.
Ahmad Faizal is the only elected PPBM rep in the state assembly, while DAP has 18 seats. It is not easy for Umno to try to create trouble between DAP and PPBM. Saarani repeated the same story this April.
DAP's state exco Paul Yong was recently accused of rape, while PKR's state exco Abdul Yunus Jamhari was alleged by his former aide of leaking government secrets and corruption. It is up to the police and MACC to investigate whether such allegations have also been politically motivated, and it is still premature for anyone to jump to a conclusion now.
That said, Abdul Yunus claimed that the accusation was meant to kill his political career, and that the accusation began since the party's elections last year as he was backing the party's deputy president Azmin Ali. According to him, this is a political conspiracy, and the person lodging the police report was Beh Yong Kean, Kerian district officer from the same party, not a rival party.
State PKR chairman Farhash Wafa rebutted Abdul Yunus's accusation that his alleged involvement in corruption was a political ploy related to the party's ongoing infighting. Farhash said the incident was purely a conflict between Abdul Yunus and his former aide and divisional deputy chairman, and had nothing to do at all with party president Anwar Ibrahim.
Farhash, Anwar's political secretary, was said to have disappeared soon after Azmin's sex video scandal came into light. However, he denied the allegation by blogger Raja Petra Kamarudin that he was arrested with Haziq at KLIA while preparing to accompany the latter on a trip to the Philippines. He said it was nonsense to implicate him in the sex scandal.
Additionally, someone circulated a video on the social media alleging Selangor menteri besar Amirudin Shari, an Azmin confidant, of sharing a Sandakan hotel room with Bukit Melawati state assemblywoman Juwairiya Zulkifli, also from PKR, on May 11 (Sandakan by-election day) Apparently the power struggle within the party's central leadership has now spread to Perak and Selangor, and could affect the stability of the state administrations if things get out of hand.
In the meantime, former PM Najib claimed that he was tipped by a PH supreme council member that DAP veteran leader Lim Kit Siang was behind the formation of PPBM, while Umno's vice president Mahdzir Khalid claimed that Lim was also behind the formation of Amanah, calling the DAP leader the "father of Malay disunity". - sinchewdaily
Aduhai Keadilan,jangan menang
jadi arang,kalah jadi debu...
Semasa berlaku perlawanan merebut jawatan Timbalan Presiden PKR antara Rafizi dengan Azmin saya sudah menyatakan kebimbangan saya jika ia dibiarkan, perlawanan itu akan memberi kesan buruk kepada Keadilan amnya dan Anwar khasnya.
Justeru saya mencadangkan Anwar memanggil kedua individu itu dan menasihati mereka agar kembali kepada status quo, Rafizi menarik diri daripada tentang Azmin dan kekalkan Azmin sebagai timbalan presiden. Selesai.
Namun cadangan itu tidak diendahkan dan Anwar lebih yakin kepada ketulenan sikap demokrasi di kalangan ahli Keadilan. Hari ini apa yang saya bimbangkan itu sudah menjadi kenyataan, Azmin dan Anwar berada dalam medan perang yang hangat.
Cadangan Anwar semalam agar Azmin melepaskan jawatan jika video lucah Haziq itu tulen tidak dapat diterima oleh Azmin. Azmin mengambil sikap menyerang balik Anwar secara agak biadab apabila menyuruh Anwar mencerminkan muka sendiri.
Sebenarnya cadangan Anwar itu normal, dan bersifat politis yang tidak pun perlu diberi reaksi begitu keras oleh Azmin. Azmin pula tidak perlu takut kerana kalau video itu palsu, ia tidak mengubah apa-apa kolam politiknya. Biarlah air bergelombang asalkan kita tidak kelemasan.
Tetapi apabila Azmin menjadi bengkeng begitu, orang mudah menebak dan menjangka apa yang ada dalam kolam politiknya. Di sini Azmin kurang cerdik dan hilang daya intelektual politiknya selama ini yang dilihat sebagai anggun, berdisiplin dan smart.
Tampaknya samudra luas Keadilan akan terus bergolak ekoran dua naga sakti dari benua sama ini (Azmin dan Anwar) kini bertarung merebut juara. Tindakan Azmin malam tadi menghimpun 27 orang pimpinan Keadilan termasuk Naib Presiden bersama 14 orang ahli Parlimen sebagai menyusun barisan untuk merempuh Anwar.
Panji-panji kebencian dan dendam tampaknya sudah tergenggam erat ditangan. Barisan Azmin sudah bersiap sedia akan melakukan apa sahaja. Semalam mereka sudah berbai'ah. Mereka rela dalam pertarungan ini walaupun menang jadi arang kalah jadi debu.
Diharap pihak Anwar perlu bertenang dan tidak lagi mengeluarkan apa-apa kenyataan yang boleh membakar jiwa Azmin dan orang-orangnya. Kita di luar ini yang menjadi pemerhati dan penonton sama-samalah berdoa agar hujan lebat turun mendingin medan perang yang kini mulai hangat dan bakal mendidih. Marilah.
Dan sebaiknya juga Majlis Presiden Pakatan Harapan perlu bersidang segera untuk menangani percikan api dalam Keadilan itu kerana jika dibiarkan ia akan turut membakar kerajaan PH. Jangan biarkan Najib terus ketawa mengejek.-mso
Kpd geng2 PKR...
Ana mtk maaf bnyk2. Kemelut dalaman kamu, kamu jwb laa sndri ya. Bukan ana xnk bekap, tp ana x brp fasih bab2 sex nih. Utk tidak menyinggung mana2 pihak, ana tawakkuf buat masa ni...
Ana cuma ingin sampaikan rasa simpati shj kpd pnyokong2 grassroot yg ikhlas berjuang selama ini. Kesian pd kamu dek mainan pemimpin kamu....
Yg sebenarnya ana dh letih dgn isu sex nih. Ana bosan, ana meluat... Sungguh...!!!
Maaf ya kengkawan...- f/bk
Najib Belanja RM3.3 juta Membeli Belah...
Beberapa tahun lalu, saya tampil mendedahkan bagaimana Perdana Menteri ketika itu, Dato' Seri Najib Razak membelanjakan sejumlah RM3.28 juta membeli barang kemas mewah di gedung De Grisogono. Pembelian itu dibuat menggunakan kad kredit peribadinya, yang kemudian dibayar menggunakan wang rakyat dari Kumpulan Wang Amanah Persaraan (KWAP).
Kini, semua bukti dibentangkan satu persatu di mahkamah. Tepat seperti yang pernah saya dedahkan selama ini. Tapi saya tahu penyokong bawahan Umno akan terus menjadi kuda tunggangan Najib dan akan terus menjerit fitnah, walaupun bukti itu terbentang di depan mata.
Malah, Najib sekarang ada lebih banyak kuda yang boleh ditunggangnya untuk menutup kes jenayah penyelewengan yang dihadapinya. Tidak cukup dengan kuda-kuda dari Umno, dia sekarang juga berjaya menggunakan kuda-kuda dari PAS untuk menjerit fitnah setiap kali bukti penyelewengannya dikemukakan. - Rafizi Ramli
Nik Faisal bukanlah kunci kepada segala-galanya...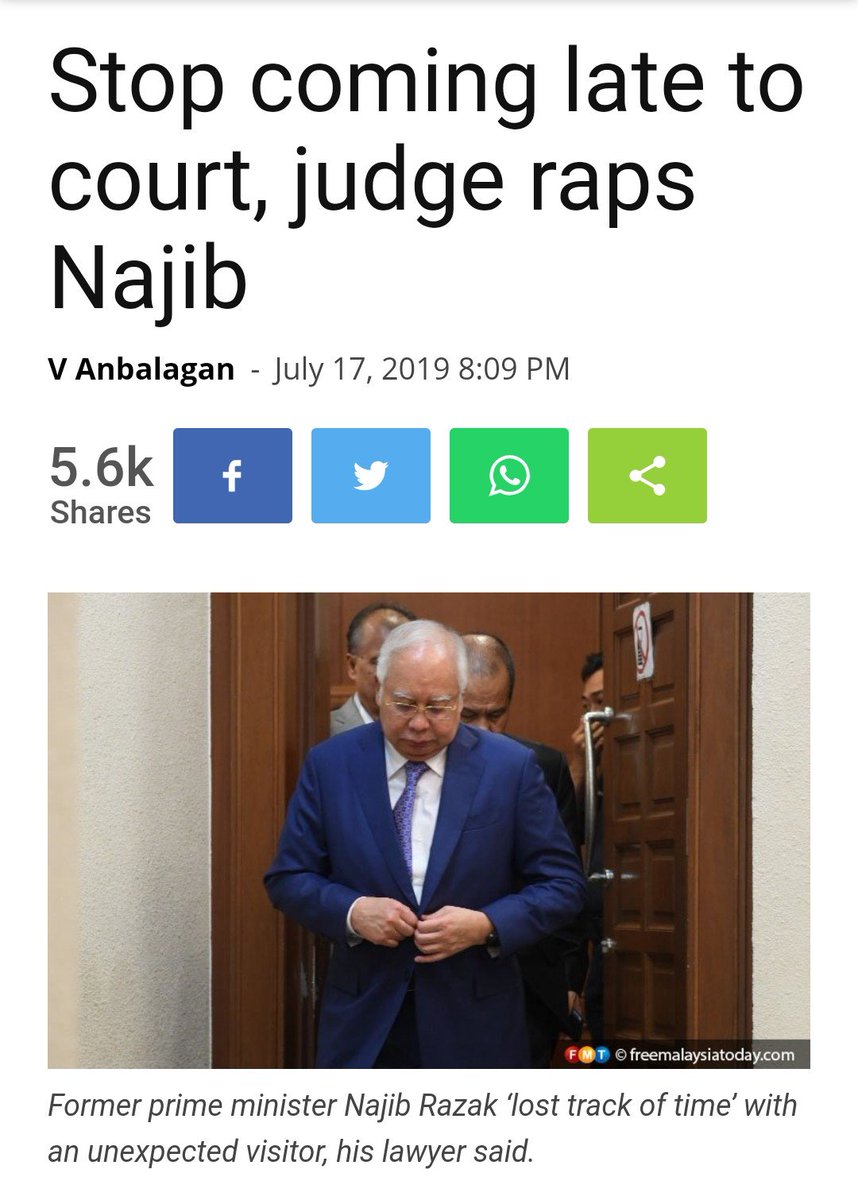 Kalu dah boring hadir mahkamah kamu mengaku salah boleh hakim
jatuhkan hukuman penjara dan kamu tak payah dtg mahkamah lagi.
cheers.