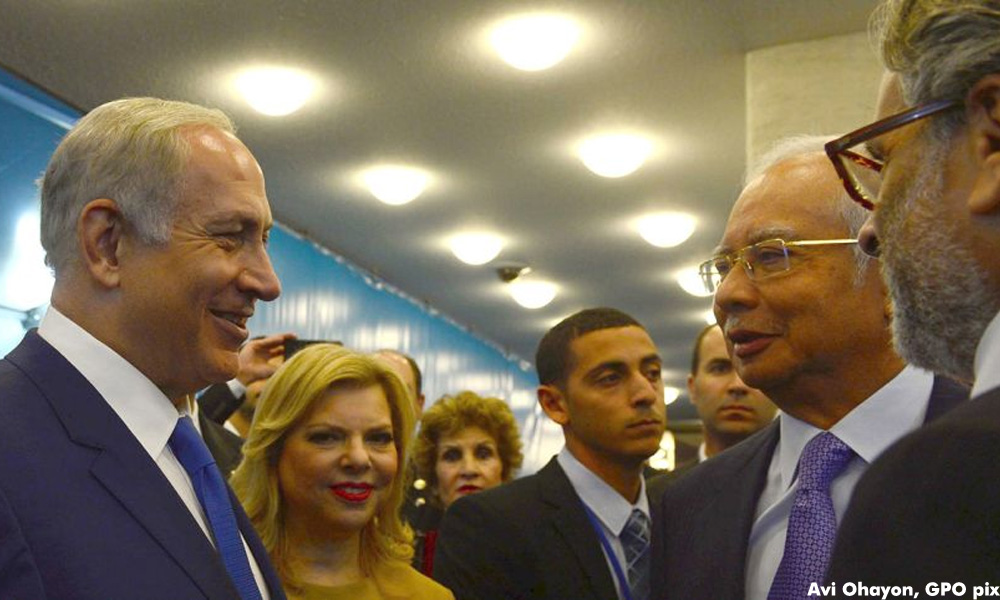 David Roet, bekas timbalan Duta Israel ke PBB merupakan wakil rasmi pertama negara Israel yang kami ketahui dibenarkan masuk ke Malaysia secara rasmi.
Beliau diberitakan ke Malaysia menghadiri sidang UN- HABITAT Forum tentang isu penempatan semula.
Perlu diingatkan bahawa Malaysia tiada hubungan diplomatik dengan Israel dan rakyat Malaysia tidak dibenarkan pergi ke Israel.
Akhbar negara itu, 'The Times of Israel' melaporkan turut bersama rombongan tersebut ialah bekas menteri Israel dan beberapa pegawai dari kementerian luar Israel.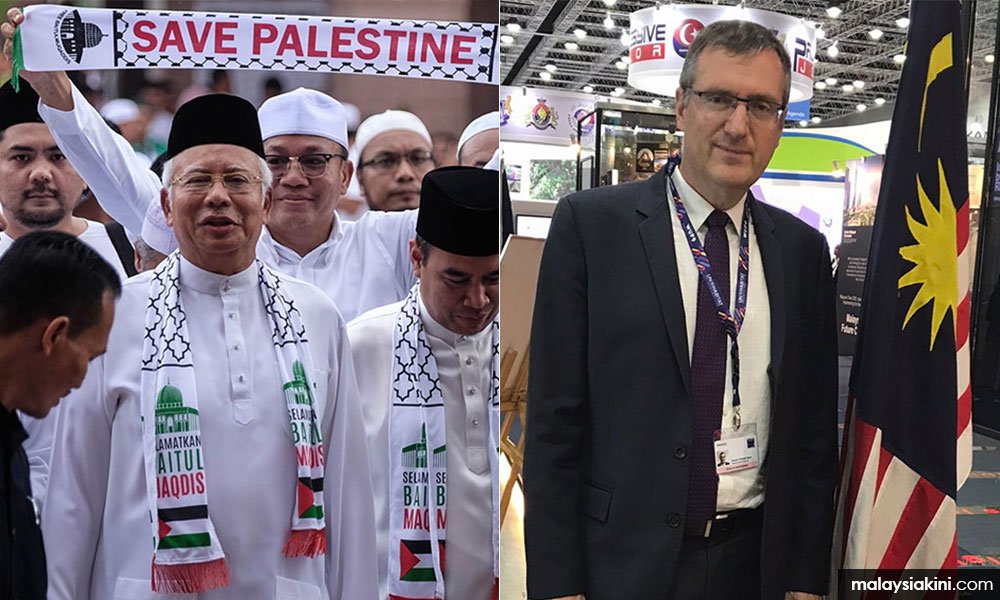 Akhbar tersebut juga mengalu-alukan perdagangan 'ber-profil rendah' yang sedang berkembang pesat di antara Israel dan Malaysia yang kini bernilai lebih kurang RM 6 billion.
Pihak Israel kelihatan amat gembira dengan sikap terbuka dan bermurah hati kerajaan Malaysia. Ramai rakyat Islam terkejut dan amat berduka-cita tentang perkembangan terbaharu ini yang tidak diumumkan kepada rakyat jelata.
Sejak bila kerajaan Malaysia membenarkan pegawai tertinggi Israel memasuki negara kita?
Adakah kita sudah menggadai maruah umat Islam dalam peristiwa negara Israel ini kerana wang dan perdagangan semata mata?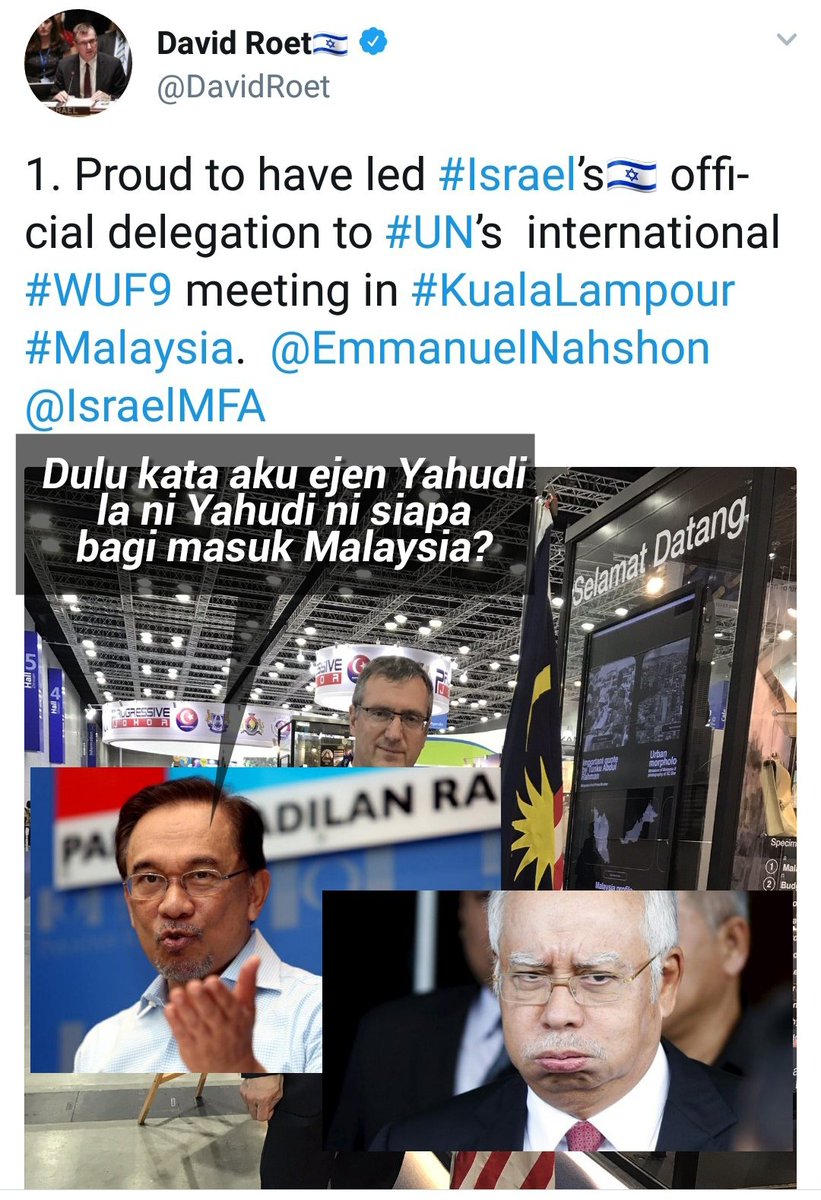 Hantar pulang Uighur Muslim ke China
Baru beberapa hari lepas Timbalan Perdana Menteri sanggup menghantar pulang 12 orang kaum Uighur Muslim yang tertindas pulang ke negara China atas alasan menjaga 'hubungan baik' antara negara yang termasuk isu perniagaan.
Apa sudah jadi kepada nilai maruah umat Islam Malaysia hari ini ?
Apa sebenarnya polisi dan sikap kerajaan Malaysia kini terhadap Israel? Adakah Malaysia sudah berlembut kepada Israel dengan membenarkan pegawai tertinggi mereka memasuki negara kita?
Adakah ini hasil amalan wasatiyah Datuk Seri Najib Razak atau atas nasihat 'Global Movements of Moderates' yang diketuai oleh Nasaruddin Mat Isa yang menyebabkan kerajaan mengubah dasar dan sikap? Rakyat ingin tahu.
Atau adakah kerana Najib Razak begitu taksub mengikut jejak langkah kerajaan Arab Saudi yang telah didedahkan oleh Menteri Israel sendiri mempunyai hubungan rapat yang sulit dengan Israel?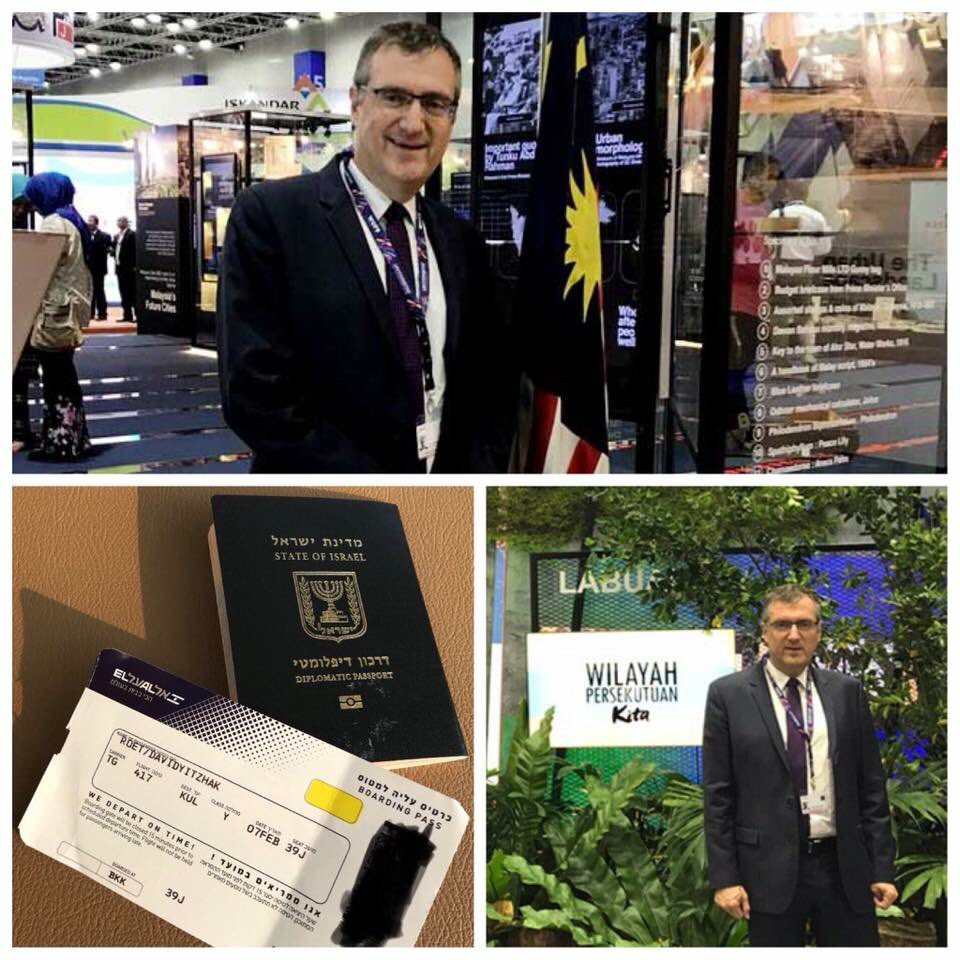 Nampaknya depa tak kan jawab sapa yg benarkan David Roet masuk Malaysia
Adakah Malaysia telah menjalinkan hubungan sulit dengan Israel?
Apa jua yang sebenarnya, kita minta kerajaan hentikan sandiwara lakonan anti-Israel di khalayak ramai tetapi berbaik-baik secara sulit.
Najib Razak lambat membuat kenyataan mengecam tindakan Amerika memindah kedutaannya ke Baitul Maqdis dan Malaysia kelihatan tidak bersungguh-sungguh mengutuk perbuatan tersebut.
Tindakan membenarkan pegawai tertinggi lsrael memasuki Malaysia dan juga pegawai kita bertemu dengan pegawai Israel di Malaysia seperti dilaporkan dengan bangga oleh akhbar Israel adalah suatu pengkhianatan besar kepada rakyat Palestin dan juga Malaysia.
Datuk Seri Najib perlu menjawab secara rasmi dan berterus-terang tentang isu ini segera!
Sementara iu,pembangkang meminta penjelasan kerajaan terutama imigresen, dan Menteri Dalam Negeri berhubung dakwaan kemasukan delegasi diplomat kanan Israel ke Malaysia menyertai program World Urban Forum (WUF), semalam.
Pengarah Komunikasi PKR, Fahmi Fadzil berkata, Menteri Dalam Negeri, Datuk Seri Ahmad Zahid Hamidi perlu segera memberikan penjelasan sama ada benar atau tidak dakwaan delegasi diplomat Israel telah dibenarkan masuk ke Malaysia dengan menggunakan pasport Israel.
"Jika benar, siapa yang memberikan kebenaran untuk mereka masuk? Ini adalah satu hipokrisi atau kemunafikan yang amat besar oleh Putrajaya.
"Ia mencabar kepada maruah negara memandangkan Malaysia tidak mempunyai sebarang hubungan diplomatik dengan Israel dan langsung tidak mengiktiraf Israel," katanya dalam satu kenyataan, hari ini.
Malah, kata Fahmi, Malaysia sering mengecam rejim Israel yang sentiasa menzalimi rakyat Palestin, lebih-lebih lagi cadangan Presiden Amerika Syarikat untuk memindahkan kedutaan negara itu dari Tel Aviv ke Jerusalem. - mk
First Isreali diplomat to visit Malaysia in 53 years.
To stay opposition or vote BN...
Every time when it comes to a general election, the local Chinese associations will customarily hop into some kind of action, submitting some sort of memorandum of understanding in hope of resolving the issue of Chinese language education once and for all. Unfortunately most of the appeals would go down the drain, including the call for UEC recognition and institutionalizing the construction of new Chinese primary schools before the 2008 general election.
The same issues were raised again in 2013. And this year, Dong Zong (the United Chinese School Committees Association of Malaysia), Jiao Zong (the United Chinese School Teachers' Association of Malaysia) and five other major Chinese associations in the country have planned to submit the "Chinese Associations Memorandum of Understanding on Education" in early March, repeating the same requests that are very likely to suffer the same old fate.
As a matter of fact, MoU aside, Dong Zong also staged a "protest to save Chinese education in Malaysia" on September 26, 2012 that saw the participation of some two thousand supporters of Chinese education. Then Dong Zong president Yap Sin Tian led a 20-member delegation to hand in the MoU on the eight major problems of Chinese education at the Parliament House.
The most painful experience in submitting the appeals took place in 1999, when the MoU with pledged support of some 2,098 Chinese organizations nationwide was "in principle" accepted by leaders of Chinese parties in Barisan Nasional on behalf of the cabinet. However, after BN won the election, then prime minister Dr Mahathir described the appeals as an "intimidation" on the election eve as he likened the election appeals working committee as communists and Al-Ma'unah extremists.
On August 18, 2000, then Umno Youth vice chairman Abdul Aziz Sheikh Fadzir led about 200 protestors to demonstrate in front of KL and Selangor Chinese Assembly Hall, threatening to burn down the building. The citizens have the right to make reasonable requests and appeals and it is essential for the government to respect public views. Because of previous painful experiences, some local Chinese associations have since opted out of the business, while election MoU now focuses principally on the education issue.
Chinese associations can only reflect the dilemma of Chinese Malaysians by way of submitting an MoU in the run-up to a general election. But as the percentage of Chinese population shrinks by the year, it is feared that any appeal by Chinese associations will eventually fall on deaf ears.
To break through its own dilemma, Dong Zong has been adopting different strategies over the years. After the loss in the Merdeka University case in 1981, Dong Zong under the leadership of Lim Fong Seng came up with a '3-in-1″ concept. In the 1982 general election, it came up with the "join BN to rectify BN" slogan, successfully enticing some Chinese educationists to join Gerakan Rakyat. Unfortunately, even that could not reverse the ill destiny of Chinese education in Malaysia after all those years.
In the 1990 general election, Lim Fong Seng quit his posts in Dong Zong and Merdeka University to join DAP with 26 others. But, they failed to beat BN and Umno. Even though these fighters failed to change the destiny of Chinese Malaysians, they prompted many to rethink the ways to break their political predicament.
The Malaysian Chinese community indeed pinned its hopes on the BN before. Even though BN won the overwhelming support of Chinese Malaysians in the general elections of 1974, 1982, 1995, 1999 and 2004, the ruling coalition never actually instituted fair and equitable governance. The community could only look to some humble gains such as new or relocated SJKCs when the Malays were politically in disunity.
The chronic setbacks and failed struggles have culminated in a determined shift in political inclination among Chinese voters, peaking in 2008 and 2013. With the political situation getting increasingly chaotic today, it is imperative that Chinese Malaysians seek out new strategies in order to get their messages across to the authorities.
A major obstacle in the way of fair governance is racist politics, while racism spawns the questions of monoculturalism and ethnic superiority. As a result, the Chinese community can only engage perennially in the bargaining game, risking themselves at times of being labeled opportunistic plunderers. The government has been unable to recognize the UEC certificate largely due to hindrances from Malay organizations on political consideration.
This time, the MoU on education has also called for the setting up of an education ombudsman to monitor the fair and efficient implementation of education policies, but again this could be distorted and politicized by some irresponsible quarters. To deliver ourselves out of the current political dilemma, we must first dismantle racist politics. Even if we are not able to crush it completely, at least we can check its advances.
In other words, to defend the rights of minority communities, we must actively promote the democratic process in establishing a more comprehensive system. We must reconsider how we can shed the dilemma that has haunted us for decades soon after we celebrate the Chinese New Year. – mysinchew
The real reason why Kelatan
Sultan striped Dr.M's tile...
It's election time and strange things are happening. Last week there was nothing more shocking than the Sultan of Kelantan's withdrawal of the Darjah Kerabat Yang Amat Dihormati title from Pakatan Chairman Tun Dr Mahathir Mohamad, and the Datukship from Amanah vice-president Husam Musa and party state chief Wan Abdul Rahim Wan Abdullah.
No one knows the reasons for the revocation. The public is entitled to know why the titles were stripped from the affected individuals because it suggests that they did something that either brought the honour system into disrepute, or committed an offence that was outright criminal in nature. Why else would their titles be revoked?
Here the Prime Minister and the Menteri Besar of Kelantan are answerable. Surely the Government must adhere to a process when it recommends to a Ruler that such a drastic step is justified. They are the ones who recommend members of the public to be given titles and awards by the state Ruler, or in the case of federal awards, by the Yang di-Pertuan Agong. They should therefore also be responsible for explaining why the titles should be removed. It is not acceptable in this day and age for anyone, not even the Prime Minister or the Menteri Besar, to essentially say: "I can do what I like".
The United Kingdom's system of honours and titles is somewhat similar to ours. The Queen grants the honours when so advised by the Prime Minister, and revokes them when requested to by the Government. However, there is a Forfeiture Committee headed by a top civil servant to advise the Cabinet of when titles need to be forfeited or revoked.
They take the revocation of titles seriously because it impugns the individual. The reasons for their decision are always made public. For example, Sir Anthony Blunt had his knighthood stripped from him when he was caught spying for the Russians. Lester Piggot, the champion jockey, had his title taken away for tax fraud, and Fred Godwin faced the same fate for being responsible for massive fraud in the Royal Bank of Scotland in 2008.
Can the Prime Minister and the Kelantan Menteri Besar tell us what crime or dishonourable act Tun Dr Mahathir, Husam and Wan Rahim committed that warranted shaming them publicly? Exactly what did they do to make them unfit to hold the titles that had been bestowed on them?
Here I urge the Malay Rulers to set up a special Forfeiture Committee to look into all such cases that come before them. This not only protects the dignity of title-holders from being abused by those who oppose them, but also protect the Rulers themselves from being accused of conduct unbecoming of a sovereign. Our respect for the Rulers requires them to be always non-political, impartial, fair and transparent when performing their duties. The last thing the Rulers want is to be unwittingly entangled in the maelstrom of dirty politics and abuse of power. - zaid ibrahim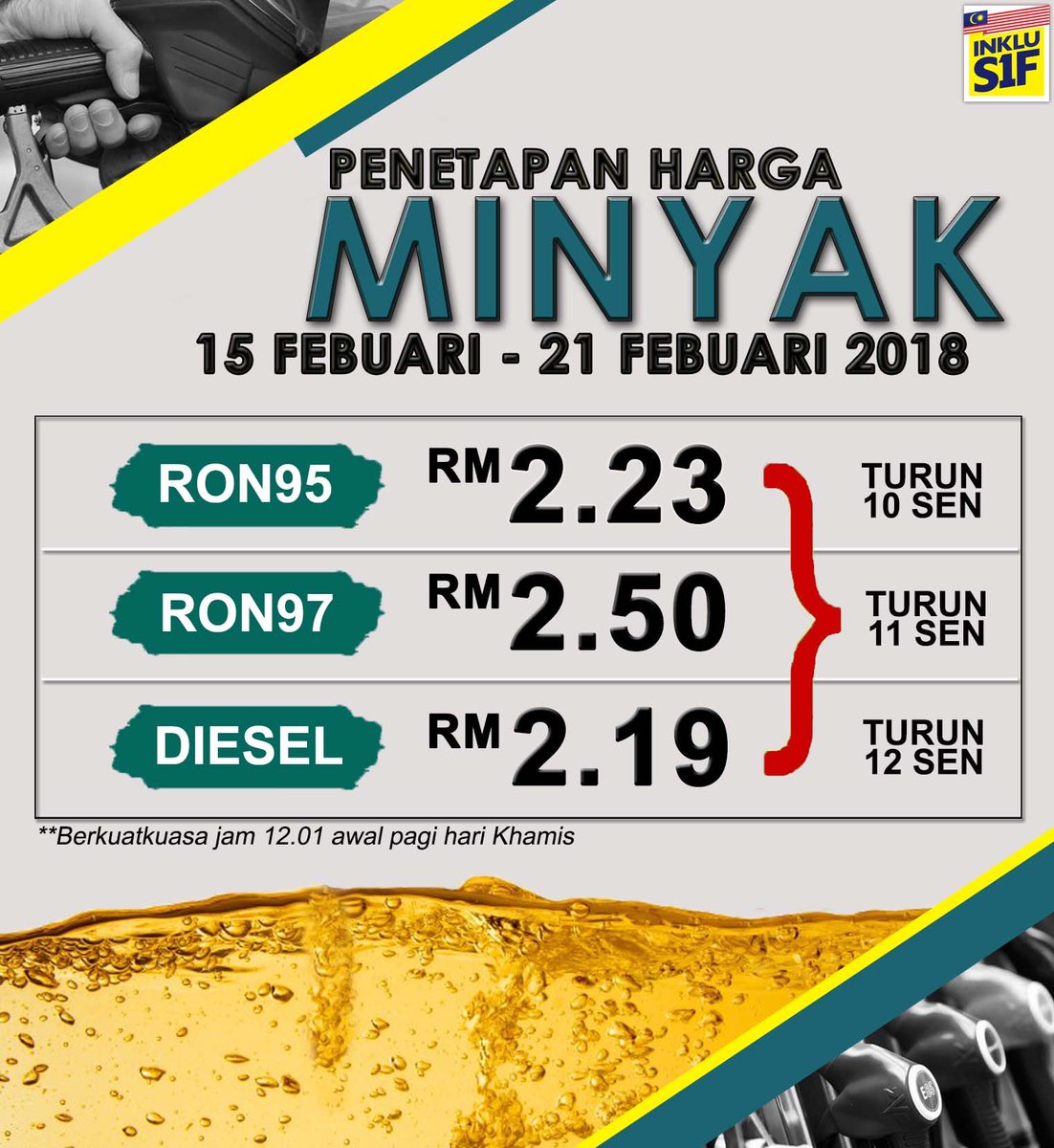 Minyak turun RM0.10 sen, seluruh negara bergembira, ada yg menangis menahan sebak, ada yang berpelukan sesama sendiri, ada couple yg merancang bertunang esok, ada yg cadang buat kenduri kesyukuran..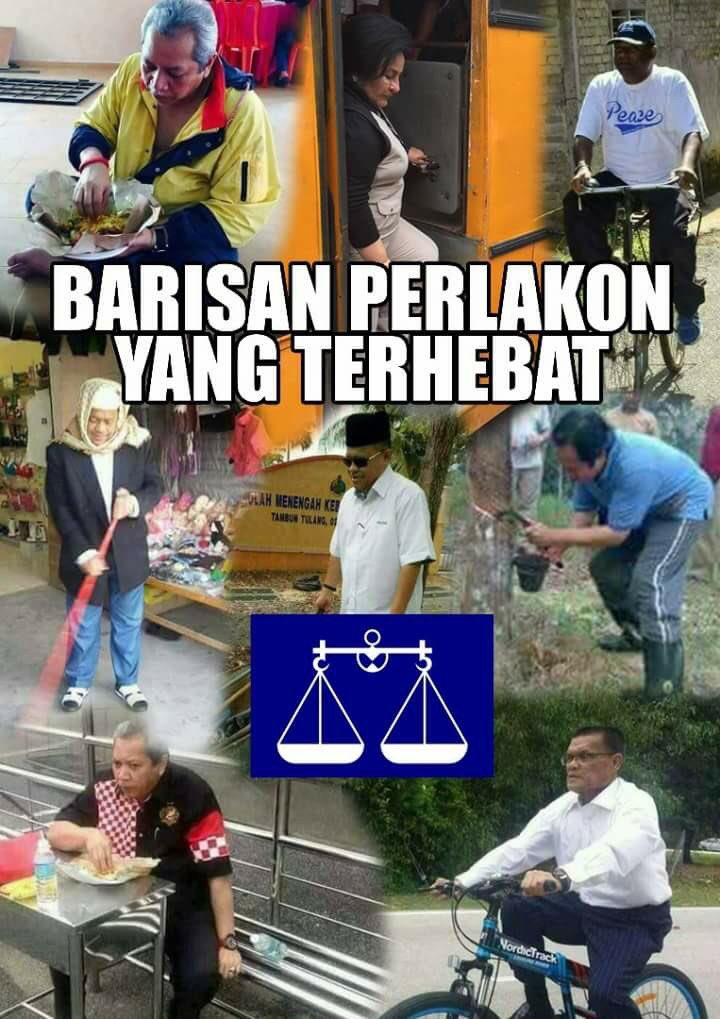 cheers.