Pendakwah bebas, Ebit Lew (gambar atas) membuat pengumuman mengejutkan beliau akan berhenti menyalurkan bantuan kepada pihak yang terkesan susulan pandemik Covid-19.
Beliau berkata demikian setelah mendapat nasihat daripada pihak berkuasa kerana terdapat aduan terhadapnya susulan kegiatan yang dijalankan.
"Saya minta maaf pada semua ya, atas nasihat setakat ini sahajalah saya berkhidmat pada semua secara langsung.
"Saya cuma akan beri bantuan duit pada orang susah. Saya teruskan dari rumah sahaja. Jangan tag saya lagi kes orang susah. Nanti habis PKP (perintah kawalan pergerakan) baru saya cuba bantu," katanya dalam satu hantaran di akaun Facebook hari ini.
Ebit bukanlah asing dengan kerja-kerja amal dan kebajikan, selain giat mengadakan seminar di merata tempat selama ini.
Pada tempoh PKP kini, beliau terlibat secara aktif menghulurkan bantuan kepada pihak termasuk petugas barisan hadapan serta orang ramai.
Ustaz Cina bagi derma..Ustaz Melayu minta derma...- f/bk
Beberapa hari lalu Ebit dibayangi kontroversi selepas melawat sebuah keluarga daif di Derga, Kedah.
Antara lain penduduk setempat menjadi kecaman orang luar yang menyangka mereka tidak mengendahkan keluarga terbabit.
Beberapa pihak - termasuk kerajaan Kedah dan Lembaga Zakat Kedah - kemudian tampil menjelaskan keluarga berkenaan memang menjadi penerima bantuan tetap.
Menurut exco negeri, keluarga berkenaan juga sudah diminta supaya berpindah ke rumah baru yang disediakan namun gagal.
Bagaimanapun, selepas dipujuk Ebit keluarga berkenaan akhirnya berpindah ke kediaman baru selepas menetap di situ lebih 15 tahun. Baca seterusnya...
Tak sampai 2 bulan, kerajaan PN
"Eh tak sampai 2 bulan, kerajaan dah mula jual aset negara?" Itulah komen yang dibuat terhadap tindakan kerajaan melalui Khazanah yang dilaporkan akan menjual 74 juta sahamnya dalam Tenaga Nasional Berhad (TNB).
Menurut laporan media, Khazanah yang dipengerusikan oleh Perdana Menteri, Tan Sri Muhyiddin Yassin menjual 1.45% sahamnya dalam TNB dengan harga RM1.17 bilion.
"Rupanya ini trend standard BN. Tahun 2015 dan tahun 2016 pun sama.
"Bolehlah penyokong MN (Muafakat Nasional) teruskan meratib 'jual aset negara, ini semua salah DAP," tulis Liyana Marzuki, bekas pegawai kanan Kementerian Perdagangan Antarabangsa dan Industri (MITI) melalui Facebook beliau.
Tulisan ini dipercayai mempersendakan tindakan penyokong Umno dan Pas sebelum ini yang sentiasa mendakwa kerajaan Pakatan Harapan (PH) sentiasa menjual harta negara.
Menurut media, langkah penjualan saham TNB ini akan mengurangkan pegangan Khazanah dalam TNB sebanyak 1.3%.
Harga yang diminta untuk penjualan ini adalah antara RM11.83 dan RM12.30 setiap satu.
Harga saham TNB dalam niagaan terakhir semalam adalah RM12.30 setiap satu.
April tahun lepas, Khazanah mempunyai 85 juta saham dalam TNB. - MD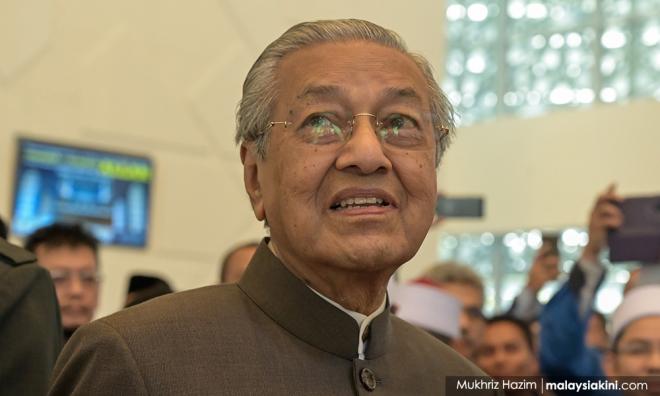 Dilemma in Bersatu over Dr M's 'rebellion'...
History will be made on May 18 as Parliament is set to convene for only a day with one party being represented on both sides of the floor. Bersatu, which is leading the broad Perikatan Nasional coalition, will have members led by its president Muhyiddin Yassin on the government bench while a smaller group led by its chairperson Dr Mahathir Mohamad will sit with the opposition.
This will likely be a perplexing and unprecedented scenario, one which many Bersatu leaders, save for Mahathir, are unwilling to go on record for when contacted by Malaysiakini. Some claimed that there was a gag order.
On April 20, Mahathir made it clear that he will not join the government bench and that Bersatu - which means "to unite" or "to be one" - was essentially split in two.
"So, the faction against the government cannot sit together with the faction with the government," he said. Parliament has yet to update its website with the seating arrangement.
Based on the experience of Perak in 2009 - the only other incident of a change in government mid-term - the new seating arrangement will only be revealed on the day of the sitting.
According to a party insider, who spoke to Malaysiakini on condition of anonymity, the party leadership cannot punish Mahathir for sitting on the opposition bench. He said the party rules stipulate that a member can only be dismissed if the person joins another party, contests in an election for public office against a Bersatu candidate, sues the party or loses Malaysian citizenship.
"What is the offence (if Mahathir sits with the opposition)? There is no offence," said the source.
Several party leaders were in agreement that any attempt to sanction Mahathir or other party MPs siding with the opposition would be difficult and a drawn-out process. A complaint would have to be lodged with the disciplinary committee in which an investigation would follow. The member being investigated will also have to present himself before the committee for a hearing.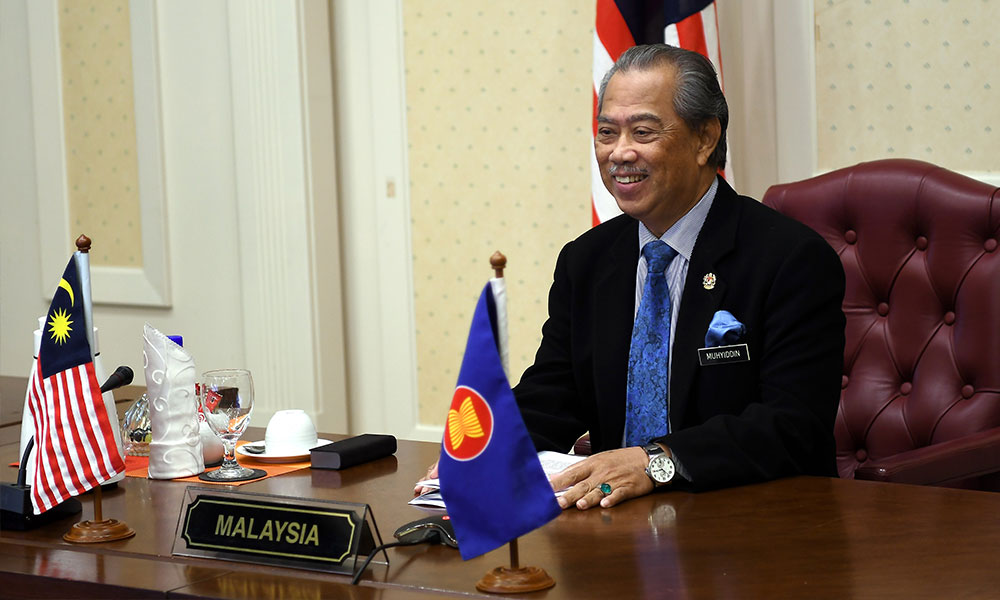 Another party leader expressed doubt that Muhyiddin (above) would have the gumption to take action against Mahathir - the founding member of the party.
"Do they dare to take action against party member number one? The party is already unstable as it is," said the source.
Prior to the movement control order (MCO), Mahathir and his allies had been conducting roadshows to rally party members against Muhyiddin for pulling off the "Sheraton Move" in late February and installing himself as prime minister.
Although the bulk of Bersatu MPs backed Muhyiddin, it has caused deep divisions within the party. Will there be negotiations? Several party leaders told Malaysiakini that the Muhyiddin faction might find ways to avoid the potential embarrassment by hiding the split.
For instance, Bersatu supreme council member and long-time Mahathir loyalist Abu Bakar Yahya said the seating arrangement is controlled by PAS' Takiyuddin Hassan, who is the law minister and therefore also in charge of Parliamentary affairs.
"If we really know Tun (Mahathir), he is not the type who would break the rules.
"We would only know for sure when the letter informing of the seating arrangement comes," said Abu Bakar, who is also Mahathir's political secretary.
At the time of writing, Malaysiakini's attempts to establish if there were any efforts by Muhyiddin's faction to extend the olive branch to Mahathir has been unsuccessful.
Meanwhile, Bersatu strategist Rais Hussin believed that Mahathir had every right as an MP not to sit on the government bench.
"It is unprecedented but we are living in unprecedented times," he said.
Rais added that Bersatu also needs to look at the matter carefully so as not to worsen the rift between its two top leaders and break the party further apart.
"My hope is that there would be some form of reconciliation between the two top leaders in the greater interests of the nation given that we are facing a very portent pandemic."
Asked if there were efforts to mend ties between Muhyiddin and Mahathir, Rais said it was a work in progress.
"Muhyiddin extended the olive branch from his inaugural speech as prime minister.
"They are both seasoned leaders in their own right," he said. - Hariz Mohd/Haspaizi Zain.mk
Now, what are we going to see
of Muhyiddin's legacy?...
How will we remember Prime Minister Muhyiddin Yassin? Some think that he has brought Malaysia to its knees, when we moved from an era of hope, in 2018, to despair in 2020. Others claim that Muhyiddin's behaviour makes the crimes of two former prime ministers - Dr Mahathir Mohamad and disgraced Najib Abdul Razak - look like child's play.
Mahathir, the Father of Modernisation, appeared eager to get back into the driving seat, and then could not wait, to leave. His legacy is defined by the seeds of racism, religious domination and cronyism, which he sowed in the 80s, during his first tenure as prime minister.
Invited to form the new Pakatan Harapan government in May 2018, Mahathir started with gusto. However, after four months, his mask slipped. He could still have got himself back on track to rebuild Malaysia, but he dashed the hopes of the rakyat with his hasty resignation. A person can be tricked once, perhaps twice, but not three times. Despite what Mahathir thinks, the rakyat do not easily forget.
Najib refused to leave and had to be kicked out of office. Incredibly, he is still trying to stage a comeback, albeit to save himself from prosecution. If only the former judicial system under Harapan had not dragged its feet and played along with Najib's excuses to delay the trial.
The damage to young Malaysians will be felt for generations. Many feel that the road to immense wealth is to become a politician, as no skill, qualification or education is required. One only needs to be a smooth-talking Lothario. Najib created many meaningless slogans, milked the system dry and was lucky to have a good teacher in his former mentor, Mahathir (above).
So, what of Muhyiddin? Ironically, Mahathir's Wawasan 2020 has morphed into Muhyiddin's Nightmare 2020, In two months, Muhyiddin managed to undo the first steps that Harapan had taken to try to heal the nation and rebuild Malaysia.
Muhyiddin will continue the Umno-Baru tradition, under which cronies and family members are able to build personal fortunes and property empires with ease, while the rakyat are told to tighten their belts.
He appears to suffer from middle child syndrome. Most first-borns are showered with attention, the youngest is spoilt silly, while the middle child is often neglected. Having served under Mahathir, Abdullah Ahmad Badawi and later Najib, Muhyiddin was often overlooked in the prime ministerial succession list, and this must have had a part in explaining Muhyiddin's subsequent bitterness. Is it any wonder that Muhyiddin grabbed the chance to become prime minister, to prove that he is "somebody"?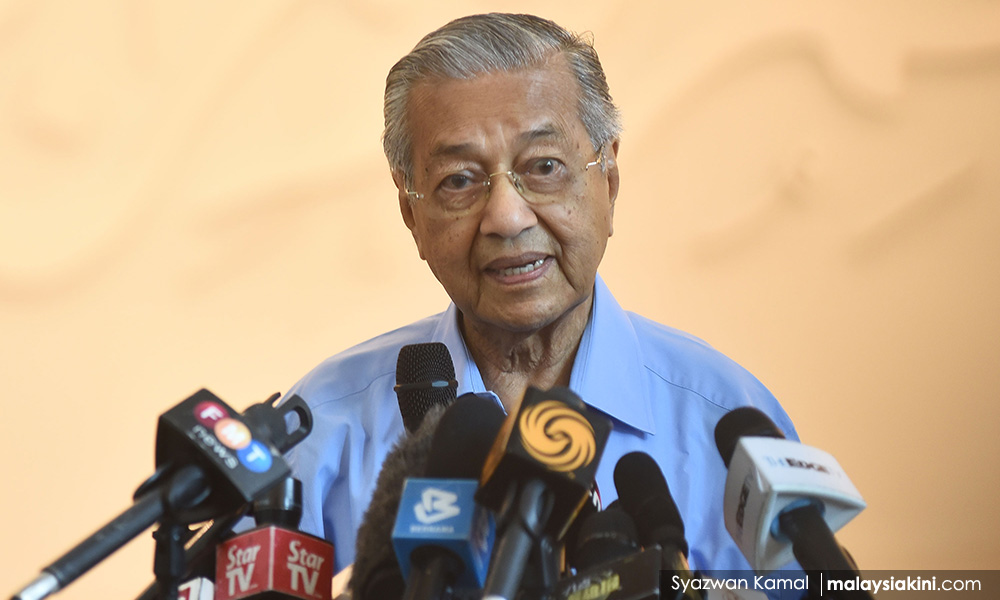 Muhyiddin's tenure as education minister
If one wants to mess up a country, one need only tinker with the children's education. Muhyiddin's tenure as education minister was a disaster. He declared that the Malaysian education system was among the best in the world, despite many Sarawak schools being in a terrible condition, the prevarication over the use of English and his refusal to listen to parents' groups.
His close ties with PAS may have affected Muhyiddin's opinion of women. Perhaps, he is a closet misogynist. In yet another swipe at the previous administration, it is rumoured that another woman chairperson of a leading government organisation will, on May 1, be replaced with an Umno-Baru politician.
The coronavirus lockdown will come to an end, one day, and the nation will emerge from hibernation. But what stimulus package will Muhyiddin and his finance minister offer to the stakeholders who are the backbone of the economy - the small- and medium-sized enterprises? Without a plan, more people will die from starvation, from poverty and from mental health issues. The damage from the coronavirus pandemic will pale in comparison.
With oil revenue reduced, and beer industries being forced to shut, how will Muhyiddin reward the people whose loyalty he must return? He could get rid of Jakim, at the very least trim its budget. He could reduce the size of the civil service because they must be costing us billions of ringgits.
He could get rid of his foreign minister, instead of creating Special Envoys to do the work of the foreign minister. He could trim the cabinet, instead of having 70 ministers and deputies who do little work. He could reward his loyal followers with a Datukship. It's cheaper and does less damage than wrecking an already poorly managed government-linked company by appointing a politician to head it.
The problem with Muhyiddin is his pre-occupation with Malay pride. Like the true politician, he does not arm the Malays with the real tools and the mental capacity to survive and compete with others. Instead, he permits conservative Malays to cultivate the Malay fear of the three Cs: Chinese, Christianity and Communism.
For a lasting legacy, Muhyiddin should have the courage to do things differently. Whip the Malays out of their self-imposed reverie, reassure them that thinking like a Malaysian is best for the country, and that the non-Malays are not their enemy and should have equal status. Malaysians need new blood, not the old, tired faces in the present government.
Reversing over 60 years of brainwashing is no mean feat, just as the cleaning-up of more than 40 years of institutionalised corruption cannot be achieved in a few terms. The time to start is now, but will Muhyiddin take up the challenge to redefine his legacy? - Mariam Mokhtar.mk
Indian police drag violators inside ambulance with fake covid19 patient to teach a lesson..
Degil sangat tak nak pakai mask katanya. Sekali kena sumbat dalam ambulan
yang ada orang yang konon2 dijangkiti covid19, menggelupoq masing2...-f/bk
Bani Melayu dok Malaysia berpuluh2 tahun apa yang depa ada?
Nak tanya Bani Melayu mana lagi bahaya DAP atau Rohingya?...
cheers.