Bangla dihalau
Bangla beratur nak mengundi
Myanmar nyanyi lagu negaraku Lupa lyrik
Bangla di halau keluar setelah tak boleh nyanyi lagu NegaraKu
Bangla nak pi mengundi
Bangla caught in action
He's back... 4th time so far.IC confiscated and came back with a new one.
Diberi MyKad biru dan wang RM1500
ditahan di SMK Sri Pantai, Pantai Dalam
Pengundi hantu Indonesia ini ditangkap polis
Bangla dengan MyKad biru
Bangla ke tiga ditangkap di Kota kemuning Shah Alam
Myammar pertama ditangkap
Hantu dari India di Cheras
Hantu raya yang berjaya ditangkap di Dun Ladang, Kuala Terengganu
Bangla beratur untuk mengundi
Bangla beratur untuk mengundi
Sementara itu sebuah bas persiaran yang membawa manusia berwajah dikesan membawa warga Indonesia di hadapan PKNS Kuala Selangor
Ada orang curi hak saya untuk mengundi...
Beberapa pengundi di Kulai dan Klang telah mendakwa bahawa mereka tidak boleh mengundi kerana orang lain telah mengundi atas nama mereka.

Mereka akan membuat aduan dengan Suruhanjaya Pilihan Raya (SPR).

Di Kulai, Chua Siew Pin, 42, tiba di pusat mengundi di SJK (C) Batu kira-kira jam 10 pagi dan mendapati namanya telah digunakan.

"Saya menunggu ejen parti-parti politik untuk membantu saya. Saya akan memperjuangkan hak saya," katanya ketika dihubungi.


Beliau mendakwa pegawai SPR kemudian mengisi Borang 10 untuk menentukan identitinya, tetapi beliau bertegas supaya digunakan Borang 11 - borang deklarasi untuk membolehkannya mengundi sekiranya berlaku pertikaian.

"Saya masih menunggu keputusannya," katanya.

Calon DAP di Kulai, Teo Nie Ching berkata beliau telah menerima lima hingga enam aduan yang sama dan pengundi terbabit sedang menunggu beliau di pusat perkhidmatannya.

Teo, penyandang kerusi Parlimen Serdang, kata Liew Ah Moy (kanan) pergi ke SMK Kulai Besar pada jam 10.30 pagi, tetapi pegawai SPR memberitahunya yang dia 'telah mengundi'.

"Apabila saya memeriksa jari Liew, tidak ada tanda dakwat kekal," tulis Teo dalam tweetnya.

Di Klang, PKR, Dr Xavier Jeyakumar menulis dalam tweetnya bahawa dua pengundi membantah kerana orang lain telah mengundi menggunakan nama mereka.

"Gunakan Borang 11 dan benarkan pengundi tulen untuk mengundi," katanya menulis sebarang tweet.
Someone has stolen my right to vote
PKR foils dubious voter in Pandan, report lodged...
A dubious voter in Pandan, Selangor, was turned away from the polling station after PKR polling agents objected, PKR Pandan candidate Rafizi Ramli (below) said.


He said Pandan voter Seok Leong Yew alerted his team to the dubious voter, whose registered address was the same as Seok's.

"We have circulated all the suspicious IC numbers to our polling agents. So as soon as the polling clerk read out his IC number, our polling agent objected.

"Since our agents objected (to the dubious voter), he left without voting. We could not to stop him," Rafizi told a press conference outside the Ampang district police headquarters before going inside to lodge a police report on the matter.
The incident took place at the polling centre at a Taman Dagang religious school.
Accompanying Rafizi in lodging the report was Seok and another Pandan voter, Sivaprakasam Kuruppiah, who also found out today that there were unknown voters registered at his residential address.
Letters addressed to 'phantoms'
Seok told reporters that he found six hand-delivered slips in his mailbox at 9am today when he returned home from voting, which instructed Pandan voters in the household which polling station and polling stream to go to.

However, he did not recognise four of the six addressees, having lived there since the house' was built 25 years ago.

Meanwhile, Sivaprakasam said he received three such instruction slips, but did not recognise two of them, which were Chinese names.

He and his family, all Indians, have lived at that address for 14 years, since he house was built.

While not ruling out the possibility of clerical error on the Election Commission's (EC) part, Rafizi expressed concern that the unknown names could be phantom voters, especially in view of fresh complaints that the indelible ink meant to deter such fraud being widely reported by voters to be completely washable.

"Let's see what the EC has to say. What is important is that we are making a police report so that the police can summon these people and the EC can do the rest of the work.

"I am sure the EC will have a good reason for this," he said.
Not detaining phantoms
Rafizi said although the instruction slips had BN's logo on them, the information was identical with that on the EC's database that PKR also uses.
To avoid any untoward incident, he added, he has instructed his election workers not to detain the alleged dubious voters, but only to take photographs of them and their MyKad to facilitate investigations.

"I am concerned that if we detain them for long, the issue of phantom voters would be buried if it escalates into violence, since our workers have no legal standing to detain them.

"The important issue now is about phantom voters, and I don't want to risk a confrontation," Rafizi added.
In Cheras, DAP incumbent Tan Kok Wai said voters at Sekolah Kebangsaan Taman Segar caught a suspicious foreign-looking man who tried to vote at 9am.

Tan (left) said the suspect produced his MyKad to prove that he is a Malaysian, but a member of the public said he does not believe him and handed the man to the police.

"However, a few men tried to intervene and insisted that the suspect be allowed to vote. I arrived at the scene and saw the suspect being taken to the polling centre to vote," Tan said.

"However, the hundreds of voters there shouted 'hantu, hantu' (phantom, phantom) and the suspect felt overwhelmed by the angry voters and left the centre without casting his vote," Tan said.

His party workers, he added, were monitoring the situation. Video clips and pictures of the incident have gone viral on the Internet.
1:40pm: Segamat, Johor -
The stand-off between Chua and the Umno woman continues at SK Bukit Hampar.

Chua: I saw voters passing you their identity cards because they thought you are an Election Comission officer.

Woman: I'm just helping, I didn't do it, it's someone from my (party) division that did it.


Chua: I saw you doing it with my own eyes

Woman: Yes, but that is the division's. That person was the one checking, he has left.

The police arrived five minutes and concurred that it was an offence under the Election Offences Act.

"We will investigate once a police report is lodged. By right, those who allowed inside are only those with EC passes.

"For now we consider the matter resolved. We have asked her to leave and taken her details.
"It's up to your side to make a report. Our priority today is to ensure there is no disturbance here," said a police officer named Nasyim.

The woman later denied that the name list belongs to her, and the police urged her to also make her own police report.
source-malaysiakini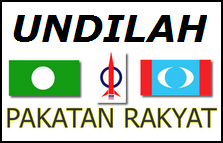 cheers.