MP PAS - Kami mengundi menentang,kerana nak ajar kementerian berkenaan...
Ikhtiar pihak pembangkang yang hampir berjaya untuk mengundi menolak Bajet 2018 dibantu oleh enam orang anggota parlimen PAS.
Anggota Parlimen PAS dari Pokok Sena Datuk Mahfuz Omar berkata selain beliau terdapat lima lagi MP yang berbuat demikian iaitu Ahmad Marzuk Shaary (Bachok), Wan Hassan Mohd Ramli (Dungun), Nik Mazian Nik Mohamad (Pasir Puteh), Izani Husin (Pengkalan Chepa) dan Ahmad Baihaki Atiqullah (Kubang Kerian).
"Mereka beritau saya ini kali undi tolak sebab ini melibat soal kos kehidupan," Mahfuz memberitahu Malaysiakini.
Pakatan Harapan (HARAPAN) membuat usul pengundian blok (belah bahagian) malam ini selepas Kementerian Perdagangan Dalam Negeri, Koperasi dan Kepenggunaan (KPDNKK)
menyimpulkan bahagian Bajet 2018 semasa peringkat jawatankuasa.
Langkah tersebut tewas tipis 52-51.
Dua MP PAS, anggota parlimen Bukit Gantang Idris Ahmad dan Siti Zailah Mohd Yusoff (Rantau Panjang) (gambar, atas) berkecuali daripada mengundi.
"Kita kalah satu undi. Rakyat akan fikir bahawa dua MP yang berkecuali daripada mengundi ini menyebabkan kekalahan kita," kata Mahfuz.
Presiden PAS Datuk Seri Abdul Hadi Awang dan pemimpin utama Datuk Takiyuddin Hassan, Nasrudin Hassan, Nik Abduk Nik Aziz, Mohd Khairuddin Aman Razali serta ketua kelab penyokong parti Che Rosli Che Mat juga tidak hadir.
Pada pengundian belah bahagian (blok) terhadap Bajet 2018 pada peringkat polisi sebelum ini, 11 orang MP PAS kecuali Mahfuz berkecuali daripada mengundi.
Taktik berkecuali ini menjadi amalan PAS ketika membuat undian belanjawan persekutuan, sejak ia berpisah dengan PKR dan DAP.- mk
To Secure Bank Financing...
PR1MA has been a disaster since it was launched. No one really knows exactly how many housing units they have completed. The numbers keep changing. Now the news (from PR1MA) itself is that many of their home buyers FAIL to pass the requirements to secure housing loans.
So even if PR1MA completes building these houses, they cannot be sold to the target market because their target market is financially unsound.
Here is a simple solution. PR1MA has 1.5 million registered buyers. So before starting construction of a particular apartment block or terrace house units, why not process the "lucky" buyers of those units first?
Assemble the End Financiers and see if the buyers can get approval for the housing loans. If there are enough buyers who can secure housing loans, then proceed with the construction.
However if there are NOT enough buyers who can secure housing loans, then do not begin the construction. Pretty soon PR1MA will go bust building apartment blocks that cannot be sold.
Bukan duit Kepala Bapak awak yang akan rugi. Duit rakyat akan jadi bazir. But here is something for PR1MA to bear in mind.
Under Kepala Bapak, there are 7 million Malays who have joined the BR1M list. Meaning 7 million Malays are poor. This list is growing. Under Kepala Bapak, the number of unemployed Malay graduates is over 200,000. Under Kepala Bapak the Malay economy is dying. This is the "disaster category".
Yet PR1MA is supposed to build affordable housing for this same 'disaster category' ?
Yo brader, depa sekarang dok tunggu duit BR1M untuk makan. Mana depa ada duit untuk bayar 10% deposit untuk beli rumah? Atau qualify untuk housing loan?
Kalau tak ada duit, kalau menganggur macam mana nak bayar monthly instalment? - ostb
Kepala ikan punya pasai kepala pening...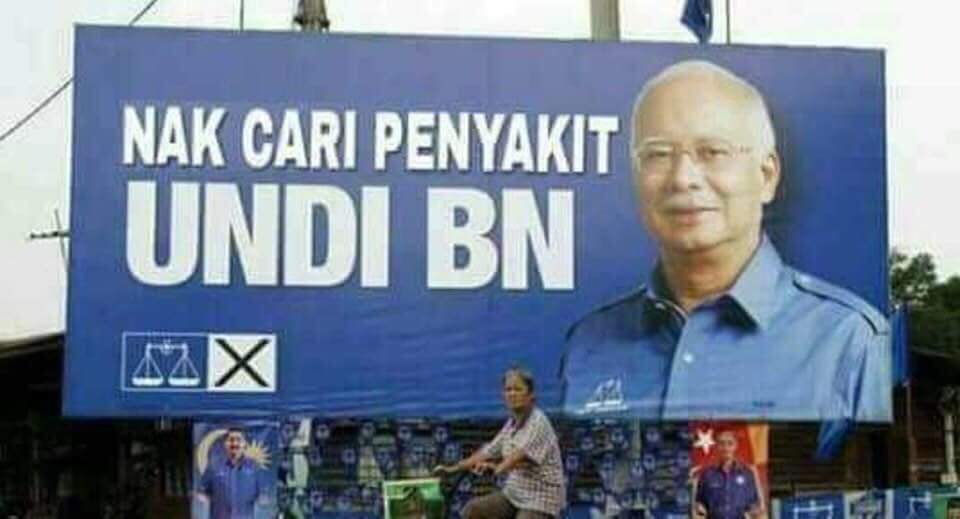 Undilah BN/UMNO dapat 1 banglo
setelah 70 tahun Merdeka.
Pi check di hujung bulan...
cheers.