Rentetan pengurniaan pingat dan darjah yang diberikan kepada beberapa individu baru-baru ini, 'Sultan Melaka' kini sidang giat dijejaki polis.
Ketua Polis Daerah Melaka Tengah, Asisten Komisioner Shaikh Abdul Adzis Shaikh Abdullah berkata satu pasukan siasatan khas juga ditubuhkan dan siasatan akan dijalankan di sekitar Lembah Klang untuk mendapatkan bukti dan mengesan saksi atau mana-mana individu yang berkaitan kes itu.
"Kita juga sedang mengesan lelaki yang mengaku sebagai Sultan Melaka itu untuk merakam percakapannya selain penerima pingat atau darjah daripada beliau," katanya.
Terdahulu polis menerima satu laporan yang dibuat Pejabat Ketua Menteri Melaka terhadap individu yang mengakuinya sebagai 'Sultan Melaka', Noor Jan Tuah, 58 pada 30 Disember lalu.
Baru-baru ini Noor Jan memberi penganugerahan terhadap beberapa individu dan aktivis dan gambar-gambar tersebut menjadi viral di laman sosial.
Presiden Pertubuhan Martabat Jalinan Muhibbah Malaysia, Abdul Rani Kulup Abdullah merupakan salah satu penerima tersebut yang membawa kepada gelaran Datuk.
Noor Jan pada awal tahun lalu pernah ditahan polis bagi membantu siasatan kes dirinya sebagai Sultan Selangor. -Siakapkeli.my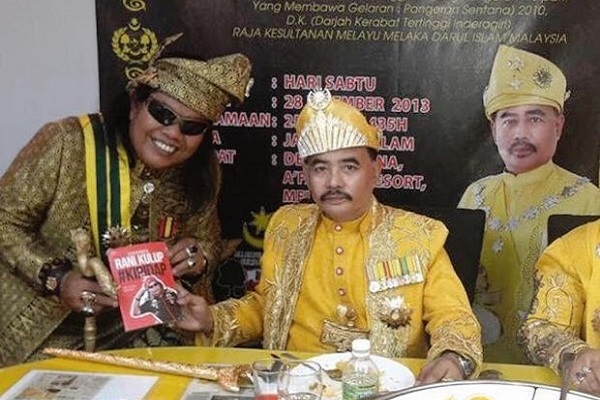 'King of police reports' Rani Kulup hauled up...
The "king of police" reports, Abdul Rani Kulup Abdullah, was "hauled up" by the cops today, over the "Datuk Paduka Mahkota Melaka" title he recently received from the self-proclaimed Malacca sultan.
Abdul Rani, who is also president of Martabat Jalinan Muhibbah Malaysia, had originally wanted to give the police his statement at a mamak shop in Gombak, but was instead taken to the Gombak police station in a patrol car.
At the investiture ceremony, Abdul Rani was given a "Datukship" by self-proclaimed Malacca sultan Noor Jan Shah Tuah, who is currently being investigated for sedition.
"For five years I have been making police reports until I was dubbed the 'king of reports'. But today the king was hauled up to the police station...
"People have said the 'report king' would get it (hauled up), and there you have it, I have (been hauled up). But there was a reason for it, the facts of the case (the awarding of datukship) are very confusing," Rani told reporters after he had his statement taken.
One of the police reports he lodged in November last year was against PKR vice-president Nurul Izzah Anwar for meeting with Sulu "princess" Jacel H Kiram Hasan.
Abdul Rani, noted for his paramilitary-style outfit, red beret, sunglasses and walking cane, has lodged hundreds of police reports over the past few years, accoding to press reports.
Abdul Rani, 61, from Kuala Kangsar, who was grilled for three hours today, also admitted that the Datukship he got in Malacca was not recognised.
"This (title) is not recognised because the Malacca sultanate had ended long ago. Suddenly there's this Noor Jan fellow, who made up his own facts," he said.
This is the second time Noor Jan is being probed for sedition, after a similar investigation over a similar investiture ceremony he held last year.- mk
Raja report, Rani Kulup diangkut ke balai
Lepas satu kegilaan, keluar satu lagi kegilaan. Kenyataan Presiden/CEO 1MDB Arulkanda Abdullah hari ini mengundang satu lagi persoalan besar: apakah urusniaga jualan Bandar Malaysia kepada syarikat China akan melibatkan juga mereka di dalam pemindahan Kem Tentera Udara Diraja Malaysia Sungai Besi?
Sebelum ini 1MDB bertanggungjawab memindahkan dan menaiktaraf kem-kem tentera udara sebagai ganti mendapat tanah murah. Dengan beberapa perkembangan terkini, ada kemungkinan besar liabiliti itu dipindahkan kepada konsortium yang dianggotai syarikat China itu. Punah negara! Mohon sebarkan kenyataan saya ini. Baca seterusnya...
Is China buyer for Bandar Malaysia involved in relocating air force base
Sarawak's SMK Sundar - a parent's heartbreak...
Just received a few distressing photos from a parent who had sent his son to start the new school year at SMK Sundar.
The photos show that textbooks offered to the pupils are insufficient, old and torn, and the mattresses dumped in a heap in the dormitory are old, stained and torn.
In the parent's own words,

"Mereka berebut dengan buku tex seperti ikan makan baja… siapa dulu dia dapat"

(they scrambled for the textbooks like fishes going for food, first come, first served).
It is hard enough for parents to leave their children in a faraway school, but to see the appalling conditions their children are subjected to is heartbreaking.
How can the parents have any confidence that their children will fare well when they have to put up with Third World conditions? Their young inquiring minds are ready for learning and development but they are not given proper textbooks to use.
Their growing bodies need proper rest but they are given mattresses that are torn, stained, smelly and unhygienic.
Does the government really expect our schoolchildren to thrive and excel by subjecting them to this squalor? Is it any wonder that our rural students are performing worse than Vietnamese rural students in the Pisa assessment tests?
I have brought up the need for building SMK Long Semadoh on numerous occasions, including during the last Sarawak assembly sitting. Land had been acquired in 2003, but until today, the school has not been built.
No political will
The shocking conditions at SMK Sundar reinforce the urgency of the situation. I would like the minister for women, family and community development to place the highest priority on the building of SMK Long Semadoh.
I request the minister to investigate the conditions at SMK Sundar and to make immediate improvements, such providing proper textbooks and new mattresses and pillows and whatever basic amenities that may be necessary.
Time and again, the press highlights the dilapidated conditions of our rural schools.
The minister-in-charge, and sometimes even the chief minister, makes the appropriate comments but that is it. There is absolutely no change. There is no political will to improve the rural schools.
There is no money from the federal government. Is this the development that the BN government is so proud of achieving?
The shocking state of our rural schools is the only indicator we need of the failure of the BN government. Without proper education for the people, there can be no meaningful development in a country.
The BN government should be thoroughly ashamed of this 'achievement' brought about by decades of mismanagement and corruption. Our children deserve better than this! - Baru Bian,mk
Air Ludah Sireh warga Myanmar, Nepal Punca Pantai Sekitar Kuantan
Bertukar Menjadi Warna Merah Dedah Hasil Siasatan.
cheers.