Di sebalik pelbagai pujian dan sanjungan yang berterusan terhadap Tun Razak Hussein, meskipun sudah 40 tahun meninggal dunia, kelemahan paling ketara Bapa Pembangunan itu ialah beliau "tidak cukup sayang" kepada isterinya, Tun Rahah Noah.
Sebagaimana yang diceritakan oleh anak kepada kawan Tun Razak, Taib Andak iaitu Kalsom Taib, Bapa Pembangunan itu pernah tidak membenarkan isterinya menyertai lawatan rasminya kerana tidak mahu membazirkan wang rakyat.
Sebaliknya, Kata Kalsom, Tun Razak meminta isterinya, Tun Rahah menggunakan duit sendiri untuk membeli tiket kapalterbang jika ingin mengikuti lawatan itu.
Perkara yang sama juga berlaku ketika Tun Razak melakukan lawatan rasmi ke Burma (Myanmar) apabila Tun Rahah turut diminta membeli tiket sendiri untuk lawatan itu, ujar Kalsom lagi.
Tun Hanif Omar, bekas Ketua Polis Negara yang pernah menjadi setiausaha sulit Tun Razak pula berkata, bapa Najib itu bukan saja seorang yang berjimat cermat, tetapi juga tidak akan berbelanja sewenang-wenang untuk isterinya.
Tun Razak, menurut Tun Hanif, suatu ketika cuba untuk membeli perhiasan intan replika untuk Tun Rahah, tetapi apabila dibawa oleh seseorang ke kedai yang asli, beliau lantas tidak jadi membelinya atas alasan, "saya tidak sekaya kamu" untuk berbuat demikian. Baca seterusnya...
Dr.M - Will Abu Kassim be forced to retire like Gani...
1.The Malaysian Insider recently reported the MACC Chief Abu Kassim might be replaced, basing it on "source".
2.Abu Kassim has some health problem but he himself says that he hopes to retire at 60, the mandatory retirement age. Obviously he does not think that his health would force him to retire any time soon.
3.Government has certain procedures for sick employees to retire before reaching retirement age. A Medical Board will have to be set up to examine the health of the person who seeks to retire early.
4.The Board will issue a proper medical report on the state of the person's health and certify his being unfit to work.
5.If the officer's appointment is at the pleasure of the Yang di Pertuan Agong, then the certificate must be produced for the Agong to agree to his retirement, and for his signature.
6.There is doubt whether in the case of the former A.G. Tan Sri Ghani Patail the procedures were followed. When he was retired the PM stated that it was for health reasons. Ghani himself denied this although he was suffering from kidney failure. A kidney failure person can work for quite a considerable length of time. It is not a cause for early retirement.
7.And now Ghani is reported to begin a career as a lawyer. Obviously he is fit to work.
8.The question is whether the MACC chief will also be retired prematurely for health reason? It is known that the MACC has submitted its report to the AG. The AG says he would act without fear or favour. But he requires time as the report piles up to his height. How much time? Or is the AG to determine whether there is a case for the judges to judge or will he be the judge and dismiss the case as indeed he had done with the Bank Negara report.
9.There is currently a deficit in terms of trust in the present Government and its institutions. There are many reasons for this deficit. Saying that everything is fine will get the Government nowhere. Deeds count more than words.
10.The removal of Tan Sri Abu Kassim will only convince the people that all that is being said against the Government is true, that it exist merely to prevent the rule of law being applied to the leadership of the nation. - chedet.cc
Najib Razak kata 1MDB tidak guna dana rakyat. Semalam, saya tunjukkan bahawa Laporan Ketua Audit Negara terkini sahkan 1MDB diberi geran RM1.0865 bilion untuk memindahkan pengkalan TUDM Sg Besi. Kantoi! Lebih teruk, kini jelaslah bahawa duit dari sukuk RM2.4 bilion yang dipinjam itu tidak dibelanjakan untuk tujuan pemindahan ini kerana geran telah diberikan. Skandal ini telah menjadi skandal RM3.5 bilion lebih besar dari derma RM2.6 bilion

.-

rafizi ramli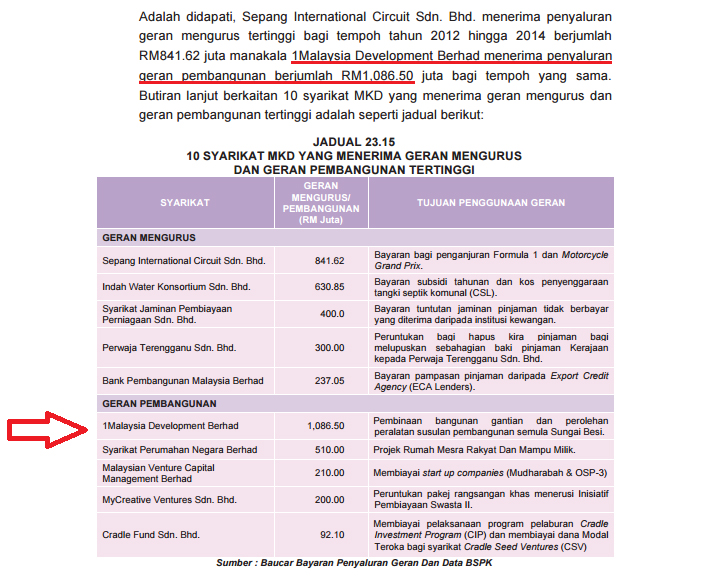 cheers.