Hujan lebat yang melanda ibu kota Kuala Lumpur hari ini mengakibatkan beberapa kawasan dinaiki air. Antara kawasan yang terbabit ialah di sekitar Cheras, Bandar Tun Razak serta beberapa kawasan di sekitar Ampang.
Dekat dengan Leisure Mall Cheras Projek MRT. Air naik di Bulatan Billion Cheras. Banjir kilat berlaku dari arah Kajang dan juga dari arah MRR2.
Tetulang konkrit untuk projek MRT jatuh daripada treler...
Sebelas daripada 16 tetulang konkrit yang terjatuh daripada sebuah treler muatan panjang di atas jejambat Bulatan Bilion, Cheras menyebabkan kesesakan lalu lintas pada pukul 12.30 tengah hari tadi.
Difahamkan kejadian itu berpunca daripada tindakan pemandu treler berkenaan yang berhenti secara mengejut bagi mengelak kenderaan di hadapannya hingga mengakibatkan tali yang mengikat tetulang itu terputus.
Menurut jurucakap pusat info trafik (Itis) Dewan Bandaraya Kuala Lumpur (DBKL), kejadian itu menyebabkan kesesakan lalu lintas dari Lebuhraya Grand Saga menuju ke Bulatan Bilion.
"Bagaimanapun tetulang konkrit itu telah dialihkan pada pukul 1.40 petang tadi dan trafik kembali lancar seperti sediakala.
"Namun, tiada sebarang kemalangan jiwa yang dilaporkan," katanya ketika dihubungi Bernama.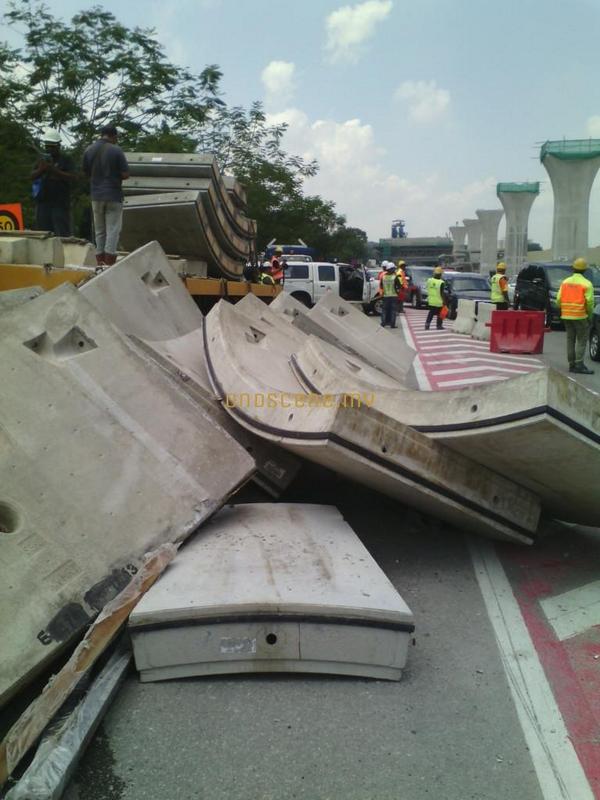 MRT concrete tunnel lining segments fell from lorry...
Twelve pieces of concrete tunnel lining segments for the MRT project fell from a 51-tonne lorry near Taman Billion along Jalan Cheras at approximately 11am.
The incident happened when the heavyweight vehicle was forced to make an emergency break as the traffic ahead of it had suddenly stopped.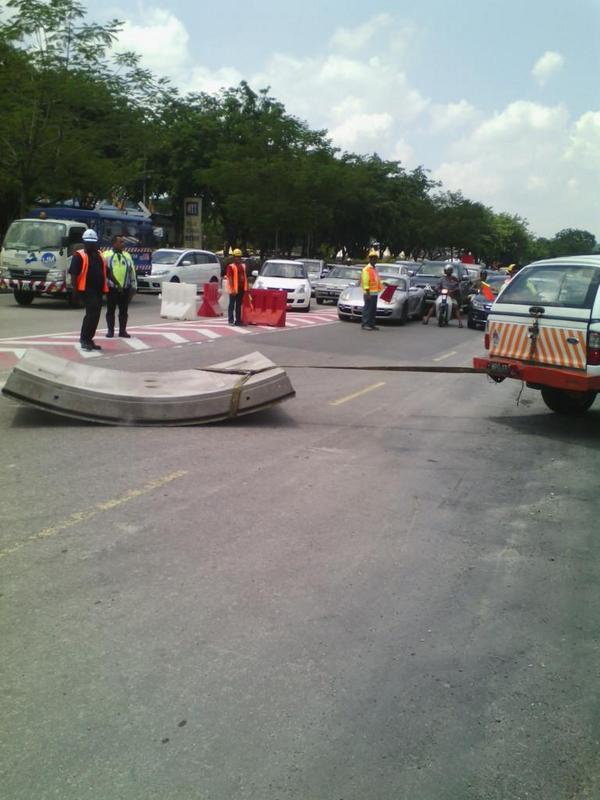 According to a statement issued by MRT Corp, the lorry swerved a little but could not avoid hitting the vehicle in front.
"The fallen material did not cause any injury to anyone. No car was damaged from the fallen segments.
"The accident has resulted in the closure of the lanes leading to the Taman Billion roundabout. All vehicles are now channeled to the single-lane slip road of the roundabout," it said.
MRT Corp said they are investigating the incident and action will be taken against parties found responsible for the accident.-astroawani
Australian woman in alleged MAS sexual assault goes on tell-all interview...
An Australian woman, who claimed that she was sexually assaulted by a Malaysia Airlines steward on a flight to Paris in early August, boldly went on a TV show in a tell-all interview to recount the alleged attack.
In a recorded interview with Channel Seven's talkshow, Sunday Night to be aired today (approximately 6.45pm Malaysian time) Laura Bushney, 26 claimed the steward allegedly came and sat down next to her three hours into the flight and began assaulting her under the guise of comforting.
"He's massaging my legs; I'm so scared I just want to get off this plane," she said during the interview.
""I just keep saying why didn't I scream, why didn't I shout? Why didn't I stop it? I am a strong person because I can do that, I know I can," said Bushney, who claimed she froze in panic to do anything, the Sydney Morning Herald reported.
Bushney, who was travelling by herself, recorded the incident on her iPhone hidden under a blanket on her lap. She claimed that the steward placed his hands under the blanket and then down her pants.
She reportedly also recorded a face-to-face altercation with the steward after the incident.
The steward, a married man with three children, was detained by police when the plane touched down at Paris Charles de Gaulle Airport in the August 4, 2014 incident.
Understandably, there has been criticism on Channel Seven for its insensitivity on the Bushney interview, while Malaysians are in mourning over the flight MH17 tragedy which claimed the lives of 298 people – 43 were Malaysians.
Stephanie Yu, a Malaysian based in Hong Kong, who found out about the interview had reservations about the claims made by Bushney.
In an email to Astro AWANI, Yu said she was shocked that the network decided to go public about the exclusive interview with Bushney as Malaysia was still grieving for the fallen victims of flight MH17.
"I watched the preview video and something didn't seem right about the girl and her story. That's when I decided to do some investigating and I found her old Instagram account. I was really disgusted and at the same time angry. "
"It's clear that even if the MAS steward did do something inappropriate, I bet she led him to do it and only started crying afterwards. She is obviously doing this for personal fame or money or some ungodly reason. I think as Malaysians we have been through enough this year," said Yu, a Malaysian citizen currently residing in Hong Kong.
"We don't deserve this. MAS don't deserve this. People need to see the type of person this victim really is and then decide for themselves whether she is telling the truth or it's just a bunch of lies. That's why I decided to get in touch with the media," she added.
A source from MAS when contacted said that the airline will 'remain neutral' and 'can't comment on the ongoing case." - astroawani
cheers.