Dewan Undangan Negeri (Dun) Melaka kalut kerana berebut jawatan speaker. Speaker sedia adalah Omar Jaafar, (bukan Jaafar Kamaruddin) hendak dicopot dan diganti dengan speaker baru daripada Umno. YB UMNO maki speaker,tunjuk perangai penyangak..
Untuk selamatkan diri, Omar menghentikan sidang. Tetapi Umno yang menguasai Dun Melaka kini setelah penembak babi bersama, meneruskan sidang dan memilih spekaer baru dari Umno.
Speaker nk baca doa dihalang oleh adun2 yg mngaku Kerajaan Melayu Islam. Padahal ianya ada didlm agenda mesy. Malah Adun DAP pulak ingatkan adun2 Melayu Islam haprak ni utk mengaminkan doa yg sdg dibacakan.
Yb Tembak Babi Adun Pengkalan Batu diblok Kerajaan Melayu Islam maki hamun dlm dewan dgn mnyebut babi babi babi babi babi babi babi babi babi babi babi babi babi habi..
Sidang Dun Negeri Melaka di bulan Ramadhan. Lihatlah aksi Adun yg mnjadi pengkhianat atau yg dikenali sbg Adun penembak babi. Tidak henti2 mulutnya mrnyebut "babi" binatang kegemarannya.
Semangat betul.. Baca doa pun tak bagi. Inilah melayu/Isle yg kita mau! Nampak tak betapa semangat nya depa nak kerja?
Sidang DUN Melaka kecoh isu singkir speaker...
Adun Sg Udang yg mewakili Kerajaan Melayu Islam melempar buku aturan dewan kearah Speaker Dewan. Nasib baik mangkok Sg Udang tu tengah pegang Buku Peraturan. Kalau masa tu 'dia' pegang Quran, melayang juga Quran tu. Doa pun tak mau dibaca...
Inikah perangai ahli Yang Berhormat? Inikah layanan mereka kepada dewan yang mulia? Adakah ini balasan kepada rampasan kuasa dan pengkhianatan terhadap amanah rakyat?
Adakah mereka yang memaki-hamun itu wakil rakyat atau wakil syaitan? Apa yang hendak dibanggakan dengan Melaka negeri tua, negeri bersejarah kalau inilah standard Dewan Undangannya.Hangpa adili sendiri - a.kadir jasin/f/bk
Hanya babi2 tulen yang gamak buat perbuatan yang sekeji dan tidak bertamadun itu. Inilah jenis babi2 belaan parti pemerintah - jika tidak mampu berhujah secara manusia, perangan kemanusiaannya terus berubah jadi babi2 ganas! - f/bk
Isu perkauman dan kebencian,bukan realiti tapi fantasti...
Will it or will it not?...
Allowing is one thing. But the question now is when? And more importantly will it see the light of day? I'm of course talking about Tun Mahathir Mohamad's no-confidence motion against the prime minister. Yes, the speaker of the Dewan Rakyat has allowed for it to be tabled when the Parliament reconvenes, meaning the motion is accepted. So, when will it be tabled? Obviously not on May 18 when the Parliament sits.
First of all because it is just a one-day sitting. The government has decided on that. Because of the COVID-19 pandemic, they had said. The opposition and civil societies are not amused, to say the least. De facto Parliament and Law minister Datuk Takiyuddin Hassan has made it clear that only government matters and government business would be prioritized during the one-day sitting.
Hence, he said if time runs out before motions from MPs can be debated, outstanding matters would be brought to the next sitting scheduled for July 13. Time indeed is a constraint taking into account the order of events for May 18 as outlined by Takiyuddin. The minister said the Yang di-Pertuan Agong would officiate the sitting. After that he said the House would sit to settle government matters and it would adjourn.
However, we are hearing that Dewan Rakyat Speaker Tan Sri Mohamad Ariff Md Yusof has accepted an emergency motion to decide whether to extend the one-day parliamentary sitting on May 18 to eight days. We'll see how that plays out but in the meantime, we are looking at July for Mahathir's no-confidence motion to be tabled and debated. From now till July is a long time. A lot can happen in between.
Takiyuddin is right to say it's up to Speaker Tan Sri Mohamad Ariff Md Yusof. Since the Speaker has accepted the motion he must surely let it be tabled. But perhaps he will be burdened to let other matters to take precedence even in the July sitting. A political observer can't help but wonder what if Ariff is replaced before July and his successor being elected by the Perikatan Nasional "blocks the motion from being tabled"?
"I don't think so. He or she has to carry out what has been decided. But it's quite unlikely there will be a new Speaker. Politically not viable, it makes Perikatan Nasional looks terrified and desperate," says constitutional expert Dr Aziz Bari.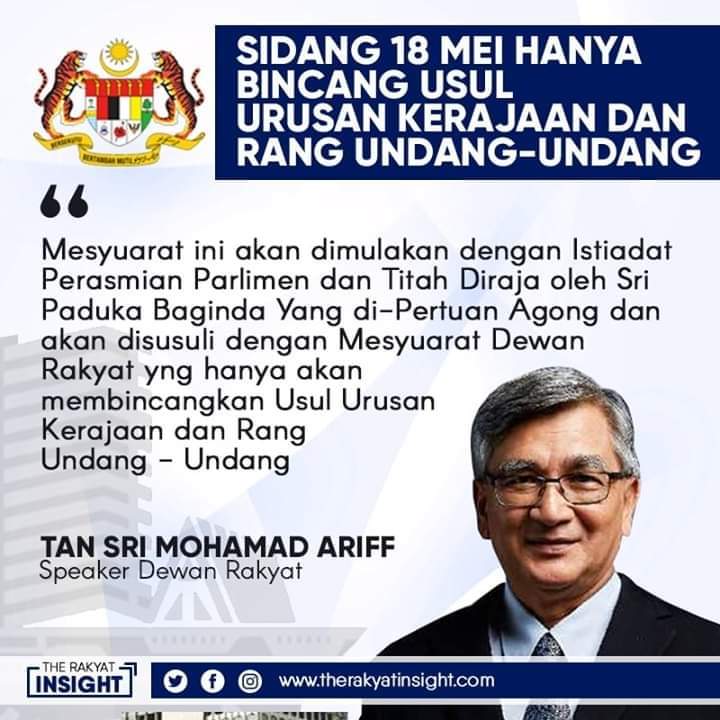 Ariff, as we know, was elected by a Pakatan Harapan majority House after GE14. A Speaker is elected when the House meets for the first time after a general election by members of the House. And the Speaker is elected to a term that lasts for the length of the term of the Dewan Rakyat that elected him. His term ends when the House is dissolved and a general election is called. Based on that, a Speaker cannot be sacked, I would say.
In the case of Ariff, it was reported that he has rejected Mahathir's bid for a motion to keep him in the post for the entire term of 14th parliament. So can he quit midway? "He is free to quit but he cannot be sacked. Perikatan Nasional can only change Speaker through another election which may not be possible now," according to Aziz.
Therefore, let it be said once again it all boils down to the Speaker. The motion can be put to MPs for a vote, exerting pressure on Tan Sri Muhyiddin Yassin's already "fragile" government. However, Mahathir, the man who initiated the motion, has admitted he is fine if parliament has no time to debate his motion of no confidence against Muhyiddin, saying he only wants Malaysians to know there was such a motion.
The Malaysian Insight reported that Mahathir said via a short video message, "If the Speaker feels there is not enough time or it is not a priority, then it is all right if the motion is not debated. "However, I feel it is important a public statement be made so that the people will be aware that there is such an opinion. If it is not debated, we still want it to at least be mentioned." And that's not all. Mahathir also conceded that he did not have the numbers now to command the majority support of the parliament as his supporters had been "paid off" by Muhyiddin.
He said Muhyiddin did not have majority support of Members of Parliament when he appeared before the Yang di-Pertuan Agong in February. But now he said the situation has changed because "Muhyiddin has given government positions to my supporters, so the number of those who support me has been reduced. Maybe we will lose (the motion in Parliament)."
That being the case, why then did he go through all the trouble to come up with the motion of no confidence against Muhyiddin? Why bring up something which he "knows" he will lose? Many are now asking if Mahathir has got something up his sleeves. Remember we are talking of a man who many people--friend or foe--see as a politician extraordinaire? - Mohsin Abdullah
cheers.