Tun Ghafar, tanpa degri, boleh jadi Timbalan Perdana Menteri. Malah dia menjadi salah seorang pejuang kemerdekaan yang terkemuka. Pernah jadi Ketua Menteri Melaka sebelum melangkah jauh sampai menjadi orang nombor dua terpenting dalam UMNO dan kerajaan BN.
Apa rahsia kejayaan Ghafar yg mendapat sanjungan rakyat? Dia tidak minta nasihat bomoh atau sami. Dia juga tidak ada 44 panau kesaktian Awang Sulong Merah Muda untuk melindunginya. Dia juga tak seperti Badang yg makan muntah lembu untuk mendapat kekuatan.
Pengaruh Ghafar Baba dalam perjuangan UMNO dan orang Melayu tidak boleh dinafikan. Dia dijulang sebagai pemimpin Melayu yg dihormati kerana kejujurannya dalam perjuangan. Dia tidak bermuka-muka seperti kaduk naik junjung.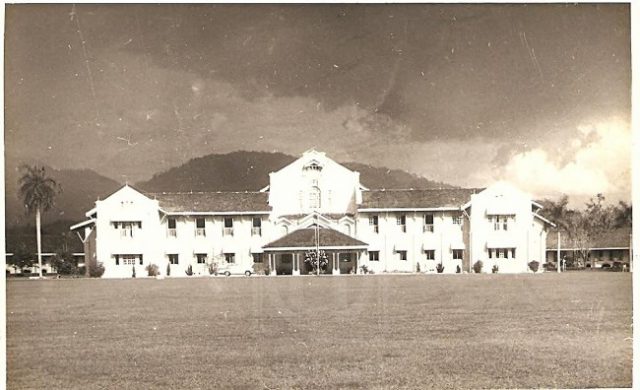 Jiwanya bersama rakyat, dan dia tidak tersilau dengan jawatan tertinggi dalam parti dan kerajaan. Dia tidak punya ijazah, hanya lulusan darjah lima sekolah Melayu, mendapat didikan di SITC, Tg Malim.
Dia punya keyakinan diri sebagai pejuang, menimba ilmu dari pengalaman hidup, tidak gentar menghadapi musuh-musuh politiknya dengan kelulusan sekolah Melayu. Amanah dan kejujuran, integriti dan kesederhanaan dalam kehidupannhya menjadikan Ghafar seorang patriot. nasionalis Melayu terkenal.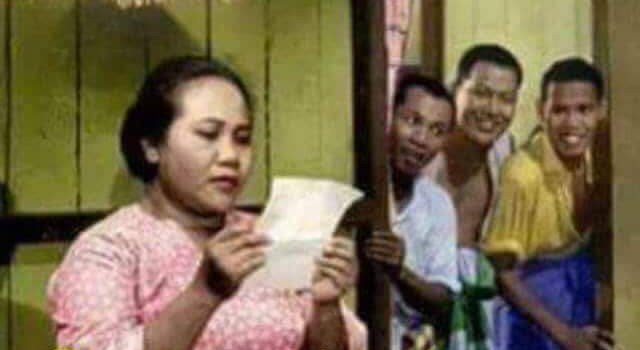 Bujang Lapok ni pun boleh jadi Menteri...
Memang betul tidak perlu punya degri untuk jadi seorang pemimpin yg berkeliber, disanjung rakyat. Yang penting mesti ada integriti, amanah, semangat juang yg luhur, menimba pengalaman dari kehidupan, berjiwa kritis, tidak bodoh sombong dan berpegang teguh pada tali Allah.
Ghafar seperti benih yg baik jatuh ke laut menjadi pulau. Inilah pemimpin Melayu, tanpa ijazah, tapi seorang pejuang yang bermaruah, ada hargadiri dan integriti akhirnya dipilih jadi Timbalan Presiden UMNO merangkap Timbalan Perdana Menteri.
Kita harap para pemimpin Melayu jangan menipu rakyat. Rakyat mahu pemimpin jujur, ikhlas, tidak korup, bermaruah, ada integriti, punya akar tunjang dalam agama, dan berjiwa patriotis. Jangan tipu degri nanti bala memamah diri. - Yahaya Ismail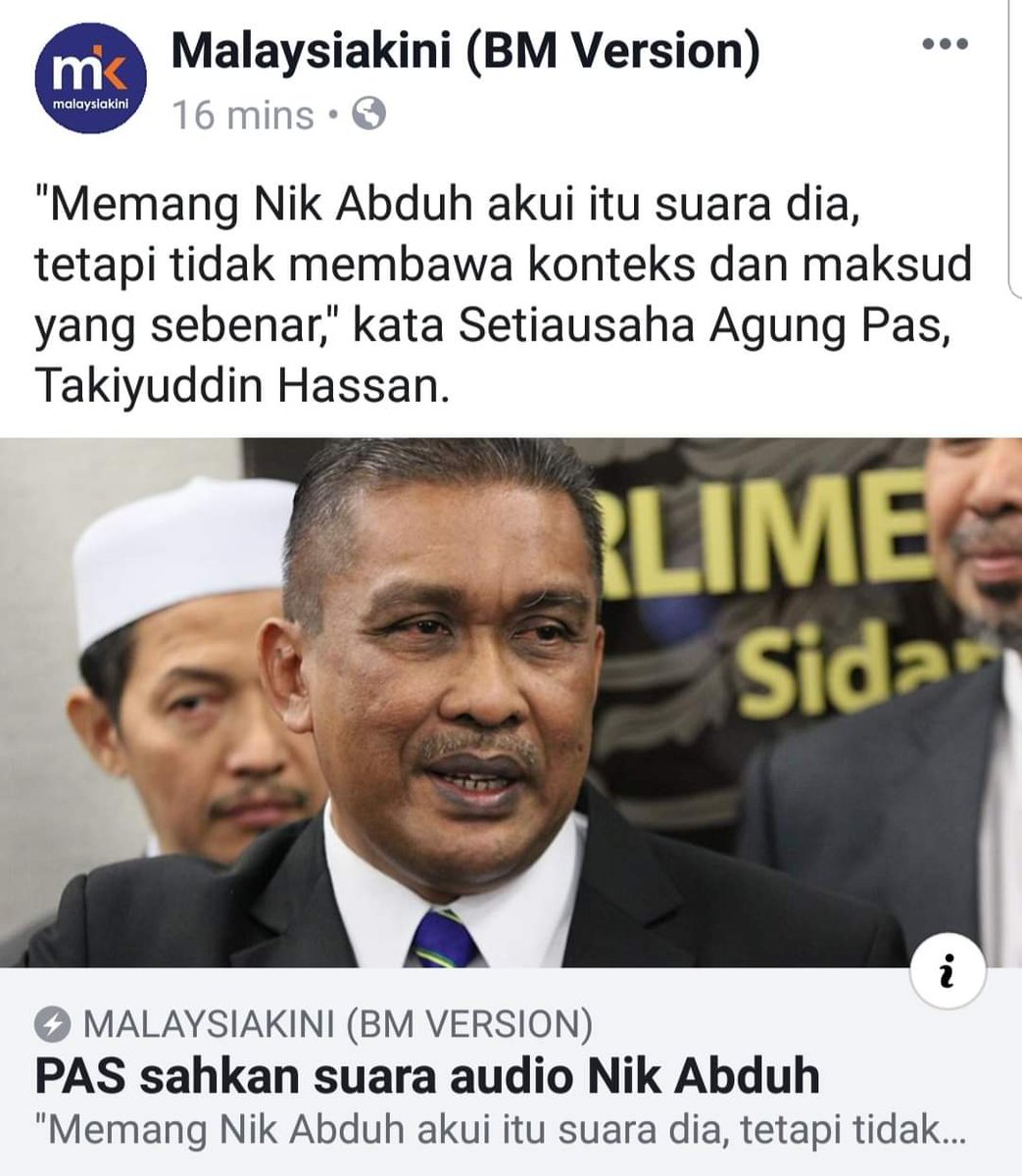 Kebenaran itu bagaikan keretapi malam...
Kan senang kalau awal-awal mengaku, tidaklah keadaan jadi kelam kabut. Setakat ini sudah dua orang pemimpin tertinggi Pas mengesahkan rakaman suara yang mengakui dia tahu yang pemimpin Pas ambil duit Umno sebagai suara Nik Muhammad Abduh. Pemimpin pertama yang mengesahkan Tuituman dan kedua Takiyuddin Hassan.
Pengakuan ini dibuat mungkin setelah ada beberapa saksi yang mengikuti ceramah yang dirakam itu sudah mula bersuara mengakui mereka mengesahkan sebagai suara Nik Abduh.
Apa NiK Abduh kata pada 2018
Tidak mengapa, bagus mengaku sesuatu yang benar. Kita diajar bercakap benar dan jujur. Jadi ke mana nak lempar yang kata-kata tuduhan itu sebagai karut dan fitnah sebelum ini?
Jelas yang karut dan fitnah kini terjawab dengan sendiri. Saya selalu mengatakan kebenaran bgaikan kereta api malam yang tetap sampai ke setesennya walaupun lewat.
Kita tunggu dan dengar pula pengakuan ikhlas dan terbuka daripada Nik Abduh selepas ini. Setakat ini dia belum mengakui secara jujur dan masih bermadah helah mengatakan, kata-katanya dipetik di luar konteks. Pulak.
Saya nak sebutkan di sini dalam penialaian saya terhadap apa yang berlaku Nik Abduh tidak perlu bimbang dia insyallah tidak akan dibawa ke mahkamah atas tuduhan mengambil duit Umno.- MSO
Kalu nak sogok duit tak kan masuk ke akaun parti tentu ke akaun peribadi
macam si Jibby. Kesian walaun2 dan macai2 hari2 diperbodohkan...
😂😂😂😂😂😂
Semenyih,an indicator of Malay politics...
The upcoming Semenyih by-election is clouded by a host of issues, including the fake degree scandal and the RM90 million donation received by PAS. It looks like parties on both sides of the political divide are poised to harp on these issues and more.
Like a football match, the Semenyih by-election is the second half game, with Umno-PAS taking a 1-0 lead over PH in the first half in Cameron Highlands. By all means PH must score in the second half in order not to be overrun by Umno-PAS' rising momentum.
Umno must not lose in Cameron Highlands as it is its traditional stronghold. Similarly, PH and PPBM must not be defeated in Semenyih. There are several reasons for this.
Firstly, Selangor is the political base of PH and the coalition has been ruling there for more than a decade now. In the 2018 general elections, PH swept 51 of the 56 state seats, leaving BN and PAS with only four and one respectively.
Selangor voters have been strongly supportive of PH and by all means PH must not give Umno-PAS the slightest chance to make a comeback in the state. PH must drive PAS out of the state to its east coast home ground.
Secondly, Semenyih has 68% Malay voters, and PPBM must not lose this battle that defines the party's support among the Malays. It must prove that it too can represent the Malays and even make a better choice than Umno or PAS. Failing to earn the trust of Malays means the party will face an uphill crisis in the next general elections.
PPBM won six state seats in GE14 thanks to a powerful anti-establishment sentiment against the then BN administration. With Umno and PAS now joining forces to challenge PH, PPBM's strength is put to real test.
PPBM will come under additional pressure if Umno-PAS unexpectedly win the by-election. So, the party is not going to take things too easily and its leaders have been seen working hard in Semenyih for some time now.
Thirdly, the by-election outcome will affect PM Mahathir's reputation and dignity. He has suffered a minor setback for not being able to win the hearts of Malay voters despite his personal appearance in Cameron Highlands. He must not be defeated again by the "robbers" he called.
Mahathir's charm has started to go downhill in recent months. He is no longer the darling of social media users. In its stead, Najib has managed to draw some attention with his regular online remarks. The prime minister can never tolerate his defeated predecessor to seize a second chance.
Indeed, PPBM has an edge because of the utmost abhorrence of Selangor folks towards the 1MDB scandal. While Najib has tried very hard to defend his acts, this is not going to work among urban voters.
The other PH parties are bound to rally behind the PM. As Mahathir's heir apparent, PKR president Anwar Ibrahim must support PPBM to a bid to show unity within the ruling coalition.
Selangor's former menteri besar, economic affairs minister Azmin Ali will also go all out to campaign for PPBM's candidate to display his loyalty to Tun Mahathir.
Additionally, after PAS president Hadi Awang's out-of-court reconciliation with Sarawak Report editor-in-chief Clare Rewcastle Brown, new allegations keep popping up, including big cash offered by Najib.
While the RM90 million bribe is not going to shatter die-hard fans' faith in PAS, it will nevertheless tarnish the party's credibility.
Not all PAS members are receptive to an Umno-PAS tie-up. PPBM will be able to make it again this time if not all PAS supporters vote for Umno. If the combined Malay votes of Umno-PAS do not exceed those won by PPBM, the 17% Chinese and 14% Indian voters in Semenyih should help PPBM sail past its opponents in a breeze.
That said, there are downside factors for PPBM too, including the declining credibility of the PH government and the alleged fake degree of deputy foreign minister Marzuki Yahya.
In addition, urban residents are also facing financial pressure thanks to a sluggish domestic economy, while the new government fails to address their problems and honor its own election pledges.
The Socialist Party of Malaysia (PSM) is poised to dilute the votes and will emerge as an alternative for voters unhappy with the PH government, especially among the Chinese and Indians.
Umno-PAS may score again this time in picking a more acceptable candidate. Their Muslim-orangasli candidate in Cameron Highlands appealed to both Muslim and orangasli voters there. This time, they may field the pro-PAS former Selangor MB Khalid Ibrahim in an attempt to win over swing votes with his popularity and track records.
Even though Semenyih by-election only involves a state seat, it is a yardstick to gauge the political trends of the Malays.
If PPBM wins it big, PH will have boosted confidence in the handling of racial issues. And if Umno-PAS surprisingly take the seat, the PH government may have to come up with more intense pro-bumi policies in order to wrest the Malay support from the opposition. - sinchew daily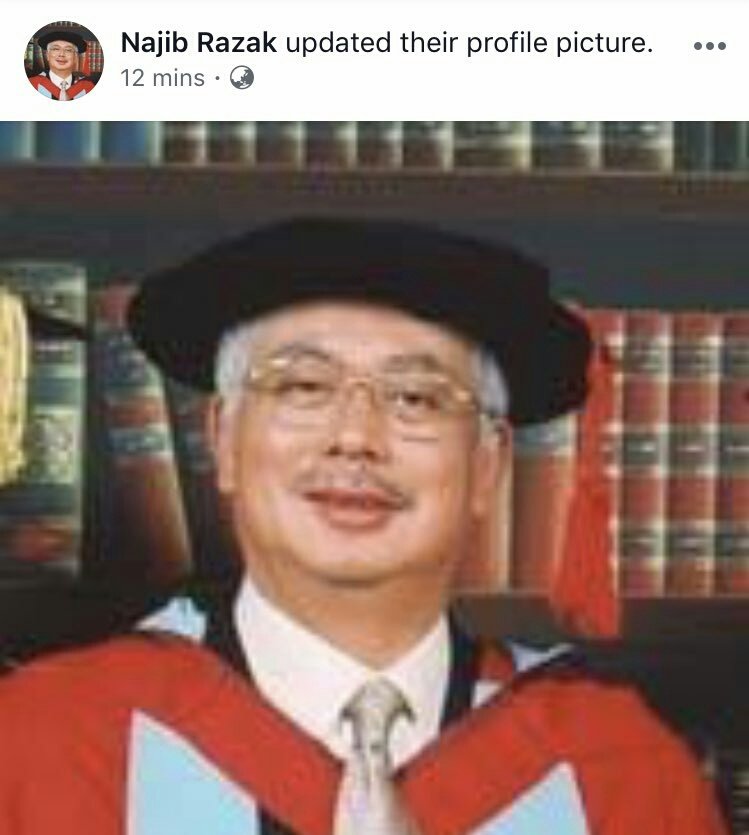 Gambar ni ke yg pelajar Malaysia di Universiti Nottingham buat petisyen dalam
talian menggesa untuk mengeluarkan potret dia dari dinding alma mater universiti tu?
Petisyen keluarkan Najib dapat sambutan luar biasa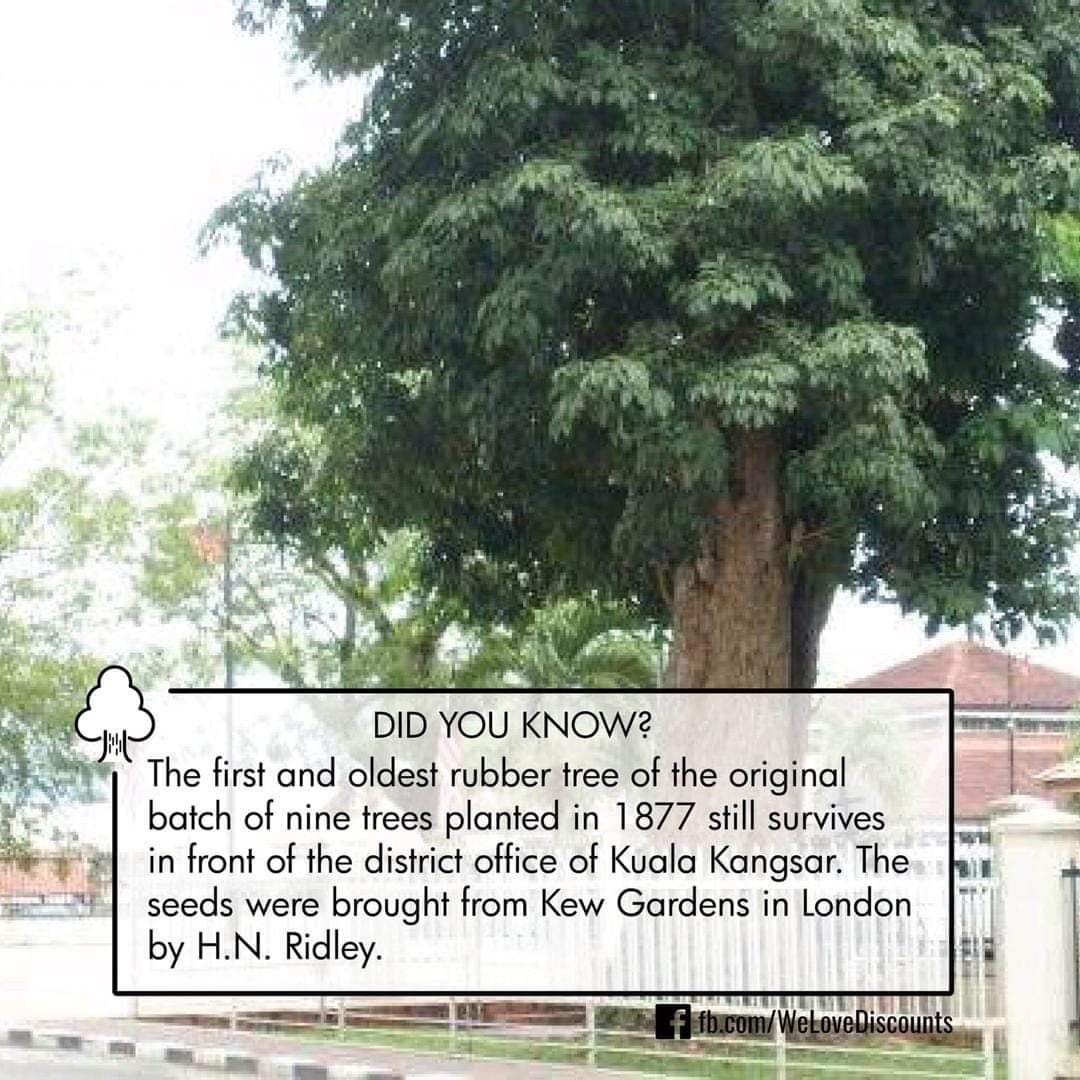 This rubber tree is more than 120yrs old.
It is at Kuala Kangsar district office.
Genap 4 tahun kemangkatan Almarhum Murabbi Ummah,
Almarhum Nik Abdul Aziz Nik Mat - Al-Fatihah
cheers.