Perdana Menteri Tun Dr Mahathir Mohamad berkata kerajaan perlu melaksanakan langkah-langkah pemulihan dan penyelesaian menyeluruh bagi menyelesaikan beban hutang yang ditinggalkan kerajaan Barisan Nasional (BN) terdahulu sebanyak RM1 trilion.
Menurutnya, kewangan negara telah dicabul dengan begitu besar sehingga kerajaan berhadapan masalah untuk menyelesaikan jumlah hutang yang naik mendadak yang belum pernah dialami sebelum ini.
"Bagaimana kita hendak menyelesaikan hutang ini adalah bergantung kepada usaha dan daya fikir kita untuk menghadapi cabaran ini.
Bila Najib hilang kuasa, BN tumbang baru tau rupa2nya selama ini mereka pandai buat hutang. Nak selesaikan bayar hutang kena laksana GST 6%. Supaya dpt kerah keringat rakyat drpd muda hingga yg miskin utk bayar hutang negara.Laki bini anak beranak serta menantu boleh joli sakan ke luar negara hidup mewah beli barang berjenama mewah kononnya menabung dari kecil..
"Justeru, kita perlu ada kerjasama antara pihak yang menjadi kerajaan menerusi wakil rakyat yang dipilih dan anggota pentadbiran kerajaan bagi menyelesaikan masalah itu," kata Dr Mahathir ketika menyampaikan amanat di warga Jabatan Perdana Menteri (JPM) hari ini.
Keadaan buruk ini ujarnya tidak pernah berlaku sewaktu pentadbirannya dahulu dengan hanya RM300 bilion berbanding saat ini.
Beliau turut mengingatkan bahawa pemisahan tiga institusi utama iaitu badan perundangan, eksekutif dan kehakiman adalah penting bagi mengelakkan penyelewengan. – Roketkini.com
We are RM1 trillion in debt...
Najib masih kata dia betoi...
Semalam, buat pertama kalinya setelah kehilangan kuasadan tidak lagi bergelar Perdana Menteri, Najib Razak pulang ke Pekan, kawasan Parlimen yang diwakilinya sejak 42 tahun lalu.
Beliau pulang atas dua kapasiti - Ahli Parlimen dan juga Ketua UMNO Bahagian Pekan.
Dengan masih menjadi Ahli Parlimen Pekan, ia dengan sendirinya menolak dakwaan Najib bahawa beliau kini adalah seorang penganggur. Jawatan sebagai Ahli Parlimen masih memberinya gaji dan elaun bulanan dan dengan itu, Najib bukanlah penganggur, walaupun sudah kehilangan jawatan Perdana Menteri.
Dalam ucapan ketika merasmikan mesyuarat UMNO cawangan-cawangan dalam bahagian Pekan, apa yang tergambar ialah Najib sebenarnya masih tidak berubah. Najib yang dulu dengan Najib yang sekarang lebih kurang sama sahaja.
Walaupun nasibnya sudah berubah dengan hilang jawatan sebagai Perdana Menteri dan membawa UMNO serta BN buat pertama kali kehilangan kuasa pemerintahan, perangai dan lagaknya nyata tidak berubah.
Beliau masih tidak mahu mengakui beban yang ada pada diri dan isterinya serta skandal 1MDB adalah punca utama kekalahan BN dalam pilihanraya 9 Mei lalu.
Sebaliknya Najib mendakwa punca kekalahan UMNO dan BN ialah kerana fitnah yang ditaburkan oleh Pakatan Harapan, serangan peribadi dan kempen kebencian yang keterlaluan.
Apakah skandal 1MDB suatu fitnah?
Apakah menerima wang RM2,600 juta juga suatu fitnah?
Adakah perbuatan Rosmah bermewah dengan memiliki barangan kemas mahal dan beg tangan berjenama turut merupakan fitnah?
Jika fitnah, serangan peribadi dan kempen kebencian yang dikesalkannya, apakah Najib, para pemimpin UMNO dan segala jentera maya pro beliau tidak pernah melakukan perkara yang sama kepada pemimpin-pemimpin Pakatan Harapan? Baca seterusnya...
Najib in a denial syndrome mood...
Former prime minister Najib Abdul Razak is suffering a global case of denial syndrome when he claimed that the reason for BN's defeat in the 14th general election was due to slander by the coalition's opponents.
Does that mean that recent news reports that police search of locations in the past few days linked to Najib, which allegedly netted more than 100 kg of gold (costing over RM16 million) and excess of RM1 billion in cash, including 72 bags of money and jewellery, as well as some 300 boxes of handbags are all slander, and if so, why the former prime minister had not taken any action to vindicate himself?
In actual fact, it is Najib and the BN leaders who are most guilty of slander in the last general election, for instance his TV3 interview on the night of May 7 where he made the bizarre and astounding claim that there were no Malays attending Pakatan Harapan ceramahs and that most of them were DAP supporters bussed in from outside the areas and therefore no likelihood of any "Malay tsunami" in GE14.
What is most shocking is that more than ten days after the watershed 14th general election, Najib is still living in his own hallucination.
Isn't it time for Najib to wake up?
Investigations into the 1MDB scandal, which had stained Malaysia's international reputation in acquiring the epithet of a global kleptocracy, are now revealing murky depths of the criminality of the Najib administration, in what the US attorney-general Jeff Sessions had described in an international conference as "kleptocracy at its worst".
Malaysians are entitled to know what happened in the Week of Long Knives in the last week of July 2015 involving the prime minister, deputy prime minister, and the attorney-general, among others, on the 1MDB scandal.
When the country was awash with rumours that the attorney-general would charge the Najib for corrupt practices in connection with 1MDB scandal but suddenly on July 28, 2015, Najib went on the offensive and then attorney-general Abdul Gani Patail was sacked, Mohamad Apandi Ali resigned from the Federal Court and was sworn in as attorney-general, then deputy prime minister Muhyiddin Yassin was sacked, and national institutions like the Attorney-General's Chambers, the police, the MACC and Bank Negara were defanged and tamed with the dissolution of the high-powered Special Task Force of four Tan Sris on 1MDB.
Let the whole story of the Week of Long Knives of July 2015 be revealed and be told to the Malaysian public. - LKS,mk
The Research Department Was
Compromised By Najib...
PJ : Police raided house of individual connected to Najib according to news portal Malaysia Decides
- head of intelligence agency within former PM's Office.She has gone on leave pending probe. Najib handed her important documents two days before GE14
- Fri and Sat Police raided house in Seri Kembangan could not recover documents
- documents stashed in safe houses operated by Research Dept. Police sealed off 2 buildings in Putrajaya, Jalan Bellamy where unit operated unit also known as Malaysian External Intelligence Organisation.
- Malaysia Decides said under Najib unit had massive funding used to keep track of govt critics in country and abroad.The top officer, backed by 300 personnel, reported only to Najib.
- basically a spy agency, all activities tailored at keeping Najib in power. even had operatives stationed abroad. Efforts being made by theSun to get clarification from police
Today the news (The Sun) says that Police raided the house of the Director of the Research Division.
Folks, we have a spy agency called the Research Department that reports directly to the Prime Minister. This is our external spy agency. Or rather it should be our external spy agency.
For domestic spying we have the Special Branch. Well it looks like even the Research Department has been compromised by Najib.
The Police are looking for some official documents which Najib handed over to the head of Research under him.
From the website of the PMO, the Director's name is "YBhg. Datuk Hasanah Binti Ab. Hamid, Ketua Pengarah, Bahagian Penyelidikan." She has since gone on leave.
These are the Research boys. They watch everything including OSTB of course. I believe once in a while they send comments into my blog. They recall exactly what I may have written years ago. They have a good indexing system.
Once Research always Research. Sometimes even the ex-Research fellows send me messages. Through others. Buang masa fellows.
I hope my readers can please recall what I have said before : The national security apparatus of this country has become a threat to our national security.
This includes the Majlis Keselamatan Negara, this Research Department, the Police and other agencies entrusted with safeguarding the security of this country have been compromised and corrupted.
Now this is proven. One former IGP has had his passport restricted. He is on the No Fly list.
The Police have raided the house of the Director of the Research Department. The saddest thing is that the corruption happened so easily.
These are the same people who will support terror preachers like Zakir Naik being allowed in this peaceful country. Or they will argue that Zakir Naik must have the freedom of speech accorded to him to say what he wants.
I see. Then what about the Shias? What about the Ahmadiyahs? Or the Sufys? What about freedom of speech for them?
Using your logic, how come these others are not given the same freedom of speech? Are you also congenitally stupid ? - ostb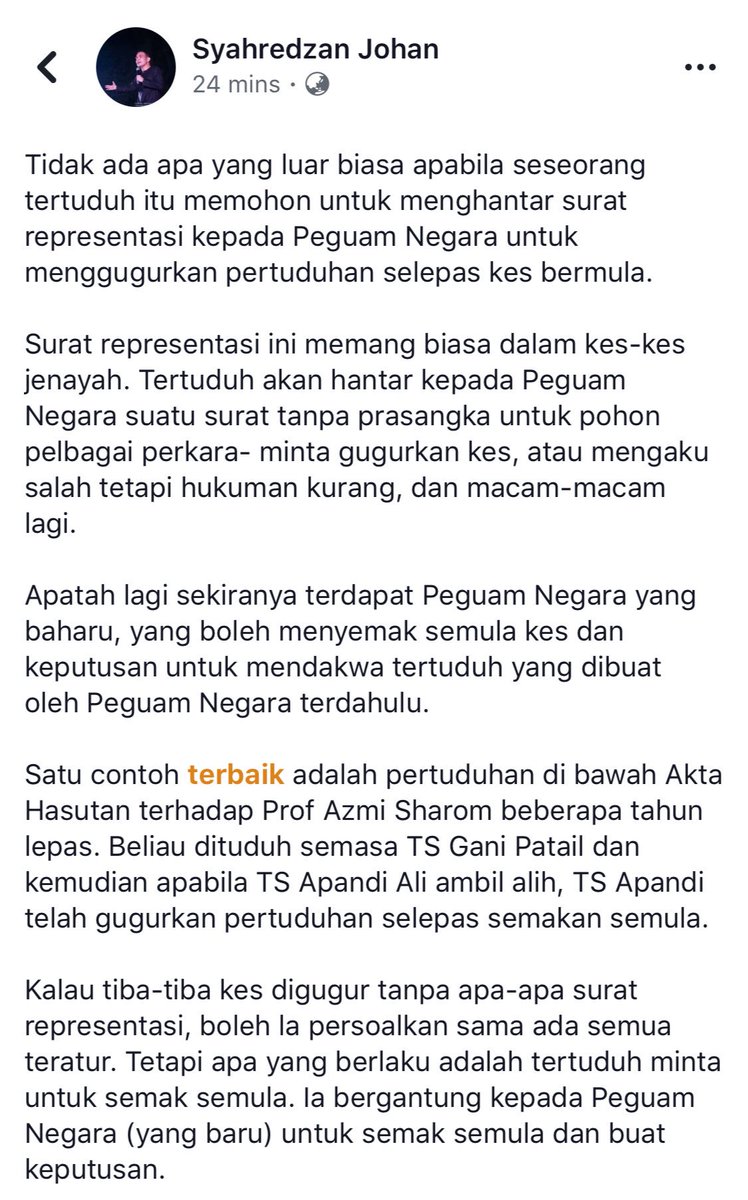 Jawapan kepada mereka yang persoalkan permohonan
surat representasi oleh Menteri Kewangan dalam kesnya.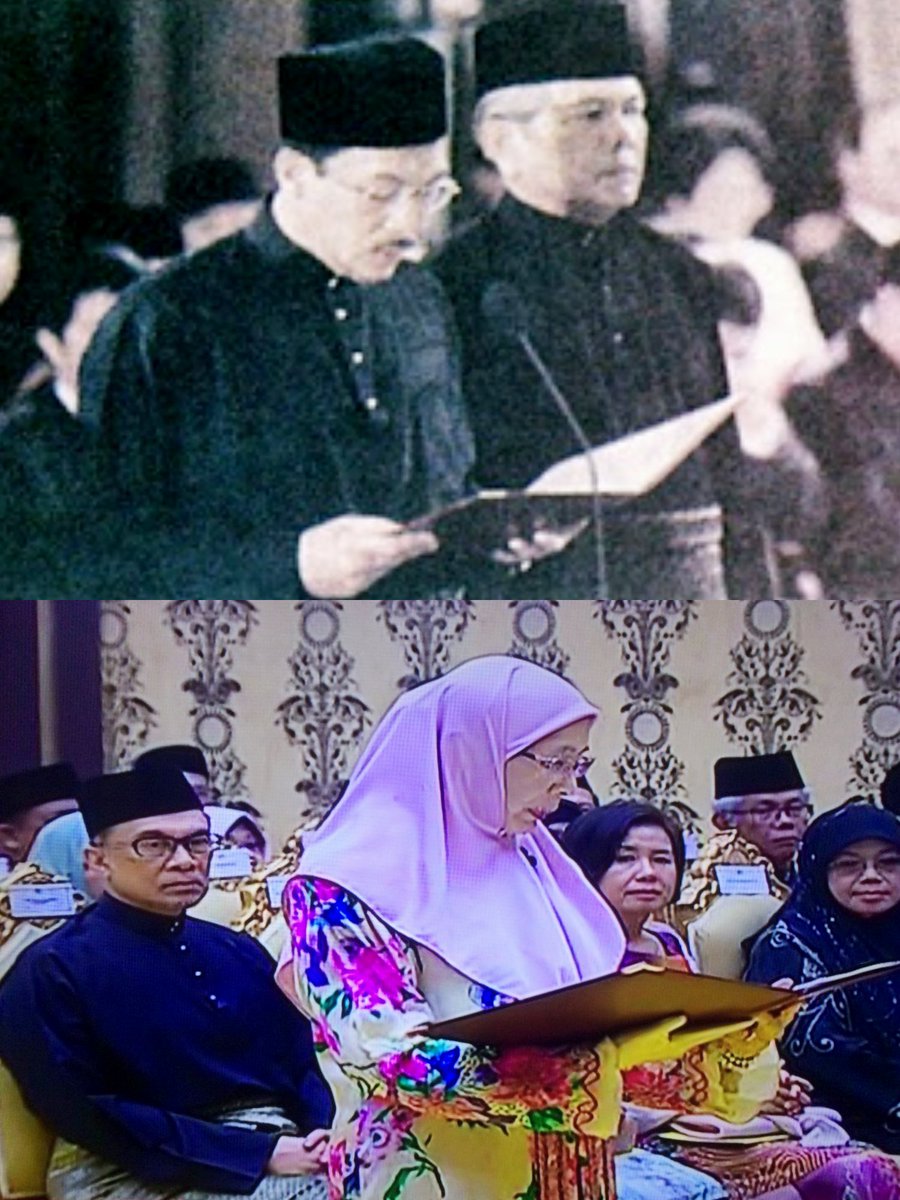 1 Disember 1993: DS Anwar Ibrahim mengangkat sumpah sebagai TPM ke-7 Malaysia.
21 Mei 2018: DS Wan Azizah Wan Ismail mengangkat sumpah sebagai TPM ke-12 Malaysia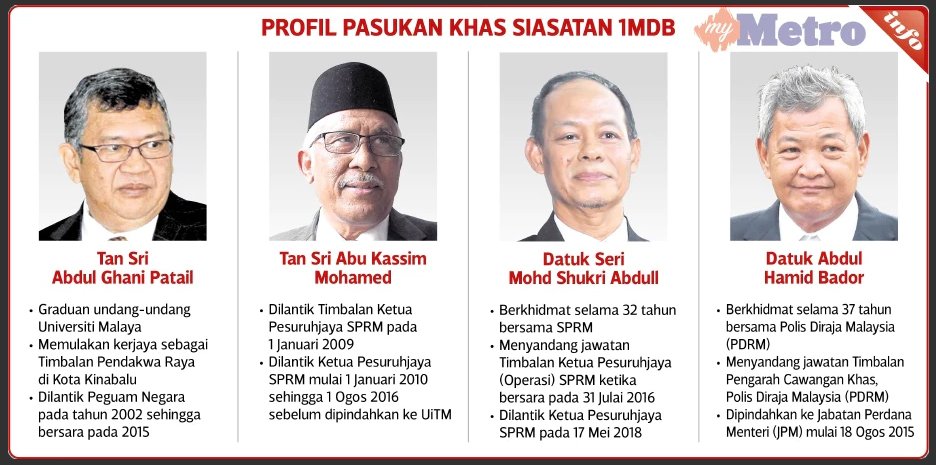 Polis ambil masa 11 jam untuk kira duit dari 11 beg yang dirampas berkaitan siasatan 1MDB.
Kira dari 10:00 pagi hingga 9:00 malam. Masih ada 15 beg belum dikira.
Story kat
SINI
dan
SINI
cheers.