PELIK TAPI BENAR..
Kenapa AG Apandi dan Azalina sering guna 'mungkin' setiap kali nak jawab berkaitan skandal 1MDB itu ??!
TAHUKAH ANDA..
30 soalan dari pembangkang (berkaitan 1MDB) ditolak atas alasan 'mungkin berada dalam pertimbangan mahkamah'...
SEJAK BILA kita dengar ada..
1) Peguam Negara ada/ pernah buka fail pendakwaan kes berkaitan 1MDB ??
2) Mahkamah mana dlm negara kita sedang dibawa ke mahkamah kes berkaitan 1MDB ??


MAHKAMAH MANA YANG BICARAKAN KES 1MDB TU ??!

- f/bk Tak berasas apa lagi Azalina kalau 30 soalan pasai 1MDB dibuang ke dalam sampah...



Najib ridiculing himself over 1MDB probe...
PRIME Minister Najib Razak is only making himself an object of ridicule globally for announcing that he has ordered an investigation into scandal-ridden 1Malaysia Development Berhad (1MDB) when he is the one who interfered and ordered investigations to be stopped.
PKR vice-president Rafizi Ramli, a staunch critic of 1MDB, said investors were fully aware of what was happening within the state investor.
"The Malaysian public and the world are aware of the extent of interference in the investigation. Anywhere else in the world, the prime minister would at least have been impeached for interference.
"Given the colossal losses and the debt passed to taxpayers, Najib should not take pride that 1MDB had not swallowed more money (as he gloated).
"He should have had the honour (or whatever was left of it) to resign and allow for a full royal commission to investigate the full extent of the corruption and government collusion in the 1MDB scandal," he said in a statement to The Malaysian Insight.
Najib admitted in his speech at the Invest Malaysia Conference in Kuala Lumpur earlier today that there were clear lapses in corporate governance in 1MDB and he had ordered "unprecedented" investigations into the 1MDB scandal.
Rafizi said the extent of interference to stop the 1MDB investigation was something unprecedented as many senior government officials were replaced.
He said these included then Deputy Prime Minister Muhyiddin Yassin, then Attorney-General Abdul Gani Patail and several top MACC officials.
In removing Muhyiddin, Najib had reportedly said the decision to replace him was a difficult one but he was forced to do so to ensure unity in his Cabinet.
Abdul Gani was leading a high-level investigation into 1MDB, alongside officials from MACC, Malaysian police and Bank Negara Malaysia.
He was then replaced by Mohamed Apandi Ali, who had cleared Najib of any criminal wrongdoing in the transfer of RM2.6 billion into his personal accounts. – themalaysianinsight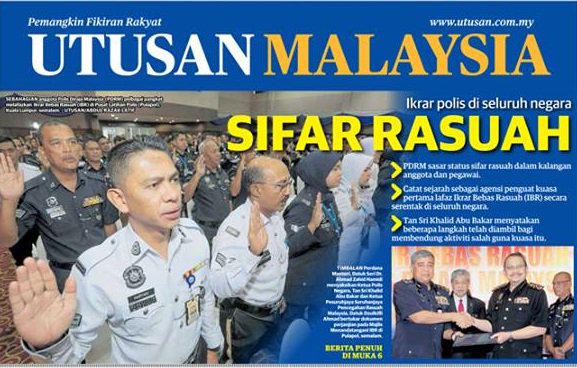 Kat road block bila disaman pasai cermin gelap,
huloq 50 ketoi,depa lepaih gitu saja...
Tang tu depa buat2 lupa...
cheers.