Apa yang si Jemin merapu? Kerajaan pintu belakang? Tukar kerajaan sebelum penggal berakhir? Tepat betul ungkapan orang putih, "He really talks COCK". Dalam situasi ini, dia memang ibarat ayam jantan yang kuat berkokok, tak sedar ekor bergelumang tahi.
Tak ada siapa yang nak tukar kerajaan yang telah dipilih rakyat secara sah. Kerajaan PH ini pun sah untuk tempoh 5 tahun sehingga 2023. Mereka hanya minta supaya Tun Mahathir menyerah kuasa sesuai dengan apa yang telah TunM persetujui. Pemimpin PH telah memperakui bahawa memang ada perjanjian untuk TunM mengetuai kerajaan jika menang PRU14 kerana waktu itu DS Anwar masih dalam penjara dan TunM bersetuju menyerahkan kuasa kepada DS Anwar dalam masa tempoh 2 tahun.
Bukan nak tukar kerajaan. Cuma nak tukar perdana menteri, ketua kerajaan. Bukan Malaysia tak pernah buat. Tun Abdullah Badawi menyerah kuasa kepada DS Najib di tengah penggal pemerintahannya dalam BN tahun 2009 sedangkan tempoh pemerintahan BN ketika itu sehingga 2013. Itu bukan pintu belakang! Takkan Jemin lupa? Mungkin juga. Atau Jemin ni dah mamai kot?
Oh iya, di mana Jemin waktu pimpinan PH berpakat tentang tempoh perdana menteri dan peralihan kuasa? Semua orang tahu waktu itu Jemin tidak yakin dengan TunM. Malah pelbagai gelaran buruk Jemin lemparkan kepada TunM. Dan ketika itu Jemin juga sibuk nak kahwin dengan Pas di Selangor untuk pertahankan kerusi MB nya.
Seperti Jemin, kawan baiknya Hardy si presiden PAS pun kata macam-macam yang teruk kepada TunM ketika itu. Dah tua lah, kuda tua lah, baik banyak beribadah lah. Tiba-tiba kedua-dua Jemin dan Hardy U-Turn senada puji TunM melambung-lambung setinggi langit, minta TunM habiskan penggal lah, PM doktorlah tahu bila nak bedah. PM ibarat kelapa, makin tua makin banyak santan. Itulah busuknya mulut dan hati Hardy.
Si Jemin ni pula sanggup berbohong. Depan media kata meeting biasa nak update orang umno tentang inisiatif kerajaan. Tapi bila jumpa TunM, dia kata lain pulak. Dia nak tunjuk hero kata yang orang umno dah hilang arah dan nak dapat nasihat dari nya parti mana nak mereka sertai.
Sempat bodek TunM pulak kata orang umno itu percaya dan akui kepimpinan TunM. Ligat punya kipas! Dia ingat TunM makan bodek, dia ingat TunM sebebal dia.
TunM pun test water, kata kat media apa yang Jemin putar-alam kat dia. Media pun siarkan. Berdentum-dentum reaksi!. Orang umno pun kata kat media, bukan mereka yang nak jumpa Jemin. Jemin yang nak jumpa mereka.
Mereka menafikan pembohongan si Jemin! Mereka tak pernah kata kat Jemin yang mereka dah tak percaya kat umno, mereka tak kata mereka mereka nak keluar umno dan minta nasihat nak sertai parti lain.
Takkan orang UMNO baghal sangat? Mereka baru menang di Tanjong Piai. Bukan menang biasa. Menang dengan majoriti besar hingga parti TunM tersungkur malu. TunM pun tak sangka.
TS Annuar Musa, setiausaha agung UMNO pula confirm dalam twitter nya yang sebahagian dari 16 ahli umno itu telah maklumkan kat dia yang Jemin lah yang mengatur pertemuan itu. TS Annuar tambah petrol, tambah garam mengatakan Jemin nak menggunakan pertemuan itu untuk membodek TunM untuk menyelamatkan dirinya.
Jemin ingat dia bohong TunM tu dunia tak tahu. Cara dia berbohong tu seolah-olah dia dah ikut dan masuk mazhab serta fatwa Hardy dalam Pas yang berbohong itu halal. Tapi betullah apa kata pepatah, sepandai-pandai tupai melompat akhirnya jatuh ke tanah juga.
Jemin ingat dia boleh bohong semua orang di semua masa. Ini zaman medsos lah Jemin. Nah! sekarang Jemin dah terperangkap dengan pembohongannya sendiri.
Tapi si Jemin ni muka tak tahu malu. Macam juak-juak dalam kartelnya. Kes video nya! Kes perbelanjaan mewah sekeluarga yang menelan belanja RM382,000. Dah bayar ke belum? Kenapa Latheefa dan SPRM tak siasat.
Kita tahu akhlak si Jemin ni. Tak mungkin dia senyap dan tak mungkin dia jadi burung Ostrich yang sembunyikan kepalanya dalam lubang.
Biarkan lah ayam yang ekornya bergelumang tahi ini terus berkokok. Kerana makin si Jemin ni merapu makin terserlah desperado nya untuk selamatkan dirinya yang sudah di tepi gaung kemusnahan ciptaannya sendiri. - 5Maidah8
Semenjak berkawan dengan MCA ni...
Khusus buat Macai,Walaun Walauntit...
Bila kita jawab fitnah depa pasal Skandal RM 1.4 Billion..Depa jawab pulak, Kita bukan pertikai kenapa Tender tu diberi kepada NAFAS.. Tetapi kenapa Buat tender Terbuka, Lepas tu berikan kepada NAFAS dengan rundingan Terus.. Kata depa, Kalau mcm PH menipu lah kata nak buat tender Terbuka..
Sebenarnya, Pertanyaan itu hanya mainan Politik.. Kalau sapa ikuti sesi perbahasan Parlimen 2018.. Semua orang akan faham, Sebelum ini Salehuddin Ayyub bertegas mahukan Tender terbuka demi penjimatan dari perbelanjaan Kerajaan.
Tetapi ketika sesi Perbahasan tahun lepas, Ahli Parlimen Sungai Petani,Johari Abdul menentang cadangan itu kerana merasakan ia akan menjejaskan Petani dan Peladang yang punya kepentingan dalam NAFAS, Kilang NAFAS di Gurun itu pula dikatakan berada dalam parlimen Johari Abdul..malah Ahli Parlimen tanjong Karang dari BN menyokong cadangan itu..
UMNO bengang sebab PH buang logo dacing di uncang baja tu, guna MCA hantam PH. MCA pulak tarik PAS suruh sokong... Walaun PAS meloncat-loncat kata menteri PH songlap duit baja 1.4
bilion. Justeru, bodoh PAS bukan calang2...f/bk
Atas sebab cadangan dan tentangan itu Salehuddin mengubah keputusannya demi menyelamatkan ramai dari peladang dan Petani yg punyai kepentingan di dalam operasi NAFAS..
Apa yang cuba dibangkitkan Wee Ka Siong semalam adalah memainkan Sentimen masyarakat dan kaum pemodal Cina.. Ini game Politik..Wee Ka siong nak nampakkan Salehuddin ni Pro melayu, Bailout Syarikat bumiputera mcm UMNO dulu..Tapi malangnya PAS terikut sama, Malah sedia menjadi khadam abadi MCA... Soal NAFAS ini pun cuba dipolitikkan..
Jelas Semalam isu ini seperti di rancang, Yg Bangkitkan Wee Ka Siong, yang Sokong PAS.. dan yang buat buat tanya kaitkan bayaran penginapan Hotel oleh NAFAS itu Noh Omar sendiri..walhal dia Sokong cadangan Johari Abdul sesi parlimen yg lepas.. PAS pula cuba kaitkan dengan Pengurusan NAFAS yang ada kaitan dengan pemimpin Amanah..
Bagi aku ini game plan, dan Strategi yg baik kelompok Ashabiyah Cina dan Melayu.. MCA mainkan peranan dia hasut masyarakat Cina, Dan PAS dah tentu punyai rekod sebagai penghasut sejak zaman Amanat haji Hadi..
Namun urusan pemberian tender kepada Nafas belum muktamad. Yang MCA kata dah ada skandal tu natang menda? Keputusan pun belum dibuat? Yang Pas mengkhadamkan diri menyokong kenyataan MP Air Hitam tu, sokong natang ape?
Entah Kenapa PAS saja buat buat tahu beza antara GLC dan Agensi Kerajaan.. dulupun Pengurusan Agensi ini tetap datang dari ahli Politik UMNO.. Sama lah mcm Husam yang jadi Pengerusi KADA Sekarang, PAS pun tahu, sapa Pengerusi KADA sebelum ini..rakan tawwun PAS jugak sekarang MD Alwi.. Tapi itulah PAS saja buat buat Jahil.. lebih jahat dari UMNO.. - Ipohmali
Will Pakatan be a one-term wonder!...
There was great rejoicing everywhere on the night of Saturday, 16 November following the announcement of the Tanjung Piai by-election results. Rejoicing for Barisan Nasional (BN) for their stunning victory. Rejoicing for Malaysians for Pakatan Harapan's (PH's) massive defeat! Who are the victors in Tanjung Piai? It wasn't any political party. It was a peoples' victory.
It is too soon for BN to celebrate this stupendous victory. For sure, the voters did not vote for the kleptocrats – let's be clear on this. They voted for BN not in support but to defeat PH. They wanted to humiliate and teach PH a lesson – that could only be achieved by voting for BN! BN's presence in the by-election served their purpose to punish PH.
BN was not their preferred choice. The by-election was a convenient and useful medium for frustrated voters to vent their anger and teach PH a lesson it would NEVER forget! Imagine choosing a party which had lost all its credibility and was totally despised, demonised and defeated in the 2018 general election (GE14)! It was the only – and most effective –way for Malaysians to embarrass PH completely and mercilessly. And the voters did it ruthlessly!
The defeat for PH was deliberately inflicted as revenge for betraying the people's trust – a trust that was given hoping for a better Malaysia by casting their lot with PH. Malaysians, therefore, have a right to expect PH to rise above race and religion and treat all Malaysians as rightful citizens of this nation. They had hoped it would be the order of things in the future following the defeat of BN. Sadly, PH lost its way and indulged in race-baiting and religion-courting strategy to hold on to power. Their conduct became disgraceful and despicable.
PH – or, more specifically, is it Dr Mahathir Mohamad? – has forgotten that it was the solid backing of the non-Malay votes that crushed BN and put PH in government. Only about 25% of Malay support was received by PH at GE14 – that would not have secured them the power to rule.
In spite of this obvious fact, PH was more intent on winning over Malay support rather than retaining the non-Malay vote bank. Mahathir, however hard he might try, cannot outdo Umno and Pas in attracting the majority of Malays to his side. The bulk of this Malay support will always remain with Umno and Pas. This is an irrefutable fact. Mahathir can never be the Malay warrior for the Malays.
From now onwards, PH cannot take for granted that the non-Malay support will always be with them. From now onwards, no state or seat is safe for PH. We just witnessed the impossible happening in TanjungPiai. To spite PH, the voters cast their votes for a party that they did not love or support. It will help PH to be mindful of this painful fact.
When Zakir Naik blatantly told the Chinese to go back to China and openly questioned the loyalty of Indians, he insulted every Chinese and Indian who are bona fide citizens of Malaysia and owe their allegiance to King and country. This insult will not be forgotten or forgiven. His presence will always remind them of this insult. Imagine a foreign fugitive from India brazenly telling that to the Chinese and Indians, who have contributed so much for the development of Malaysia and its economy! How can this be tolerated?
To his credit, Mahathir's initial reaction was that Zakir Naik had crossed the boundary. We expected him to go after Zakir Naik and get rid of him. But Mahathir, being who he is, refused to send this fugitive back to India claiming that he wouldn't get a fair trial in India. Incidentally, Jho Low also claimed that he wouldn't get a fair trial in Malaysia. Are we prepared to accept this in all fairness? Mahathir had conveniently forgotten – mudah lupa? – Zakir Nakir's blatant insult to the Chinese and Indians.
To add salt to injury, Mahathir attended the Malay Dignity Congress and had the audacity to refer to the non-Malays as "orang asing"! If he has this mindset regarding the non-Malays, how can he respect and protect their rights as citizens of Malaysia? The non-Malays were very offended by this remark. And they wanted to teach him a lesson – which they did in Tanjung Piai.
Then we have this youth and sports minister, who took a very strong and principled stand and demanded that Zakir Naik be banished from Malaysia. But lo and behold, the next instance, he was feasting the very guy he condemned at his house. No wonder some refer to him as the "boy minister"! These politicians' preoccupation is with race and religion – not justice and fairness. To retain their power and position, they play this game – right or wrong.
Take the issue of the International Convention on the Elimination of All Forms of Racial Discrimination (ICERD) as an example. Mahathir declared in the UN and to the world that ICERD would be ratified together with the rest of the remaining UN human rights conventions. It was a very good decision – for ICERD removes all forms of racial discrimination and policies will be implemented impartially. If this was the case, the beneficiaries would be the majority poor Malays as well as the non-Malay poor. This would have ensured that the aid would go to the deserving poor – and not to the rich cronies who grab everything for themselves.
But what happened? Umno and Pas riled up the Malays on the false premise that if ICERD was implemented, the Malays would lose their rights and privileges and would be sidelined. Whenever a massive crowd is needed to protest, all one has to do is to claim that Islam and the Malays were under threat. On this platform, a huge protest took place on Saturday, 8 December 2018.
What did Mahathir do? He buckled for he feared losing Malay support and called off the ICERD ratification. He was less than honest in this controversy. Having declared that Malaysia would ratify ICERD, strangely he did not stand up to defend his proposal and throw his weight to support it. Mahathir's hypocrisy was revealed when at a gathering at UiTM following the Umno/Pas demonstration, he declared that he could not accept ICERD because it would disadvantage the Malays. Of course, Malaysians remembered Mahathir's double game at the Tanjung Piai by-election.
If Mahathir was sincere about ratifying ICERD, he should have arrested the leaders and organisers of this protest and charged them in court and force them to prove their hollow claim how the rights and privileges of the Malays would have been eroded. Similarly, he should have gone for the leaders who roused up the Malays that the Agong's position would be in jeopardy if the Rome Statute was accepted. They wouldn't be able to prove their false claim in court. Instead, he aborted the recognition of the Rome Statute.
It is not that Mahathir was not brave to tackle these leaders but he feared losing Malay support. So he bent backwards to please and appease them – to the detriment of the nation. Thus he contributed to the perception that ICERD and the Rome Statute were schemes by the non-Malays to deprive the Malays of their special position and the loss of the Agong's sovereignty.
Whatever Mahathir does seem to be for consolidating his power and position. Malaysians were rightly upset that in order to empower his party, he has resorted to courting and recruiting Umno MPs to join his party, Bersatu. These are the very Umno politicians who dared not speak up and question Najib Razak regarding the 1MDB scandal when Najib was riding high as the PM. By their silence, they condoned his theft of the nation's wealth and abuse of his position. Yet, Mahathir is actively courting them to be part of his party in order to strengthen his position.
Malaysians are upset and felt let down. They showed their anger at the Tanjung Piai by-election. From now onwards, Malaysians will not tolerate any more nonsense from these politicians. They are in no mood to let things go as in the past. They will retaliate and will not hesitate to punish any political party that does not serve the national interest. Be warned!
From now onwards, Malaysians will not hesitate to punish any political party that does not serve the national interest, says P Ramakrishnan,aliran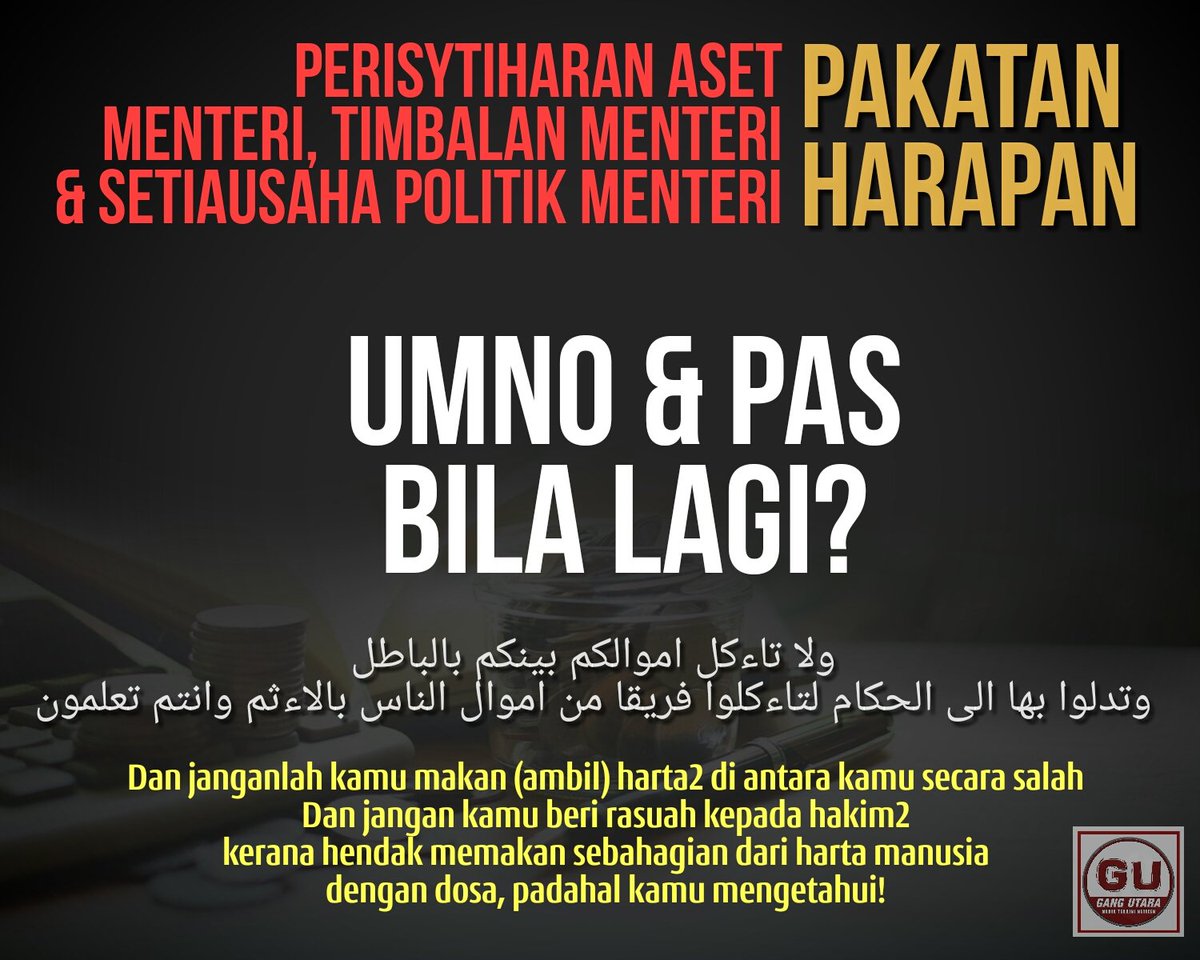 cheers.